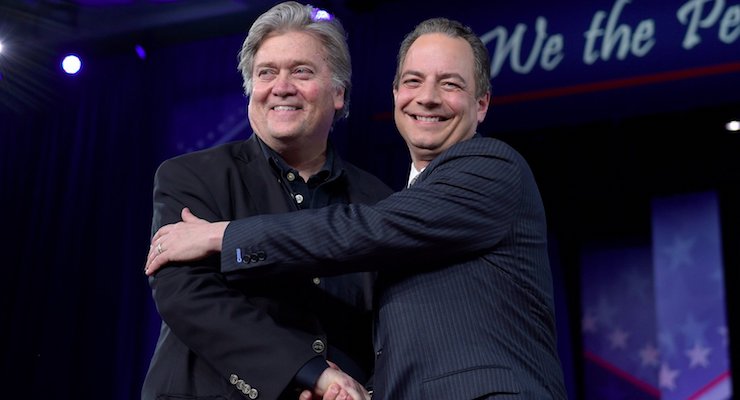 A slew of inner circle speakers teed up President Donald J. Trump's speech at the Conservative Political Action Conference (CPAC) in Maryland, including Vice President Mike Pence, White House Chief of Staff Reince and Senior Counselor Steve Bannon. President Trump addressed CPAC in 2011, 2013, 2014, and 2015, but on Friday will give the first to the conference by a sitting president in his first term since Ronald Reagan.
The latter two made a rare joint appearance in a 25-minute onstage interview conducted by Matt Schlapp, the chairman of the American Conservative Union. They laid out the agenda of the Trump Administration and slammed the media in an attempt to rebut the bias Big Media, which Bannon repeatedly called "the opposition party."
When asked about the biggest fake news narrative regarding the White House, Priebus, after briefly recapping what turned out to be completely fake reports, said "everything" is misreported by the media.
"I think the biggest misconception is everything that you're reading," Priebus told Schlapp.
Bannon identified three key tenets in the Trump platform: National security and sovereignty, to include immigration and border security; economic nationalism, the heart of the president's "America First" populism that includes the renegotiation of bad trade deals that have decimated workers in the Rust Belt; and, the broad "deconstruction of the administrative state."
"I kind of look at it as three buckets or teams," Bannon said, adding that he anticipates the hostility from Democrats and the media will get worse.
"If you think [the media is] going to give you your country back without a fight, you're sadly mistaken," he said, adding that the news media is "corporatist," "globalist," and opposed to Trump's "economic nationalist" agenda.
The two men, who media reports would indicate are at each other's throats daily, exuded friendly body language and exchanged jokes. Priebus said he loves "how many collars he wears," poking fun at the chief strategist's sense of style. For his part, Bannon said the chief of staff was a hard worker who never stops before pivoting into what that means for keeping campaign promises.
"Hold us accountable for delivering what we promised," Bannon told the crowd.
In 2015, then-New York businessman Donald Trump told the crowd at CPAC that the broken system in Washington was "not going to get fixed unless we put the right person in that top position."
"A lot of people think I am doing this for fun. I am not doing this for fun," he said to try to put an end to criticisms that he is never really serious about running. "Washington is totally broken and it's not going to get fixed unless we put the right person in that top position. It's just not going to happen."
Pundit's Perspective
We knew he was running when we covered that CPAC speech in 2015, and the future president retweeted it. He was clearly trying to get a point across retweeting a story with that headline. If only Big Media was paying attention…
Via @PPDNews: "Donald Trump: 'I Am Not Doing This For Fun,' We Can't Fix U.S. 'Unless We Put Right Person' In WH"http://t.co/jgA6OnysAl

— Donald J. Trump (@realDonaldTrump) February 28, 2015
[social-media-buttons]