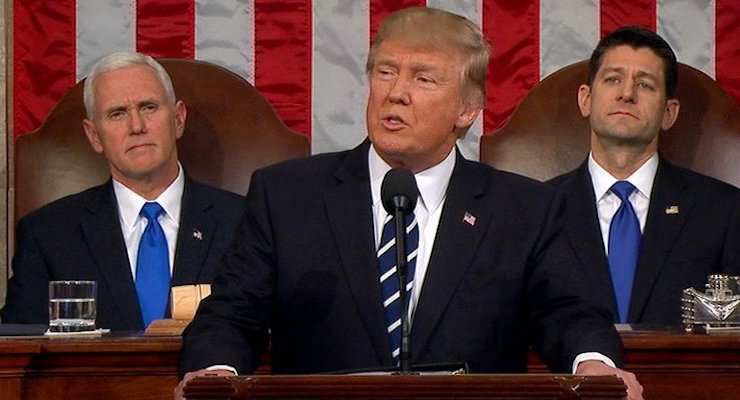 President Donald J. Trump on Tuesday delivered what was his first address to a joint session of Congress, calling the first month in office "a renewal of the American spirit."
The president kicked off his roughly a 60-minute speech with a tribute to Black History Month "and the work that still remains to be done." He condemned the threats to Jewish communities and anti-semitism.
"Recent threats targeting Jewish Community Centers and vandalism of Jewish cemeteries, as well as last week's shooting in Kansas City, remind us that while we may be a nation divided on policies, we are a country that stands united in condemning hate and evil in all its forms," the president said.
But he quickly turned to a more optimistic message, saying he was there to "deliver a message of unity and strength."
"A new chapter of American Greatness is now beginning. A new national pride is sweeping across our nation. And a new surge of optimism is placing impossible dreams firmly within our grasp," President Trump said. "What we are witnessing today is the Renewal of the American Spirit. Our allies will find that America is once again ready to lead."
The following several minutes of the address focused on explaining the measures his administration has already taken to fulfill his campaign promises including on jobs, immigration and security. He touted the approval of the Keystone XL pipeline with the requirement companies use American-made steel, as well as the withdrawal of the "job-killing" Trans-Pacific Partnership (TPP).
[social-media-buttons]
He defended his controversial yet majority-supported temporary travel ban, which he said would be re-issued shortly addressing the legal challenges while remaining effective.
"It is not compassion but recklessness to allow unfettered entry from countries where proper vetting cannot occur," he said. "Those given the high honor of admission to the United States should love this country and its values."
On immigration, President Trump told Congress and the American people that he has ordered the U.S. Department of Homeland Security to create an office that will serve American victims of immigrant crime and provide a "voice to those who have been ignored by our media, and silenced by special interests."
Democrats, who largely sat on their hands Tuesday night, booed in response before the president recognized victims' families in attendance.
Striking a balance between optimism and reality, the president said the nation must have an "honest" conversation about the challenges that must be faced, such as "the worst economic recovery in 65 years" and the fact his predecessor added "more debt than the other previous presidents combined."
"We must restart the engine of the American economy" to meet these challenges, President Trump said.
"Right now, American companies are taxed at one of the highest rates anywhere in the world. My economic team is developing historic tax reform that will reduce the tax rate on our companies so they can compete and thrive anywhere and with anyone," he added. "At the same time, we will provide massive tax relief for the middle class. We must create a level playing field for American companies and workers."
The address to the joint session of Congress put Senate Minority Leader Chuck Schumer in a bit of a tough spot. While he has led opposition to even the most basic procedures in the upper chamber, he has previously indicated he is willing to work with the administration on infrastructure spending.
Tapping former Republican President Dwight D. Eisenhower, who implemented what he called the "last truly great national infrastructure program," he called for a plan supported more by Democrats than Republicans.
[social-media-buttons]
"The time has come for a new program of national rebuilding. America has spent approximately $6 trillion in the Middle East, all this while our infrastructure at home is crumbling," he said. "With this $6 trillion we could have rebuilt our country–twice. To launch our national rebuilding, I will be asking Congress to approve legislation that produces a $1 trillion dollar investment in the infrastructure of the United States – financed through both public and private capital – creating millions of new jobs."
"This effort will be guided by two core principles: Buy American, and Hire American."
Worth noting, the president basically endorsed the ObamaCare repeal and replace bill supported by House Speaker Paul Ryan, R-Wis., who said the lower chamber will move in March on the issue.
"Tonight, I am also calling on this Congress to repeal and replace ObamaCare with reforms that expand choice, increase access and at the same time provide better healthcare," the president said, much to the chagrin of Democrats in the audience. "Mandating every American to buy health insurance was never the right solution for our country."
He said the best way to cover Americans is to provide coverage at a lower cost, citing horror stories in Arizona and Kentucky.
In what was the most powerful moment of the speech, perhaps even of any address delivered by a president to a joint session of Congress, President Trump praised fallen Navy SEAL Ryan Owens, who was killed in action during a raid in Yemen.
"Ryan's legacy is etched into eternity," he said, giving recognition to his widow who received a long standing ovation. "The Bible tells us 'There is no greater love than to lay down one's life for one's friends'. Ryan laid down his life for his friends, his country and our freedom. We will never forget Ryan."
Veteran were a key support bloc for the president in several key primary and general election battleground states, and he addressed them in the address Tuesday night.
"Our veterans have delivered for this nation and now we must deliver for them," he said, clearly putting domestic issues such as veteran care above other areas that previously were prioritized by the old Republican Party.
He reiterated that the U.S. commitment to NATO can remain strong while at the same time demanding allies meet their promised obligations to the common defense.
"My job is not to represent the world," he said. "My job is to represent the United States of America."
FINAL WORDS
"I am asking all citizens to embrace this Renewal of the American Spirit. I am asking all members of Congress to join me in Dreaming Big, and Bold and Daring things for our country," President Trump said in closing. "And I am asking everyone watching tonight to seize this moment and – Believe In Yourselves. Believe In Your Future. And Believe, Once More, In America."
"Thank you, God bless you, and God Bless these United States."
[social-media-buttons]