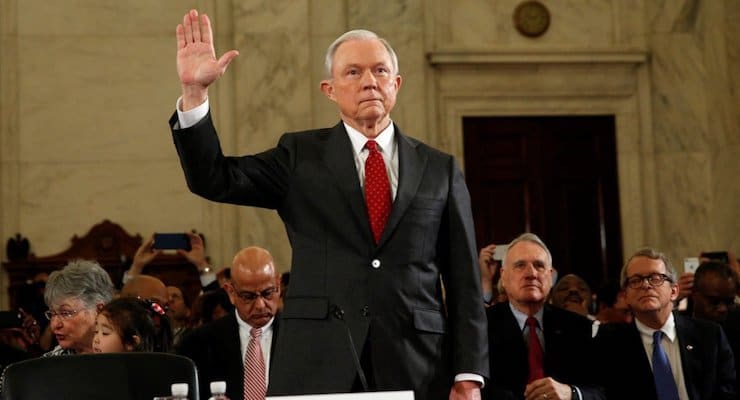 The White House issued a statement pushing back on the charges Attorney General Jeff Sessions lied under oath by having contact as senator with the Russian ambassador. They dismissed the idea that AG Sessions met with the Ambassador in a campaign capacity, outright.
"This is the latest attack on the Trump Administration by partisan Democrats. General Sessions met with the ambassador in an official capacity as a member of the Senate Armed Services Committee, which is entirely consistent with his testimony," the White House said in a statement. "It's no surprise Senator Al Franken is pushing this story immediately following President Trump's successful address to the nation."
House Minority Leader Nancy Pelosi called for Jeff Sessions to resign as attorney general for "apparent perjury" over contact as senator with the Russian ambassador. The call for a resignation follows a Washington Post report citing unnamed sources that he spoke with Russia's ambassador to the United States twice last year and did not disclose it at his confirmation hearing in January.
[social-media-buttons]
"Jeff Sessions lied under oath during his confirmation hearing before the Senate," Pelosi said in a statement released late Wednesday. "Under penalty of perjury, he told the Senate Judiciary Committee, 'I have been called a surrogate at a time or two in that campaign and I did not have communications with the Russians.' We now know that statement is false."
Sarah Isgur Flores, the the Director of Public Affairs at the Department of Justice, released the following statement also pushing back.
"There is absolutely nothing misleading about his answer. Last year, the Senator had over 25 conversations with foreign ambassadors as a senior member of the Armed Services Committee, including the British, Korean, Japanese, Polish, Indian, Chinese, Canadian, Australian, German and Russian ambassadors," the statement said. He was asked during the hearing about communications between Russia and the Trump campaign–not about meetings he took as a senator and member of the Armed Services Committee."
Sessions was asked by Sen. Al Franken, D-Minn., how he would respond "if there is any evidence that anyone affiliated with the Trump campaign communicated with the Russian government in the course of this campaign."
The question was in response to another Washington Post report citing unnamed sources, which the FBI refutes, claiming Trump campaign officials had contact with Russian intelligence officials during the campaign.
[social-media-buttons]