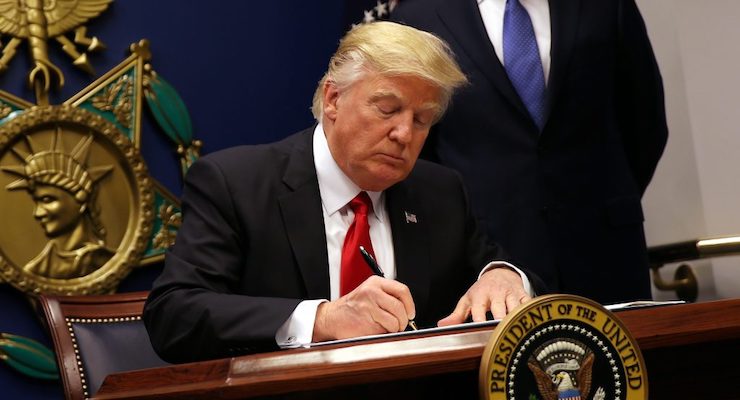 A solid majority still supports President Donald J. Trump's temporarily travel ban on 7 Muslim-majority nations identified as high-risk terror havens.
A new PPD Poll conducted from Feb. 2 to Feb. 8, based on 1392 interviews via the People's Pundit Daily (PPD) Internet Polling Panel, found 56% support "President Trump's executive order imposing an immigration moratorium for 7 Muslim-majority nations identified as hotbeds for Islamic terrorists until the U.S. can put in place 'extreme vetting' procedures."
Only 38% opposed it.
"Most Americans don't believe the order is a Muslim ban–as some in the media have portrayed it–and views have held surprisingly steady since December," Richard Baris, PPD's editor-in-chief who heads up the PPD Poll said. "Nearly two-thirds of the county aren't buying that argument."
Sixty-two percent of Americans do not believe the president's order is a Muslim ban, but 35% say it is. For the record, the order does not impact nearly 9 in 10 Muslims worldwide and excludes the world's largest Muslim nations. The poll omitted those facts from the survey.
The results are nearly identical to the previous PPD Poll conducted from Nov. 26 to Dec. 1. However, even as the topline numbers are essentially unchanged, there's a noticeable demographic shift when scrutinizing the data beneath the surface.
"Black voters showed a significant change in their opinion of the order and they now support it at a higher rate," Mr. Baris added. "But it was offset somewhat by a 6-point decline in support among voters who self-identify as Asian or Other, as well as a slight decline among white voters."
Worth noting, black voters, specifically black men between the ages of 30 and 54, have been reporting a more favorable image of President Trump over the past few weeks. Unsurprisingly, this has indeed translated in them giving his job performance higher marks. It remains to be seen whether he can maintain that support or if it will fade over time.
Men (62%) are more like than women (52%) to support the travel ban, though majorities of both say it's the right thing to do. Eighty-four (84%) of Republicans support the order, down from 95% in Dec., but 54% of independents and even 3 in 10 (30%) Democrats agree.
The PPD Poll, which conducted the most accurate polling in 2016, is in line with other firms that actually polled the election correctly. The Big Data poll pegged President Trump's victories on on the statewide level in all but two states within tens of percentage points, including Florida, North Carolina, Michigan, Pennsylvania and Wisconsin.
[social-media-buttons]
Subscribers can track public opinion on this issue over time here.
The PPD Poll follows level 1 AAPOR standards of disclosure and WAPOR/ESOMAR code of conduct. The poll results were taken from the entire survey conducted from Feb. 2 to Feb. 8 and are based on 1392 interviews of likely voters participating in the PPD Internet Polling Panel. The PPD Poll has a 95% confidence interval and is not weighted based on party affiliation (party ID), but rather demographics from the U.S. Census Current Population Survey–i.e. age, gender, race, income, education and region. The sample identified a partisan split of 37% Democrat, 33% Republican and 31% Independent/Other. Read about methodology here.