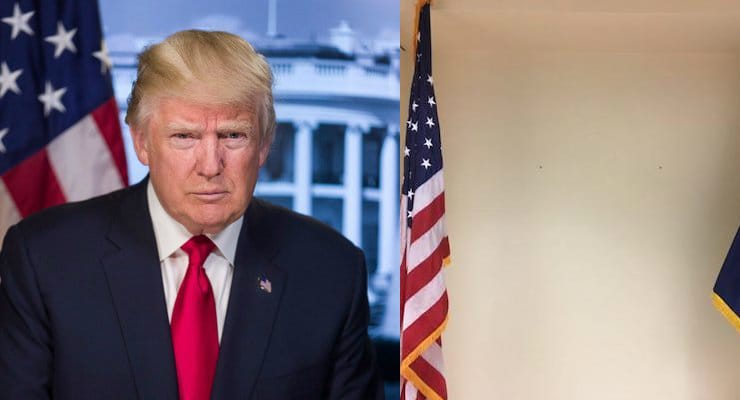 Portraits of President Donald J. Trump and Veterans Affairs Secretary David Shulkin are notably missing from VA facilities across the state of Florida. The story gained national attention after Rep. Brian Mast, R-Fla., a U.S. Army veteran who lost both legs to an IED in Afghanistan, on Tuesday helped hang unofficial portraits of the new administration in a VA medical center in his West Palm Beach district.
It was promptly taken down.
Based on several tips from employees and veterans, PPD learned the Malcolm Randall VA Medical Center in Gainesville also had a bear spot on the wall where President Trump's portrait belonged. But after digging into the case of the missing Trump portraits, we found this isn't just a VA problem, nor did it originate at the VA.
"The Department of Veterans Affairs (VA), like all other federal agencies, relies on the U.S. Government Publishing Office (GPO) to provide us official photos of the President to display in our facilities," Daniel L Henry, the Public Affairs Officer with the North Florida/South Georgia Veterans Health System told People's Pundit Daily. "Once VA receives the official photo of the President, we will ensure both the photo of the President and the photo of Secretary Shulkin are displayed appropriately."
People's Pundit Daily has also learned that the VA will issue a directive allowing the unofficial portraits to hang in place of the official portraits of President and Secretary Shulkin until the GPO fulfills the orders.
It is the job of the GPO to print the portraits upon receipt of the file from the White House and distribute them to various agency locations. Multiple employee sources told PPD the orders are not only being held up for VA facilities but for agencies throughout the federal government and locations across the nation. However, the GPO provided us with a statement insinuating they are not yet in possession of the file.
"GPO is standing by to reproduce copies of the President and the Vice President for official use in Federal facilities, and will do so as soon as the official photo files are provided to us," Gary Somerset, Chief Public Relations Officer said in a brief response to People's Pundit Daily.
PPD will stay on and update this story as we learn more.