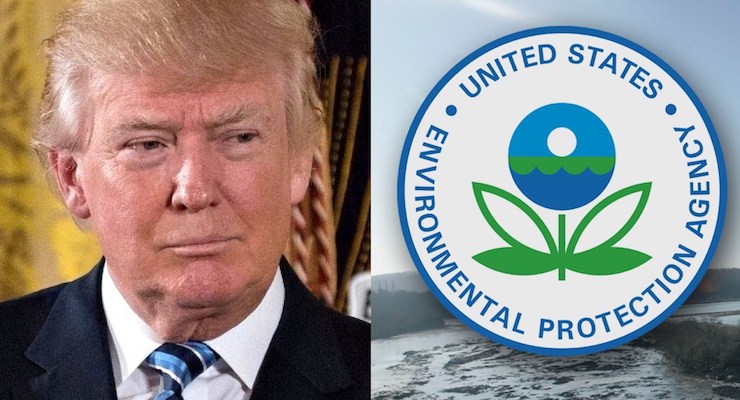 President Donald J. Trump unveiled his first year budget blueprint calling for major cuts to the administrative state and historic increases in defense spending. The budget blueprint called "America First" spares law enforcement agencies including the Federal Bureau of Investigation, but targets other agencies and programs often criticized by conservatives, including the National Endowment for the Arts and the Environmental Protection Agency (EPA).
The president requested $5.7 billion for the EPA, a cut of $2.6 billion, or 31%, from the amount appropriated for 2017 in a continuing resolution.
"We are going to do more with less, and make the Government lean and accountable to the people," President Trump said in a statement, calling for $54 billion in "reductions to non-Defense programs" to offset the additional defense spending.
The president also said the budget would include "deep cuts to foreign aid."
"It is time to prioritize the security and well-being of Americans, and to ask the rest of the world to step up and pay its fair share," President Trump added.
The $54 billion defense spending increase, or 10%, is the largest since President Ronald Reagan's Pentagon buildup in the 1980s and the most ever in one year. It aims to immediately ensure greater troop readiness to fight against Islamic State (ISIS), funding is available for new ships, fighter jets and other weapons systems.
Since 2009, defense spending decreased from $660 billion to $550 billion. One-third of U.S. ground forces aren't ready to fight and agency estimates put aircraft unready for flight somewhere from 50% to 75%. Trump's increase would be the largest at one time in history, but former President Ronald Reagan doubled it under his 8-year term.
"This is a hard power budget, not a soft power budget," said White House budget director Mick Mulvaney.
It also immediately appropriates $1.4 billion for the construction of the border wall in the ongoing fiscal year, with an additional $2.6 billion proposed for the 2018 budget year starting Oct. 1.
[pdfviewer width="740px" height="849px" beta="true/false"]https://www.peoplespunditdaily.com/wp-content/uploads/2017/03/Trump-America-First-Budget.pdf[/pdfviewer]