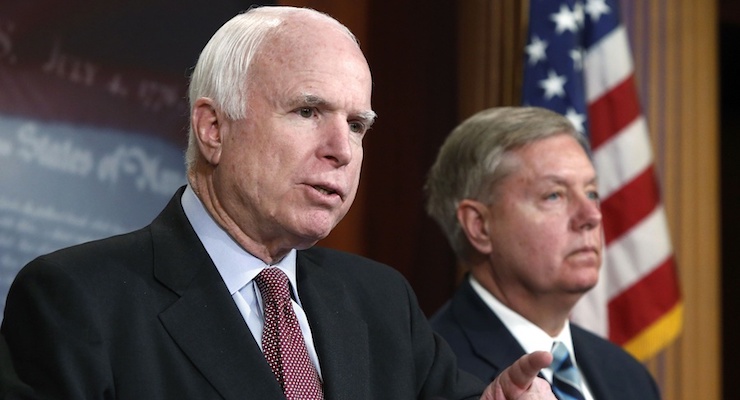 Sens. John McCain, R-Ariz., and Lindsey Graham, R-S.C., released a joint statement applauding President Donald Trump for taking military action in Syria. The two war hawks, who have been frequent critics of President Trump's policy in Syria and other regions, were among the first to weigh on the President's response to one of the deadliest attacks in the country's 6-year civil war.
"Unlike the previous administration, President Trump confronted a pivotal moment in Syria and took action," the senators said in a joint statement. "For that, he deserves the support of the American people. Building on tonight's first step, we must finally learn the lessons of history and ensure tactical success leads to strategic progress."
The chemical weapons attack claimed the lives of an estimated 72 people and wounding at least 400 others.
"The measure in such a strategy must be to take Assad's air force–which is responsible not just for the latest chemical attack, but countless atrocities against the Syrian people–completely out of the fight," the senators added. "We must also bolster support for the vetted Syrian opposition and establish safe zones to address the ongoing humanitarian crisis."
But while it has been widely reported the new U.S. administration has had greater success against the Islamic State in Iraq, it was unclear how far President Trump was willing to go to respond to President Assad in Syria, particularly considering the regime is acting as a countering force to the Islamic State.
Fifty-nine (59) tomahawk missiles were launched from the USS Porter and USS Ross in the Mediterranean Sea and hit multiple confirmed targets at Shayrat, which is located roughly 120 miles from Homs. It is believed that the base was used as a staging point for the chemical weapons attack on Tuesday and both warships have been training for the past two days to execute this mission.
U.S. Pentagon officials tell People's Pundit Daily the attack was limited but meant to send a message to Assad and Russia that U.S. foreign policy toward Syria has fundamentally changed and will not allow the use of chemical weapons on innocent people.
Preliminary investigations point to Sarin as the chemical involved in the attack. Sarin is a colorless, odorless liquid and is highly volatile moving easily from liquid to a gas.. However, unlike chlorine, which is the preferred chemical weapon of the Assad government, Sarin does not dissipate quickly.
That accounts for the high number of fatalities in what is a painful death– including twitching, jerking and foaming at the mouth.