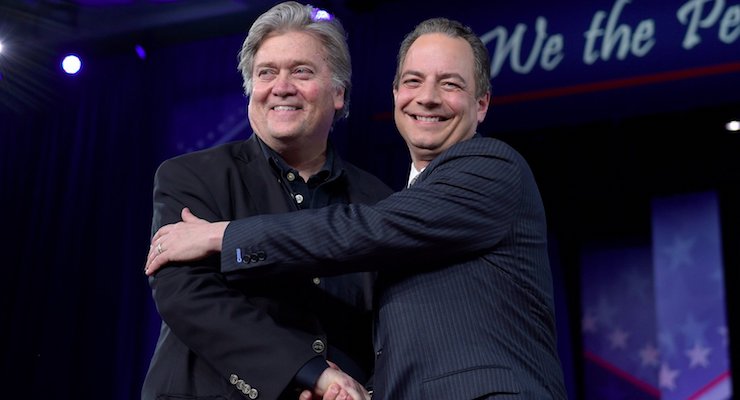 President Donald J. Trump is weighing a decision to replace loyalists and his promise to drain the swamp with the very creatures who profit there. The shakeup could include the White House Chief of Staff Reince Priebus and chief strategist Steven Bannon, Axios reported.
People's Pundit Daily has confirmed the report.
The move, particularly as it relates to Mr. Bannon, will no doubt enrage even his most loyal base of support. But it's not just who is being replaced that will cause a firestorm, but who is being considered for their replacements.
The short list for chief of staff to replace Mr. Priebus includes House Majority Leader Kevin McCarthy, R-Calif., a liberal-to-moderate member of the Republican establishment. Gary Cohn, the number two man at Goldman Sachs who has amassed enormous influence serving as economic advisor at the expense of Mr. Bannon, is also on the list.
The fight between the nationalist-populists–represented by Mr. Bannon and Stephen Miller–and the liberal-moderates–led by Ivanka Trump and her husband Jared Kushner–has been raging for weeks. While it's true that Mr. Priebus was considered more establishment as the former chairman of the Republican National Committee (RNC), he was a Trump loyalist during the campaign.
Following the release of the Access Hollywood tape during the campaign, Republicans in battleground states pressured Priebus to abandon the then-nominee and redirect resources to save down-ballot candidates. But he refused and the President, known for valuing loyalty, rewarded him with the position of chief of staff.
Mr. Bannon this week was removed from the National Security Council's Principles Committee. However, he said in a statement that his job of ensuring former head Micheal Flynn carried out the President's directive to depoliticize the NSC was completed.