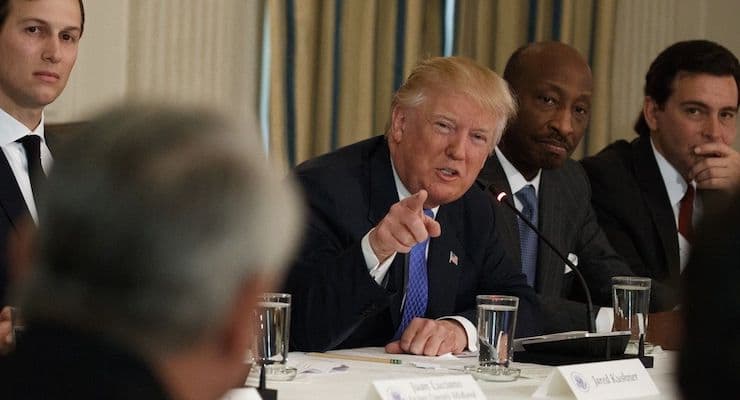 President Donald J. Trump Tuesday will visit tool manufacturer Snap-on Inc. (NYSE:SNA) at their headquarters in Kenosha, Wisconsin. The visit, his first to Wisconsin since taking office, comes as the President prepares to sign an executive order entitled "Buy American, Hire American" as part of his American First agenda.
Manufacturing makes up a large share of the economy in The Badger State, representing roughly 16% of the state's total labor market.
"Snap-on is a prime example of a company that builds American made tools with American workers, for U.S. taxpayers," White House Press Secretary Sean Spicer told reporters during a briefing.
President Trump will be joined by several high-profile Republicans who call Wisconsin home, including Sen. Ron Johnson and Gov. Scott Walker. Kenosha, Wis., is also the hometown of Reince Priebus, the President's chief of staff and former Republican National Committee (RNC) chairman.
The executive order will target abuses in the H1B visa program, which was a key centerpiece of the President's campaign. Big tech companies oppose the order because they want to pay lower wages for skilled immigrant labor. These companies–to include Tata, Infosys and Cognizant–apply for a larger number of visas than they ultimately know they will get.
"But by putting extra tickets in the lottery raffle, if you will, and then they'll get the lion's share of visas," Spicer said. "And you've seen some of these high-profile examples where you have career employees at a company who have been working there for 10, 20 years, and then they get laid off and they hire a contracting firm using H1B workers at much less pay."
Further, H1B workers get the highest wage tier recognized by the Department of Labor in only 5% to 6% of the cases, despite there being four wage tiers. In 2015, only 5% of H1B workers were in the highest tier.
According to the Government Accountability Officer (GAO), the U.S. offered a greater percentage of its government procurement to foreign competition than the next five largest trade agreement partners combined–the European Union, Japan, South Korea, Norway and Canada. The order will look to curb that disproportionality.
Snap-on said President Trump's visit will highlight "the essential nature of American manufacturing to our nation's future." Nick Pinchuk, the company's chief executive officer, president and chair, had praised President Trump for meeting with business executives shortly after his inauguration.
"Our view is confidence is everything," Pinchuk said, adding that U.S. workers need for training, and politicians need more respect for blue-collar workers. "The president, with his bully pulpit, can change it."
President Trump was the first Republican to carry the state of Wisconsin since Ronald Reagan did in 1984, and the first to carry Michigan and Pennsylvania since George H.W. Bush in 1988. In 1992, Bill Clinton flipped the Rust Belt and, while some cycles have been close, no Republican had the working class message or platform to flip them back until now.