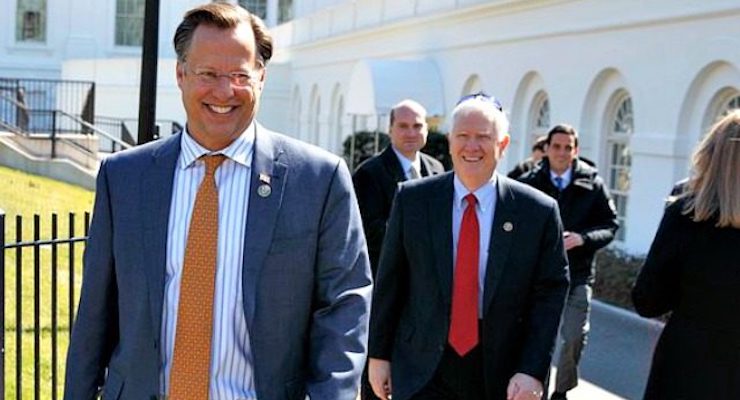 People's Pundit Daily has confirmed with multiple sources that an ObamaCare repeal bill backed by the House Freedom Caucus will be introduced in the Republican-controlled House next week. The new healthcare overall could be unveiled as early as Monday and a vote scheduled before the House goes to recess on May 29.
Rep. Mark Meadows, R-N.C., the chairman of the House Freedom Caucus, backs the new legislation and sources say he anticipates it will pass. While most of the blame for the failure of the American HealthCare Act (AHCA) fell on his conservative coalition, roughly two-thirds of the caucus did support the bill after numerous amendments were introduced.
But as the bill got more conservative, Republican moderates from the Tuesday Group and more competitive districts began to withdraw support, as well. The President asked House Speaker Paul Ryan, R-Wis., to pull the vote and the White House has been negotiating with the House Freedom Caucus since.
It's unclear how many moderates will support the latest version of the ObamaCare repeal bill, after they opposed a deal negotiated by Vice President Mike Pence that allowed states to seek regulation waivers. The Club for Growth, which endorses and supports HFC members, has launched a million dollar ad buy to pressure moderates to support the bill ahead of the announcement.
The first ad began running on April 11, featuring President Trump's campaign promises and praising his efforts to keep that promise.
"The Trump Administration has worked tirelessly with Republicans in Congress to improve the health care bill so that it would actually lower premiums, but GOP moderates have worked to thwart those efforts," said Club for Growth president David McIntosh. "It's time for all Republicans to do what they promised voters and back legislation that fulfills President Trump's pledge to end Obamacare and lower premiums."
The Club's second ad (seen below) "Our Chance" started to run on TV and digital platforms on April 13 targeting the districts of the following House members: Martha McSally (AZ-02), Adam Kinzinger (IL-16), Patrick McHenry (NC-10), Rodney Frelinghuysen (NJ-11), Chris Collins (NY-27), Pat Tiberi (OH-12),Greg Walden (OR-02), Charlie Dent (PA-15), Timothy F. Murphy (PA-18) and Evan Jenkins (WV-03).
Earlier this week, Rep. Meadows hinted that an agreement was close. President Trump has repeatedly indicated that he wants to move on healthcare before taking on tax reform, a strategy that makes it easier for him and House Republicans to reconcile budget projections.
Sources also say that Rep. Meadows was split on whether tax reform would get done by August, but said there was a very high chance it would be tackled by October.