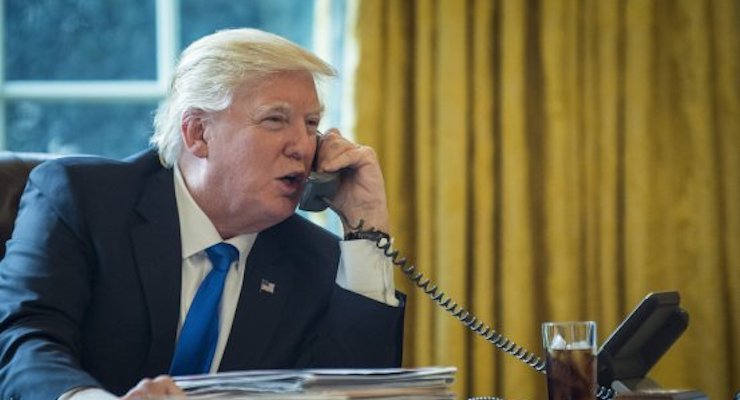 President Donald Trump convinced the leaders of Mexico and Canada on Wednesday to renegotiate the North American Free Trade Agreement (NAFTA), the White House confirmed. The White House had drafted a notification of the United States' intention to withdraw from NAFTA.
"it is my privilege to bring NAFTA up to date through renegotiation," President Trump said in a statement. "It is an honor to deal with both [Mexican] President [Enrique] Peña Nieto and [Canadian] Prime Minister [Justin] Trudeau, and I believe that the end result will make all three countries stronger and better."
NAFTA, the North American Free Trade Agreement, was pushed by former President Bill Clinton and enacted in 1994. It is a free trade agreement between the U.S., Canada and Mexico, and has largely been blamed for the destruction of much of the American manufacturing base.
The White House also said that the President "agreed not to terminate NAFTA at this time" and that all three leaders ""agreed to proceed swiftly, according to their required internal procedures, to enable the renegotiation" of the trade deal to "the benefit of all three countries."
President Trump during the campaign repeatedly railed against NAFTA and the Trans-Pacific Partnership (TPP). He told supporters at rallies he would renegotiate the Clinton-era trade deal and, if partnering nations didn't agree, he would pull out.
The trade issue won him Rust Belt states no Republican has carried since the 1980s. Almost immediately after taking office, President Trump signed executive orders stating his intention to renegotiate NAFTA and withdraw from the TPP. Commerce Department Secretary Wilbur Ross, U.S. Trade Representative Robert Lighthizer and Peter Navarro, the head of the newly-formed White House Trade Council, were put in charge of negotiating the new deals.
According to the Bureau of Labor Statistics, a division within the U.S. Labor Department, the state of Indiana alone lost roughly 18% of the manufacturing industry during the period 1994 to 2015, years impacted by NAFTA and the World Trade Organization. The cutoff for the figure is the second quarter of 2015, when the latest available employment data was released by the Labor Department.
From the third quarter of 1993 to the aforementioned period, The Hoosier State has lost at least 113,000 manufacturing jobs, a conservative number that factors both jobs created by exports and jobs displaced by imports. Meanwhile, the percentage of all private sector jobs that are manufacturing jobs in the state of Indiana fell from 28% to 20.2% during the NAFTA-WTO period.