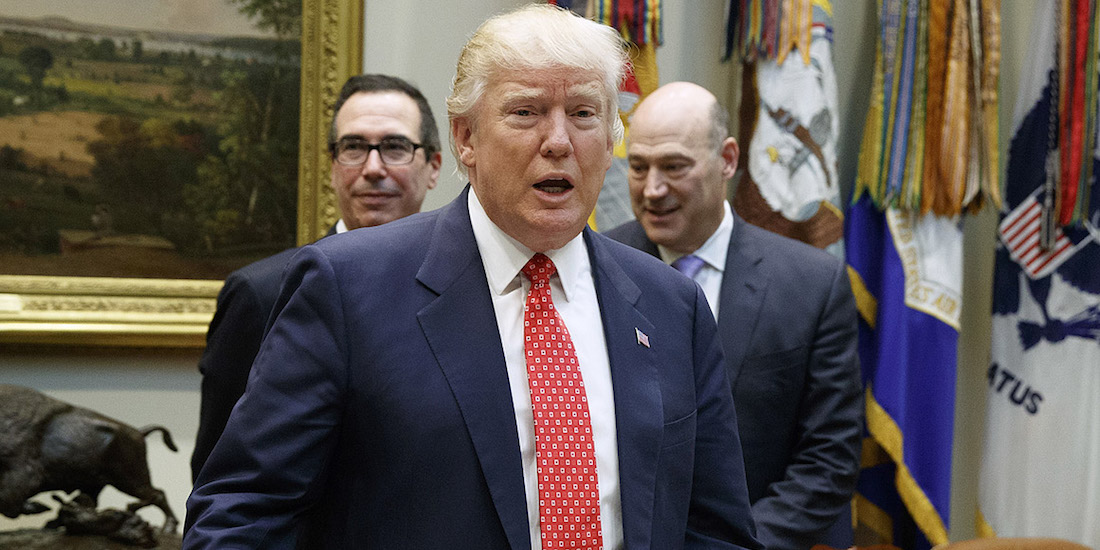 The Trump Administration unveiled their tax reform roadmap that amounts to the biggest tax cut in U.S. history, for both businesses and working Americans. Treasury Secretary Steven Mnuchin and White House Economic Council Director Gary Cohn said they have been in constant contact with the House and Senate to work out the details, but the President's plan emphasizes economic growth and simplification.
The individual tax rates will be reduced and simplified to 10%, 25% and 35%. The plan eliminates all deductions except for the popular mortgage deduction and charitable deductions.
The President's plan will substantially increase the standard deduction for working families, including a doubling to $25,000 for a family of 4. It eliminates most of the tax breaks that are mainly targeted benefits for higher-earners, though it does repeal the Alternative Minimum Tax (AMT). Secretary Mnuchin said the AMT "creates significant complications and burdens" and "means some Americans need to do their taxes twice."
"We will make sure that there are rules in place to make sure that wealthy people cannot get around paying their rate," he added.
Fewer filers will need to take itemized deductions, thus the tax code would be dramatically simplified. The proposal lowers dividends and capital gains taxes by eliminating the 3.8% tax created on them by ObamaCare, and immediately repeals the death tax.
"This will be pay itself with growth, by eliminating deductions and by closing loopholes," Secretary Mnuchin said.
The tax rate for all businesses, not just corporations but also small businesses, will be cut substantially to 15%. The United States has the highest corporate tax rate in the world and Secretary Mnuchin said analysis indicates it will result in trillions of American business dollars being repatriated from overseas.
"We believe we can get back to 3% GDP that is sustainable," Mr. Mnuchin said. "We will unlock the economic growth that has been held back for too long in this country."
get pushback from critics citing the usual D.C. obstacles to tax reform, the Joint Committee on Taxation (JCT) and the Congressional Budget Office (CBO). The JCT said Tuesday a big cut to corporate taxes would add to long-term budget deficits and the CBO also does not score tax proposals dynamically, assuming dollar for dollar losses that do not factor economic growth.
Democrats, who were silent when President Barack Obama added more to the national debt than all of his predecessors combined, will oppose the plan regardless. Senate Minority Leader Chuck Schumer, D-N.Y., has already expressed an unwillingness to work with the President and congressional Republicans on the proposal.
"We will be attacked by the left and we will be attacked by the right," White House economic advisor Mr. Cohen said. "But one thing is certain. I will never, ever bet against the President. He will get this done for the American people."