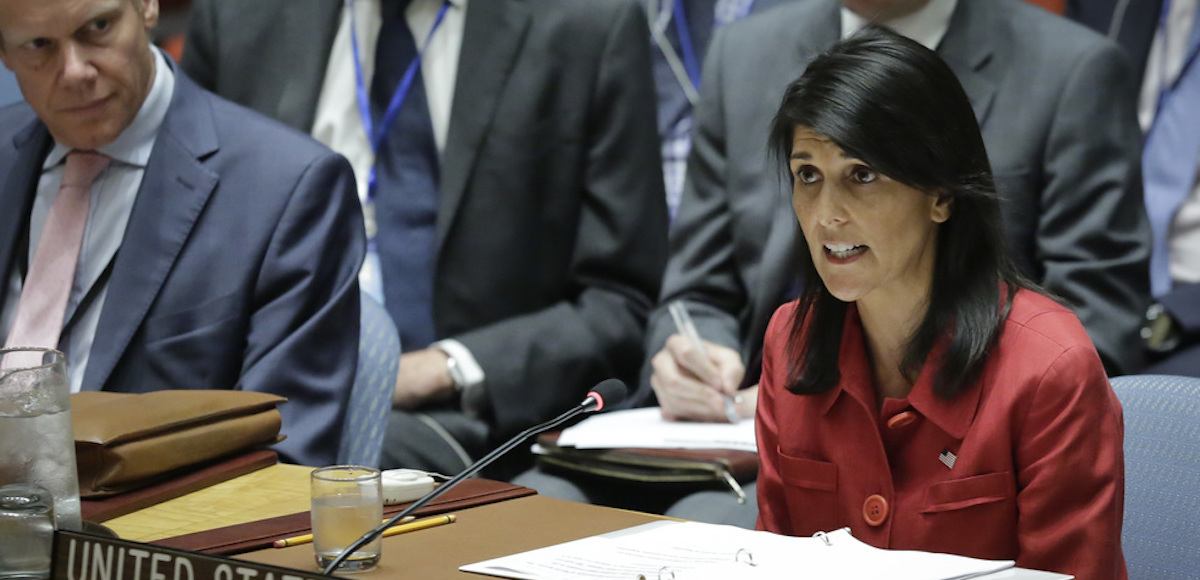 U.S. Ambassador Nikki Haley told the United Nations (UN) Security Council the world is running out of time to peacefully stop North Korea. The emergency meeting on Wednesday was called after North Korea launched an intercontinental ballistic missile on July 4, 2017.
"The world is on notice," Haley said. "If we act together we can still prevent a catastrophe and we will rid the world of a grave threat. If we fault to act in a serious way, there will be a different response."
North Korea tested a new version of the KN-07 that flew for 37 minutes and reached a height of 1,500 miles, breaking the DPRK's previous record of 30 minutes and 1,000 feet set on Mother's Day. Officials told People's Pundit Daily the U.S. Pentagon believes is was "something new," a version of the KN-17 outfitted with a second stage, rather than single-stage, liquid propulsion system.
It gives Pyongyang the capability to reach the U.S. via Alaska and U.S. Ambassador Haley warned it increased the risk of a military conflict.
"Make no mistake, North Korea's launch of an ICBM is a clear and sharp military escalation," Amassador Haley said. "Their actions are quickly closing off the possibility of a diplomatic solution. The United States is prepared to use the full range of our capabilities to defend ourselves and our allies. One of our capabilities lies with our considerable military forces. We will use them, if we must, but we prefer not to have to go in that direction."
She also announced that the U.S. will introduce a new security resolution proposing tougher economic sanctions to cut off North Korea's access to funding. It not only will target the rogue leftwing regime, but nations who enable them.
"We will not look exclusively at North Korea," she said. "We will look at any country that chooses to do business with this outlaw regime. We will not have patience for stalling or talking our way down to a watered down resolution."
On unilateral action,she indicated the Trump Administration is willing to engage in a trade war with North Korea's partners to further isolate Pyongyang. Ambassador Haley told the UN she spoke at length with President Donald J. Trump on Wednesday morning about "countries that are allowing, even encouraging trade with North Korea, in violation of U.N. Security Council resolutions."
"There are countries that are allowing, even encouraging, trade with North Korea in violation of UN Security Council resolutions," she told the UN. "Such countries would also like to continue their trade arrangements with the United States. That's not gonna happen. Our attitude on trade changes when countries do not take international security threats seriously."