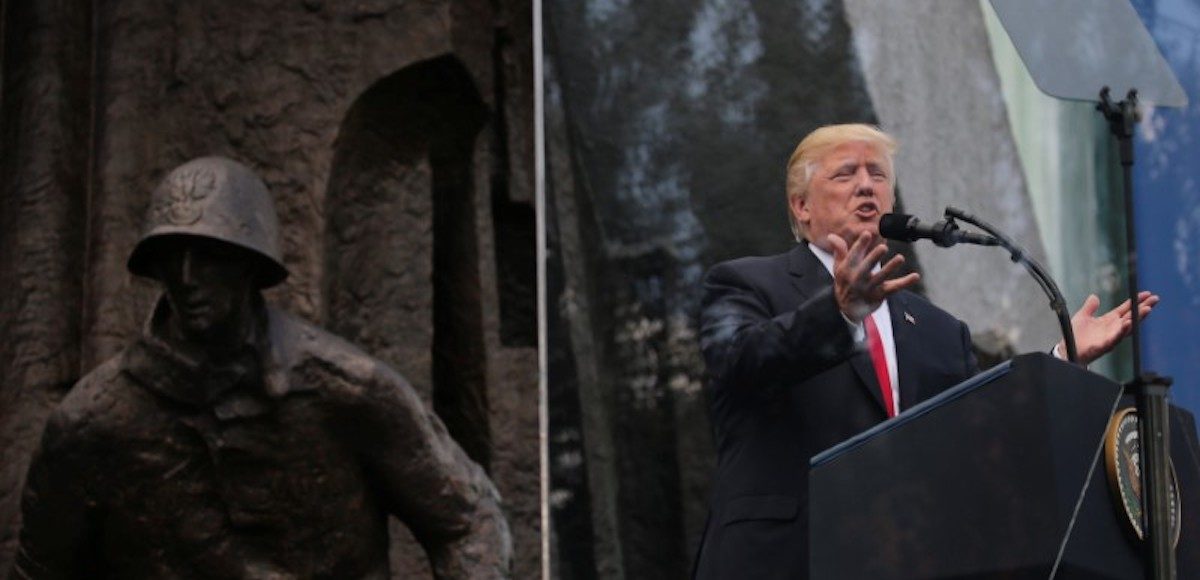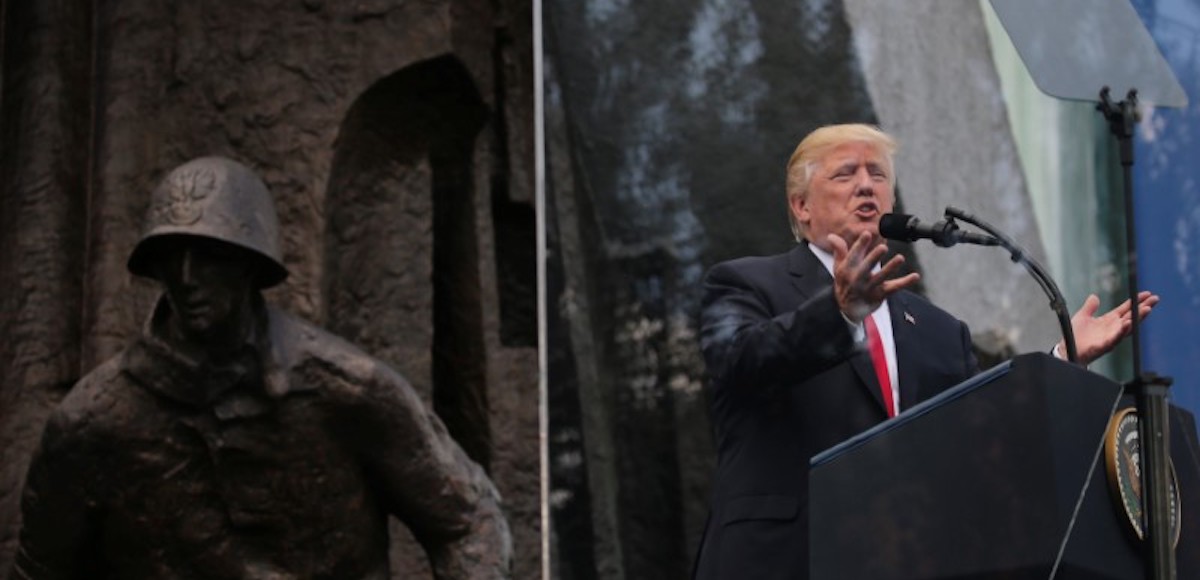 President Donald J. Trump in Poland on Thursday called on the West to "defend our civilization" against those who seek to "undermine our values." Speaking at Krasinski Square, the symbolic monument to the 1944 Warsaw Uprising, he drew on the Polish experience to argue "the defense of the West" and its values are only possible if people have the will to "defend them at any cost."
"We must work together to confront forces that threaten over time to undermine our values and erase the bonds of culture, faith, and tradition", he said to repeated chants of "Donald Trump! Donald Trump!"
"As the Polish experience reminds us – the defense of the West ultimately rests not only on means but also on the will of its people to prevail. The fundamental question of our time is whether the West has the will to survive?" he asked. "Do we have the confidence in our values to defend them at any cost? Do we have enough respect for our citizens to protect our borders? Do we have the courage to preserve our civilization in the face of those who would subvert and destroy it?"
The U.S. President has much in common with Poland's ruling Law and Justice (PiS) party, which holds a blend of conservative-populist views that are similar on immigration, climate change and the protection of national sovereignty from globalization. PiS has fought against migrant quotas forced on them by larger European Union (EU) nations, such as France and Germany .
"Our freedom and our civilization depend on these bonds of history, culture, and memory," President Trump said. "Just as Poland could not be broken, I declare for the world to hear that the West will never ever be broken and our values will prevail, our people will thrive, and our civilization will triumph."
The EU even threatened Poland with sanctions if they did not accept thousands of migrants from the Middle East, something Polish Prime Minister Beata Szydło said revealed "the madness of the Brussels elite" after the Manchester terror attacks.
Poland, Hungary, Slovakia, and the Czech Republic have argued forced quotas invite terrorism. Drawing on their history of leading the largest military resistance against the Nazis during World War II, he warned of the modern threats the West faces today, including mass immigration and Islamic terrorism.
"We are confronted by another oppressive threat – one that threatens to export extremism and terror all around the globe," the President said. "The EU and America have suffered one terror attack after another. We are going to get it to stop… We must stand united against these shared enemies to rip them of their territory."
President Trump also praised Poland for meeting their obligations to the North Atlantic Treaty Organization (NATO) and slammed Russian  for its "destabilizing" role in the region.
"American knows that a strong alliance of free, sovereign, nations is the best defense for our freedoms and our interests. That is why my administration has demanded that all members of NATO finally meet their full and fair financial obligation," he said. "As a result of this insistence billions of dollars more have begun to pour into NATO."
In May, during his first foreign trip aboard, President Trump told NATO-member nations that American taxpayers are done paying for their defense if they don't meet their financial obligations. While Poland not only meets their obligation, it contributes nearly as much as the United States (US) as a percentage of gross domestic product (GDP).
Meanwhile, 23 of the 28 members nations, including France and Germany, aren't paying their fair and agreed upon share for the common defense. As People's Pundit Daily recently explained, President Trump is employing textbook structural realism. There are two main strategies nation-states use to prevent aggressors from tipping the balance of power: balancing and buck-passing.
For years, U.S. administrations have allowed NATO to buck-pass by allowing them to ignore their obligations.
WATCH FULL VIDEO BELOW OR READ TRANSCRIPT WHILE YOU WATCH