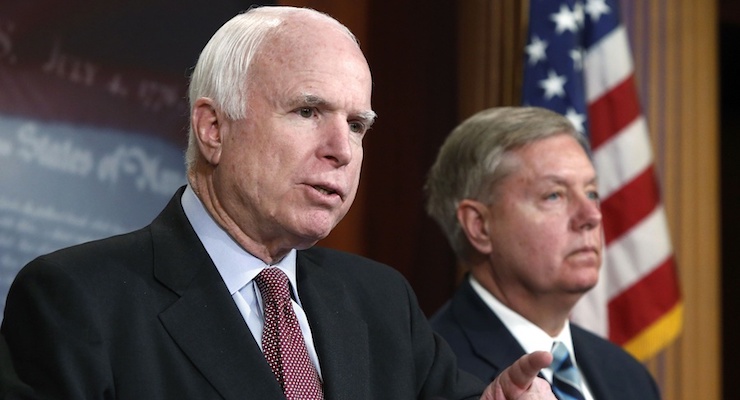 In this article, which is the second in a series, we continue with our goal to give our readers a more informed opinion on U.S. foreign policy. In the first article in the series, we started with the basic schools of thought in international relations, the assumptions each of these make, as well as how those assumptions hold up to historical and empirical scrutiny.
Now, we will explain strategies nations use to tip the balance of power in their favor.
Let's briefly summarize what we laid out in Foreign Policy 101 for D.C. Dummies: Basic Theories of International Relations.
Policy-makers in D.C. who use liberal rhetoric–not to be confused with leftwing ideology, but rather we are referring to idealistic terms of morality–are deeply disconnected from sound, accepted academic research.
Liberal theories such as the democratic peace theory or neoconservatism are deeply flawed and do not hold up to scrutiny, as we previously demonstrated.
Despite what you may hear from them, great powers, nation-state actors and even "rogue regimes" do not act like "mad men" hellbent on destroying other great powers in the West just because they're mad men. States are rational and view the pursuit of power as the best mean to survive in the international state of anarchy.
To recap, think of the international state of anarchy like this: there is no global 911 operator nations can call when another nation-state of equal or greater power threatens their security. Despite the existence of the United Nations (U.N.), there is no single or collective central authority backed by force that can protect states from one another.
The "911 problem" reveals the great failure of the UN. The reasons have been incessantly debated, but the most solid and accepted arguments come from various theories in the schools of structural realism. They support the basic idea that self-interests have always prevailed and will always prevail over idealistic desires for collective cooperation.
That being said, even Adolf Hitler was a rational nation-state actor who carefully crafted a diplomatic strategy to avoid prompting neighboring great powers to form a balancing coalition against him. But before I defend that claim, we must first explain what balancing means.
Let's now look at the strategies states employ to maximize their share of power, either by tipping the balance of power in their favor or by preventing other states from shifting the balance against them. Keep in mind that a nation's power–defined by its economy (wealth and industrial strength), population and military size and capability–is relative to other nations.
War is obviously the main strategy states use to acquire relative power. But it's not necessarily the most attractive option due to its costs and potential risks. As noted in the first article in the series, neoconservatives believe in the Primacy of Power and want to use war to shape the world in America's image, falling into a textbook "myths of empire" trap.
Blackmail is historically difficult to use successfully, but is a far more attractive alternative to war. It uses the threat of war to coerce the same behavior, but without incurring the expense and risk. Why is it difficult? Because other great powers that truly pose a threat will simply fight before they submit to another great power.
Bait and bleed is a particularly relevant strategy to the current debate on U.S. foreign policy. A state will try to weaken its rival or rivals by luring them into a long and costly war. It too is difficult to achieve and an easier version of the strategy is referred to as bloodletting, which is simply when a state takes precautions to ensure any war a rival is involved in will be protracted.
Think Russia bloodletting the U.S. in Vietnam, the U.S. doing the same to Russia in Afghanistan, and so on.
The two main strategies used to prevent aggressors from tipping the balance of power are balancing and buck-passing, and as such are also particularly relevant to the current debate. That is likely to always be the case.
Balancing is when states make a serious commitment to deter and contain a rival, by force if necessary. With buck-passing, states will attempt to get another great power to shoulder the costly burden.
STOP!
Before we go on, we have to address statements by D.C. policy-makers and mediates regarding President Donald J. Trump's criticism of the North Atlantic Treaty Organization (NATO), also called the North Atlantic Alliance. The President campaigned on and later demanded reforms to NATO to reflect the modern threat from Islamic extremism, rather than Soviet Russia and the Warsaw Pact, NATO's communist counterpart. But the most oft-mocked reform was a demand that member-nations meet a required commitment to spend 2% of their GDP on defense.
This is textbook structural realism, yet it was met with ridicule from D.C. dummies. Prior to President Trump, our leaders really were "stupid" to allow NATO nations to buck-pass so that they may avoid the cost of deterring aggressors. Secretary of State Rex Tillerson and Secretary of Defense James Mattis delivered the President's "pay up" demand to NATO-member nations last month.
They complied. End of story. The media responded to their compliance either with shock or silence.
But in truth, once that demand was delivered, they never really had a choice. With Russian aggression challenging the status quo in the balance of power, NATO nations need the U.S. and must cave to its demands. Critics say President Trump flip-flopped, but realists say he coerced the behavior of an entire balancing bloc of nations without firing a shot, and increased the relative power of the U.S. (by saving the U.S. money).
Appeasement and bandwagoning are the final two strategies states employ, and have been argued to be the core alternatives to war. However, as John Mearsheimer, the father of offensive realism demonstrated in The Tragedy of Great Power Politics, they are not particularly useful outside of theory.
The actual choice in a realist world is between balancing and buck-passing, and threatened states prefer buck-passing to balancing whenever possible.
Bandwagoning is when a threatened state hopes to prevent the aggressor from gaining power at its own expense and, thus, opts to join forces with them in the hope it can at least enjoy a few crumbs in the spoils of war. It is an ineffective and sometimes dangerous strategy. Appeasement is more ambitious, to be sure. An appeaser state is gambling that it can change the behavior of the aggressor by conceding power to it.
In the next article in the series, we will discuss the most notable example of appeasement–the Munich Agreement between Neville Chamberlain and Hitler. Neoconservatives such as Sens. John McCain, Lindsey Graham and Marco Rubio, love to cite this example. But we'll actually use it to dispel their own myths.
Further, we'll revisit the failures of the democratic peace theory and explore what constitutes a vital national security risk. In order to do the latter, we must first establish that nation-states are rational actors, which is also how we will circle back to Hitler and his predecessor, Otto von Bismarck.
Read Also — Foreign Policy 101 for D.C. Dummies: Basic Theories of International Relations