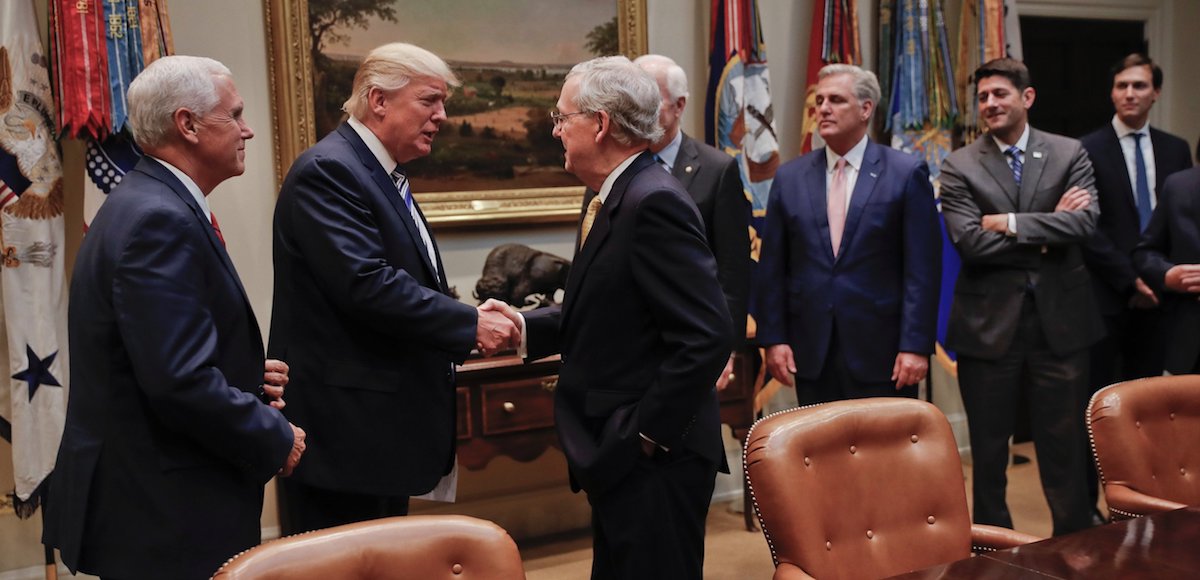 President Donald J. Trump took aim at Republicans in the Senate on Saturday, tweeting that they "look like fools and are just wasting time."
"Republicans in the Senate will NEVER win if they don't go to a 51 vote majority NOW," President Trump tweeted first in a series of tweets Saturday morning. "They look like fools and are just wasting time."
Earlier in the week, Senate Republicans rejected a conservative amendment for a "straight repeal" of ObamaCare with a two-year window to replace the failing law, breaking a 7-year promise to voters.
Seven Republicans–including Shelley Moore Capito, W.Va., Susan Collins, Me., Dean Heller, Nev., John McCain, R-Ariz., Rob Portman, Ohio, Lamar Alexander, Ala., and Lisa Murkowski, Alaska–joined Democrats to make the vote 55 to 45.
All but Sen. Collins of Maine voted "Yes" on an almost identical bill in 2015, when Republicans voted 52-47 to repeal ObamaCare because they knew it would be vetoed by Barack Obama. Now that Republicans have the chance to cast a meaningful vote with a president willing to sign it, they caved.
Earlier Friday morning, in the dead of the night, they rejected an amendment for a "skinny repeal" of ObamaCare that would've done away with the individual and employer mandates, as well as the medical device tax. The final vote was 51 to 49.
Sens. McCain, Murkowski and Collins tanked the bill.
"8 Dems totally control the U.S. Senate," President Trump tweeted in a second tweet. "Many great Republican bills will never pass, like Kate's Law and complete Healthcare. Get smart!"
The more conservative Republican-controlled U.S. House of Representatives approved Kate's Law and the No Sanctuary for Criminals Act in June. Kate's Law (H.R. 3004), named after 32-year-old Kate Steinle who was shot and killed on July 1, 2015 near San Francisco by Juan Francisco Lopez-Sanchez, will toughen the punishment for illegal immigrants who re-enter the country and give judges more discretion on detainment.
It passed with a vote of 257 to 157. Only one Republican voted "No" and only 24 Democrats voted "Yes."
The No Sanctuary for Criminals Act (H.R. 3003) would restrict eligibility to receive certain Department of Justice or Department (DOJ) of Homeland Security (DHS) grants for states and localities that do not comply with federal immigration law and reallocate those funds to those that are in compliance.
It passed by a vote of 228-195 with only 3 Democrats voting "Yes" and 7 Republicans voting "No."
The two pieces of legislation remain widely popular among American voters.
A recent survey found 62% of likely voters want the DOJ to punish cities that provide sanctuary for illegal immigrants. Another recent Harvard-Harris poll found 80% of Americans believe local authorities should comply with federal immigration authorities.
"If the Senate Democrats ever got the chance, they would switch to a 51 majority vote in first minute," the President added. "They are laughing at R's. MAKE CHANGE!"
The President's tweets were welcomed among Republican voters, who were furious with the betrayal. Recent data from the People's Pundit Daily Big Data Poll (PPD Poll) indicate 30% of Republican voters would seriously consider sitting out 2018 if Republicans didn't keep their promise to repeal ObamaCare.