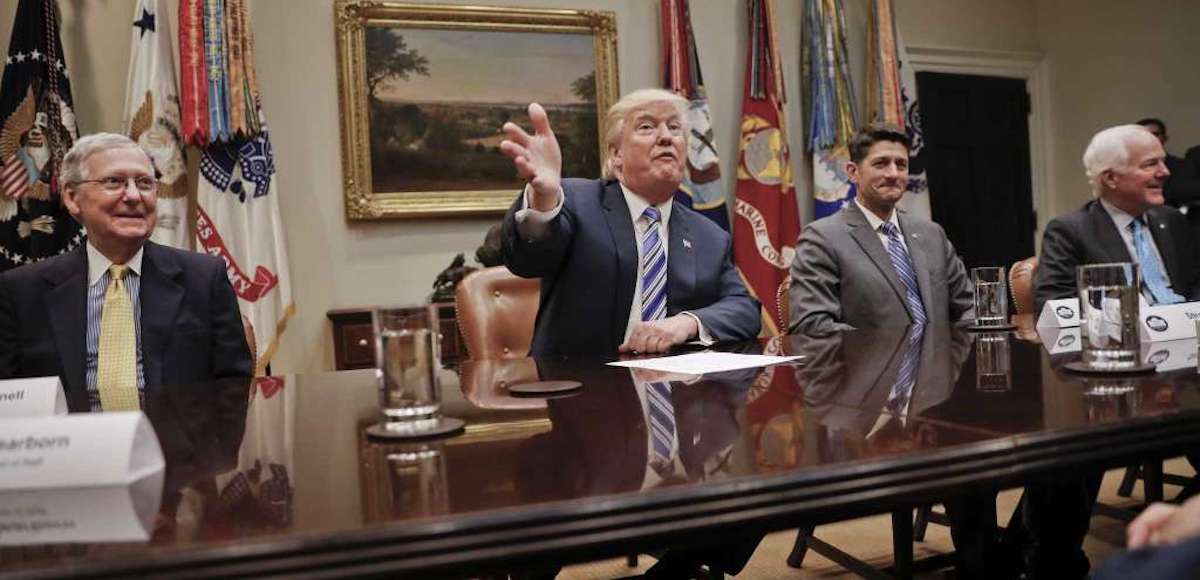 President Donald J. Trump threatened to end a rule that effectively gave an ObamaCare exemption to members of Congress if reform doesn't pass the U.S. Senate.
"If a new HealthCare Bill is not approved quickly, BAILOUTS for Insurance Companies and BAILOUTS for Members of Congress will end very soon!" he tweeted.
If a new HealthCare Bill is not approved quickly, BAILOUTS for Insurance Companies and BAILOUTS for Members of Congress will end very soon!

— Donald J. Trump (@realDonaldTrump) July 29, 2017
In 2009, Sen. Chuck Grassley, R-Ia., inserted a provision into the Affordable Care Act, otherwise known as ObamaCare, which required members of Congress and their staffs to purchase insurance through the same exchanges. While it was watered down to exclude committee staff, it still pertained to members of Congress and their personal staffs.
If it was allowed to stand, the taxpayer-funded federal health insurance subsidies available to members of Congress and their personal staffs–which now range from $6,000 to $12,000 a year and cover roughly 70% of their premiums–would have come to an end.
But Barack Obama personally ordered the Office of Personnel Management (OPM) to interpret the law in such a manner that it ensured the taxpayer-funded benefits remained, effectively overturning the provision introduced by Sen. Grassley. Initially, OPM, which oversees federal employment issues, didn't want to go along.
In the end, OPM accepted Mr. Obama's interpretation, relieving Congress of the difficult task of voting to exempt themselves from ObamaCare.
Former Sen. David Vitter, R-La., attempted to push legislation that would've overturned the end-round exemption. But Democratic senators began to draft legislation that would've denied federal health subsidies to any lawmaker who voted for the Vitter Bill, even if it didn't become law.
Unsurprisingly, the Vitter Bill was tabled and died.
Earlier in the week, Senate Republicans rejected a conservative amendment for a "straight repeal" of ObamaCare with a 2-year window to replace the failing law, breaking a 7-year promise to voters.
Seven Republicans–including Shelley Moore Capito, W.Va., Susan Collins, Me., Dean Heller, Nev., John McCain, R-Ariz., Rob Portman, Ohio, Lamar Alexander, Ala., and Lisa Murkowski, Alaska–joined Democrats to make the vote 55 to 45.
All but Sen. Collins of Maine voted "Yes" on an almost identical bill in 2015, when Republicans voted 52-47 to repeal ObamaCare because they knew it would be vetoed by Barack Obama. Now that Republicans have the chance to cast a meaningful vote with a president willing to sign it, they caved.
Earlier Friday morning, in the dead of the night, they rejected an amendment for a "skinny repeal" of ObamaCare that would've done away with the individual and employer mandates, as well as the medical device tax. The final vote was 51 to 49.
Sens. McCain, Murkowski and Collins tanked the bill.
The President's tweets were welcomed among Republican voters, who were furious with the betrayal. Recent data from the People's Pundit Daily Big Data Poll (PPD Poll) indicate 30% of Republican voters would seriously consider sitting out 2018 if Republicans didn't keep their promise to repeal ObamaCare.
Meanwhile, polling conducted for Independent Women's Voice found 94% of likely voters think Congress shouldn't be exempted from ObamaCare. However, most voters blame both parties equally for the carve out, leaving Republicans just as politically vulnerable as Democrats on the issue.