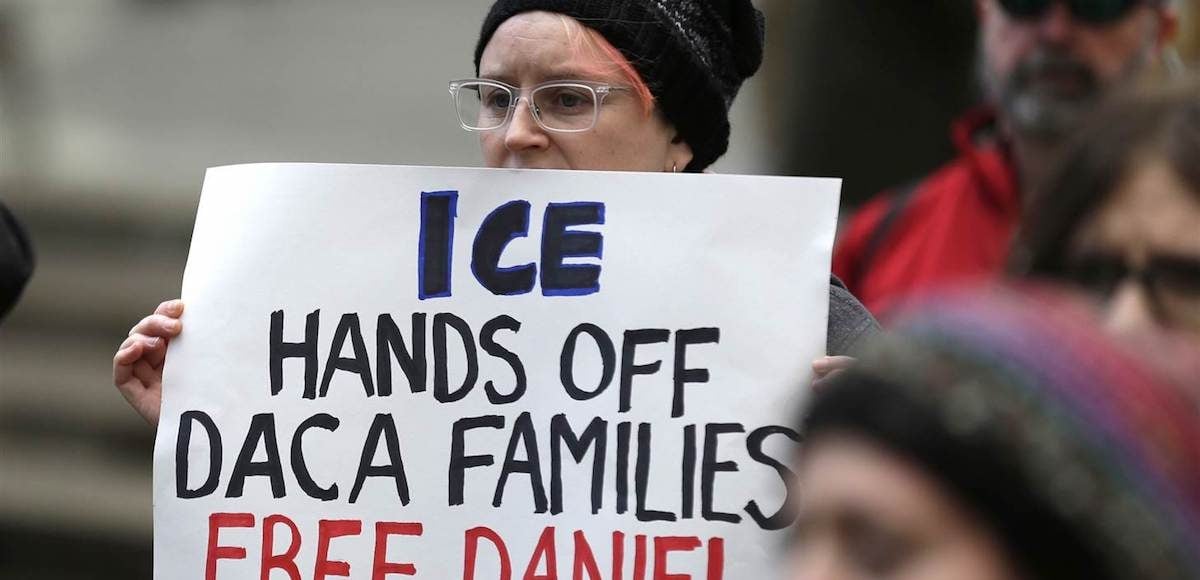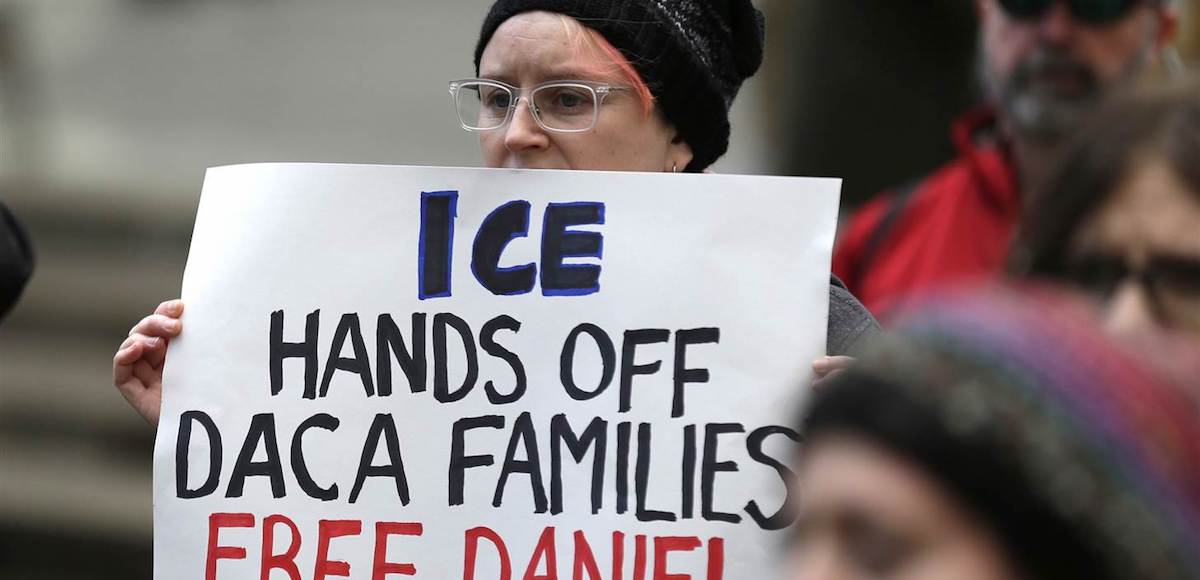 The deadline for President Donald Trump to decide whether to reverse Deferred Action for Childhood Arrivals, or DACA, is September 5, 2017. It was set by 10 States demanding an end to what they argue the law views to be illegal executive amnesty.
Otherwise, as the 9 attorneys generals and 1 governor led by Texas Attorney General Ken Paxto wrote to Attorney General Jeff Sessions, the States will take the Trump Administration to court. The States are Alabama, Arkansas, Idaho (governor), Louisiana, Kansas, Nebraska, South Carolina, Tennessee, Texas and West Virginia.
Citing unnamed sources, NBC News reported that the President appears poised to "pull the plug" on DACA, which should really be reported as "keep his campaign promise." Candidate Trump repeatedly referred to DACA as an "illegal executive amnesty" and vowed to "terminate President Obama's two illegal executive amnesties in which he defied federal law and the Constitution."
"Immediately."
People's Pundit Daily (PPD) has not independently confirmed that NBC News report. But no matter what President Trump decides, the reality is that DACA faces overwhelming, almost insurmountable odds of survival.
Background: DACA vs DAPA
On June 15, 2012, the Obama Administration via the Secretary of Homeland Security announced DACA. It stated certain people who came to the United States by 2007 as children were allowed to request consideration of deferred action for a period of 2 years, subject to renewal if they met certain guidelines.
Applicants, whether they arrived illegally or overstayed their visas, must not have committed any serious crimes and must have been brought to the U.S. by their parents before they were 16 years old.
Deferred action is a use of prosecutorial discretion to defer removal action against an individual for a certain period of time, though it does not provide lawful status.
In 2014, Barack Obama expanded protection from deportation to the parents of illegal immigrants with Deferred Action for Parents of Americans and Lawful Permanent Residents, or DAPA. The Trump Administration revoked DAPA, but has thus far refused to end DACA.
Reality Check
"If the States sue, they will win. As a legal question, it's not even close," Kansas Secretary of State Kris W. Kobach wrote in an op-ed published by Breitbart News. "DACA is not illegal for just one reason. It's illegal for at least five reasons – three violations of federal law and two violations of the United States Constitution."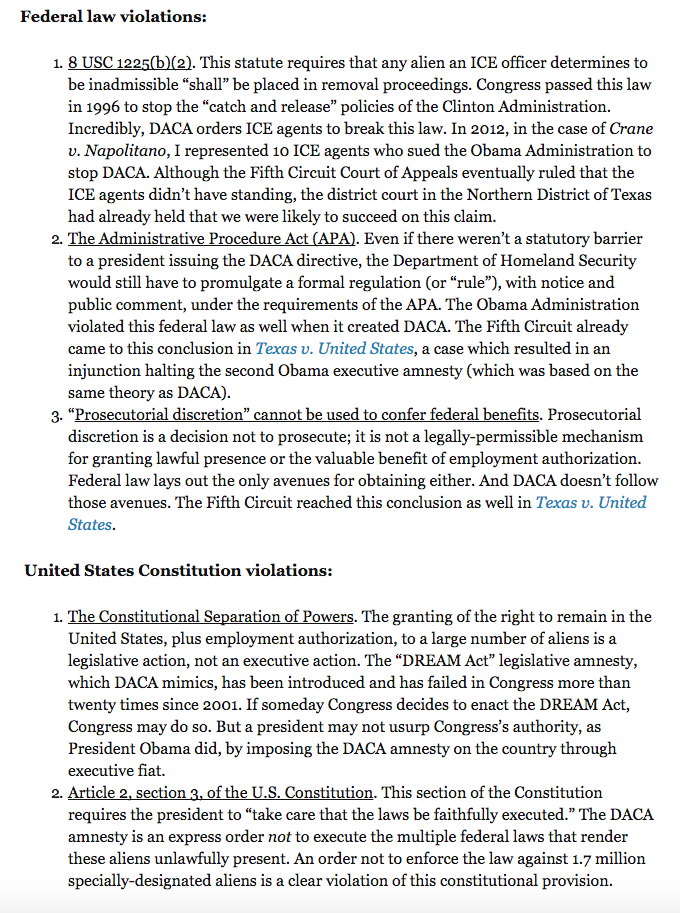 As Secretary Kobach noted, it takes just one of these legal arguments to defeat DACA in court, even if Democrats and activists find some liberal hack judge to prolong the inevitable. Further, as Mr. Kobach also noted, 3 of these have already been affirmed by the courts.
Attorney General Sessions has stated publicly the program should be ended. That's not solely due to his ideology. In fact, it's not even the predominant reason. He knows it is unconstitutional and doesn't want to defend the indefensible.
Lawyers at the Department of Homeland Security (DHS) also told then-Secretary John Kelly, who is now White House Chief of Staff, the Obama era policy is unlikely to hold up to legal scrutiny.
"This is what he's being told by different attorneys, that if it goes to court it might not survive," DHS spokesman David Lapan said at the time.
Even Sen. Lindsey Graham, R-S.C., a RINO (Republican in Name Only) who has been nicknamed Lindsey Grahamnesty by the Republican base, concedes DACA is unconstitutional.
"The Department of Justice can't win the case," Mr. Kobach stated confidently and bluntly. "The Fifth Circuit has already ruled on the central legal question, and that is where the case would be heard. The Trump Administration would lose in court, and the president would lose a significant section of his political base as well."
The law should not and cannot care whether an estimated 200,000 people have applied for DACA status under the Trump Administration, nor that roughly 800,000 will be impacted.
That's Barack Obama's fault and, in a Republic, the rule of law must take precedent above the former president's political ambitions for it to survive. That leaves Congress as the only viable option left to override President Trump's decision.
Good luck with that.