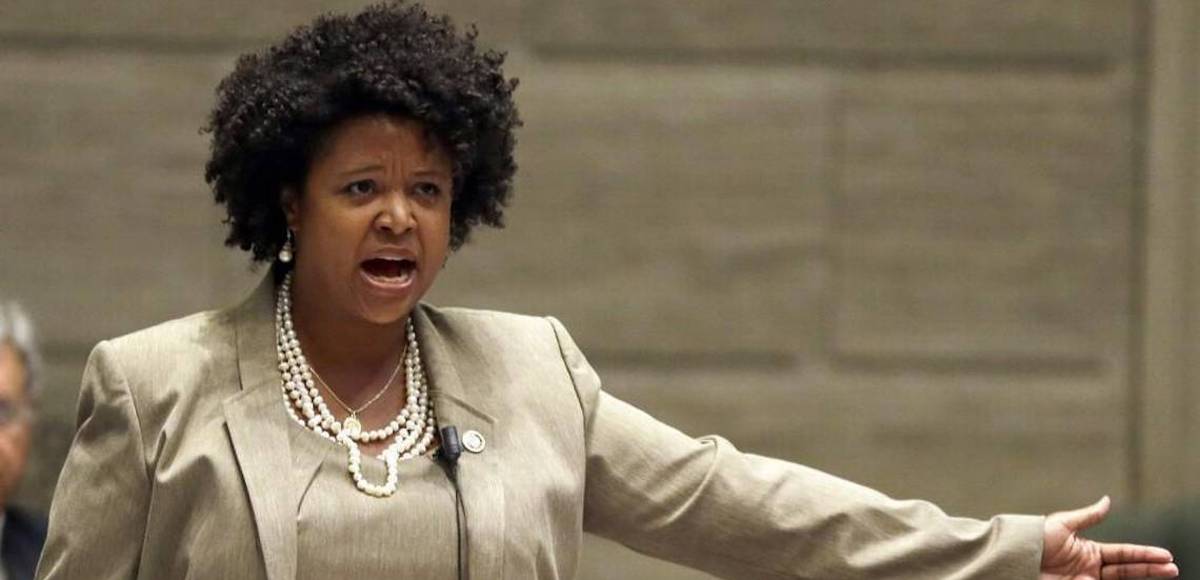 Missouri Democratic state Sen. Maria Chappelle-Nadal is still refusing to resign even after she was stripped of her committee assignments on a bipartisan basis. Republican Senate President Pro Tem Ron Richard and Minority Leader Gina Walsh on Tuesday took bipartisan action in response to her writing in a Facebook response "I hope Trump is assassinated" before deleting her comments.
"I support the decision of Senate Minority Leader Gina Walsh to remove Sen. Chappelle-Nadal from all of her Senate committees," President Pro Tem Richard said in a statement. "I am also removing her from all appointments under my authority."
Meanwhile, Lt. Gov. Mike Parson on Tuesday called for a special session to expel Chappelle-Nadal from the state's upper chamber. The move would require a two-thirds vote.
"The recent inflammatory comments made by Senator Chappelle-Nadal are unacceptable and unbefitting conduct of a Missouri State Senator," Lt. Gov. Parson wrote in a letter to members of the Missouri Senate. "I am calling on the Missouri Senate to go into special session in conjunction with Veto Session, with the purpose of expelling Senator Chappelle-Nadal from the body under the authority vested to the Senate under Article III, Section 18 of the Missouri Constitution."
"I do not make this request of you lightly, but you and I know it is the right course of action to take for the people of Missouri."
Despite widespread, bipartisan calls for her to resign, she initially blamed President Donald Trump. Chappelle-Nadal, who played a key role in pushing the debunked "Hands Up, Don't Shoot" narrative in Ferguson that crumbled under forensic and eyewitness scrutiny, only offered an apology after repeated responses that were deeply disturbing to members of her own party.
She represents the 14th District, which includes University City and Ferguson.
"President Trump, I apologize to you and your family," Chappelle-Nadal said at the Wellspring Church in Ferguson. "I also apologize to all the people in Missouri. And I also apologize to my colleagues in the Missouri legislature for the mistake that I made."
"I made a mistake. And I'm owning up to it."
That's a complete 180 from her initial response, which was to paint herself as a social justice warrior taking a stand against a racist president.
Sen. Claire McCaskill, one of the most vulnerable Red State incumbent Democrats, immediately called on her to resign. Stephen Webber, chairman of the Missouri Democratic Party, joined the senator in those calls.
"State Sen. Chappelle-Nadal's comments are indefensible," Chairman Webber said. "All sides need to agree that there is no room for suggestions of political violence in America — and the Missouri Democratic Party will absolutely not tolerate calls for the assassination of the president. I believe she should resign."