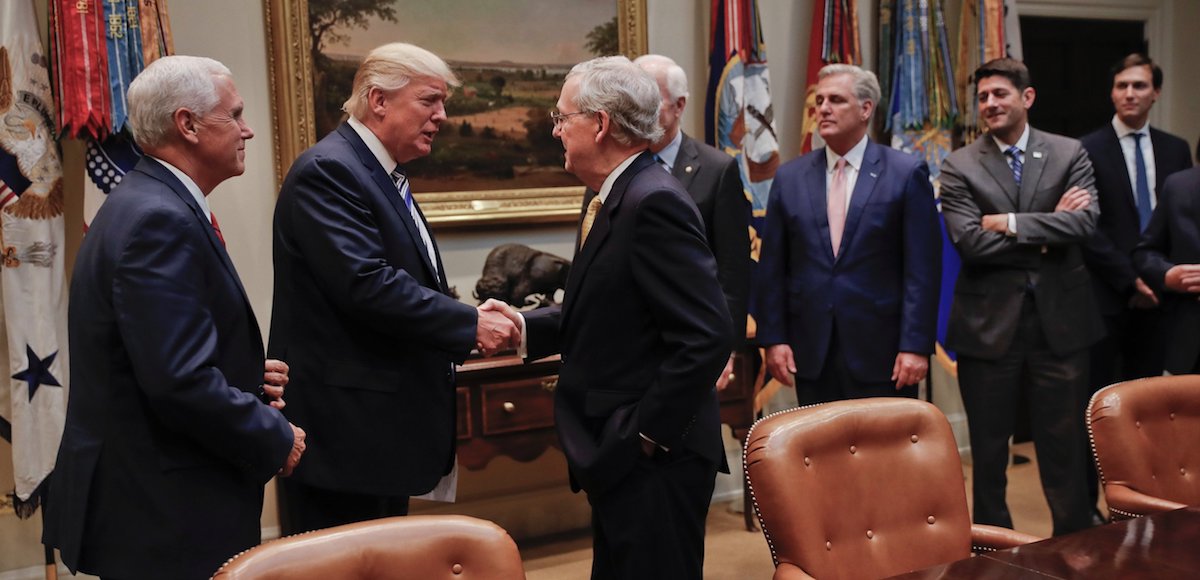 President Donald Trump and Senate Majority Leader Mitch McConnell, R-Kty., met at the White House Monday to discuss moving the agenda forward. The two emerged from the meeting at least attempting to portray a united front on tax reform and healthcare following a series of feuds and failures in the upper chamber.
"We have the same agenda. … We talk all of the time," Majority Leader McConnell told reporters after the meeting. "Contrary to what you may hear, to what some of you have reported, we are together totally on this agenda to move America forward."
President Trump said his relationship with the Senate majority leader was "better than ever." However, People's Pundit Daily (PPD) has been told by multiple sources that the newfound optimism wouldn't be possible with the commander-in-chief firing warning shots at the U.S. Capitol Building.
"We've been friends for a long time," President Trump said at a press conference in the Rose Garden. "We're fighting for big tax cuts. My relationship with this gentleman has been outstanding."
The President also said they are working on yet another proposal to repeal and replace ObamaCare by early next year, which failed after numerous attempts. He said the voters will blame John McCain and other senators who failed to keep their promises, not him.
Leader McConnell's office had previously described the meeting at the White House as an informal discussion about Republicans' legislative agenda through the fall, which include big items such as tax reform and immigration. The more conservative House of Representatives has already passed several immigration bills that fulfill campaign promises, to include Kate's Law and sanctuary city crackdowns, a few of the more than 200 bills that stalled in the Senate.
But the meeting comes after former White House chief strategist Steven Bannon vowed to wage primary challenges against every Republican senator except for Ted Cruz. President Trump told reporters that "Steve is a friend of mine" and he "can't blame him" for his frustration with Establishment Republicans.
"This is our war," Mr. Bannon said Saturday at a gathering of religious conservatives," "The establishment started it. You all are going to finish it."
It was also the meeting was also the first real face-to-face the leaders have had since their public back-and-forth over the summer. Following several Senate failures, particularly on healthcare, President Trump said in August he was "very disappointed in Mitch."
Leader McConnell had been caught on a semi-hot mic saying President Trump had "excessive expectations" about legislative progress and process. Trump fired back in a tweet.
"Can you believe that Mitch McConnell, who has screamed Repeal & Replace for 7 years, couldn't get it done," he posted on Twitter. "Must Repeal & Replace ObamaCare!"
The two also discussed the budget and moving the President's judicial appointments forward, a big factor in whether the MAGA (Make America Great Again) agenda survives or not. While legislation and U.S. Supreme Court picks get all the attention, presidential legacies are defended in the courts. Considering he spent roughly 30 minutes talking about those appointments, it was clear President Trump understands that.
Leader McConnell said getting Justice Neil Gorsuch on the Court was "the single most important thing the President has done." They slammed Senate Minority Leader Chuck Schumer, D-N.Y., with the President saying the Democrat "and his group" are holding up "every single nomination," which was "beyond comprehension."
While D.C. Republicans in the Senate appear to be backing up Leader McConnell, Sen. Lindsey Graham, R-S.C., conceded that the lack of progress will be the end of him if he doesn't turn it around. In fact, he said it will be the end of Republican-controlled government.
"Mitch McConnell's not our problem," Sen. Graham said Sunday. "Our problem is that we promised to repeal and replace ObamaCare, and we failed. We promised to cut taxes and we have yet to do it."
Meanwhile, President Trump also indicated that he would soon propose an economic development plan and responded to Hillary Clinton telling reporters overseas that she supports players taking a knee during the national anthem before National Football League (NFL) games.
Worth noting, Pundit Daily Big Data Poll (PPD Poll) found overwhelming opposition to the national anthem protests, with more than 4 in 10 Americans saying they are less likely to watch the NFL because of them.
"That's why she didn't win," he said. "Please run again," he said in response to a reporter's suggestion about a rematch.