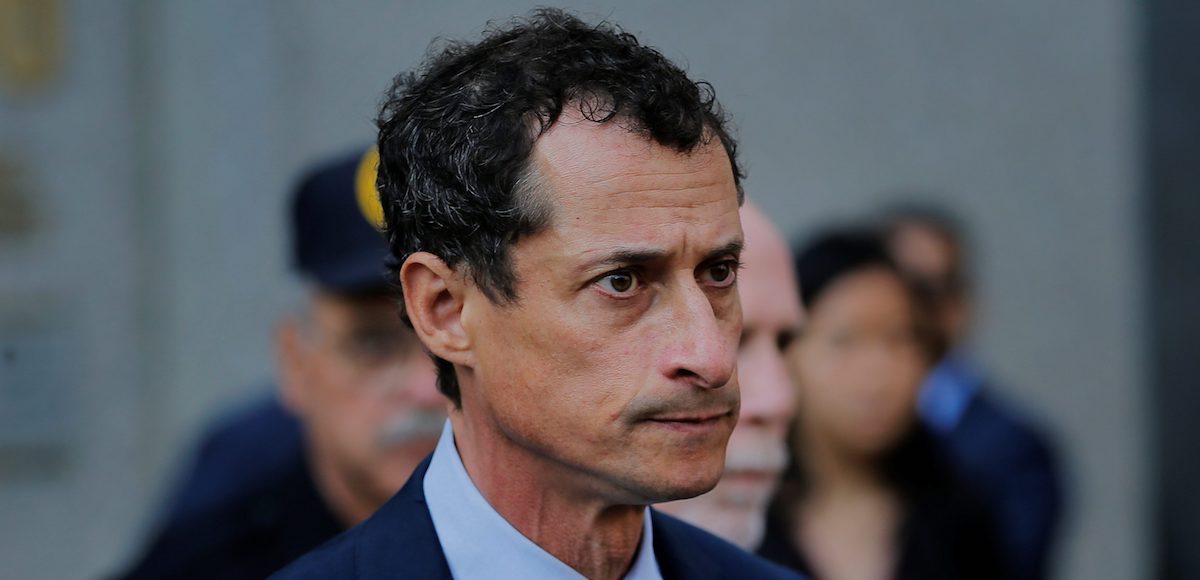 Former Rep. Anthony Weiner, D-N.Y., will begin his 21-month prison sentence on Monday after being found guilty of sexting obscene messages to a 15-year-old girl. The disgraced former lawmaker was a key Clinton ally and is the soon-to-be former husband of Huma Abedin, a close and longtime aide to Hillary Clinton.
Weiner, 53, has until 2:00 PM EST to surrender at at Devens Federal Medical Center in Massachusetts after he was sentenced by a New York federal judge in September. He was also ordered to pay a $10,000 fine but no restitution, though the teenage victim requested it from the court. He bowed his head, put his face in his hand and sobbed as the judge imposed the sentence.
Ms. Abedin was nowhere to be seen on sentencing day.
Court records showed that he repeatedly encouraged an underage girl to undress and fondle herself over Skype. Federal prosecutors demonstrated the former congressman from Brooklyn began a 2-month long sexting relationship with the teen from North Carolina shortly after she messaged him on Twitter in January 2016. He argued that he was addicted to a sick obsession with sexting strangers — as opposed to an obsession with underage girls — but is now in recovery.
The Federal Bureau of Investigation (FBI) also seized his electronic devices and found more documents on his laptop sent to and from Mrs. Clinton and Ms. Abedin, which were classified. In truth, the sentence was relatively light considering a conviction of the crime carried up to 10 years in prison.
The facility in Ayer, located roughly 40 miles West of Boston, has over 1,000 inmates at the medical center and over 100 more at an adjacent minimum security satellite camp.
Following his release from prison, Weiner will be subject to online supervision, he will pay $10,000 fine and will take part in a treatment program.
The former congressman's sex addiction came to light in 2015 after a picture surfaced that he sent of himself in his underwear with his son sleeping next to him.
Weiner's wife, Huma Abedin, did not appear at his sentencing in September. She has since filed for divorce.