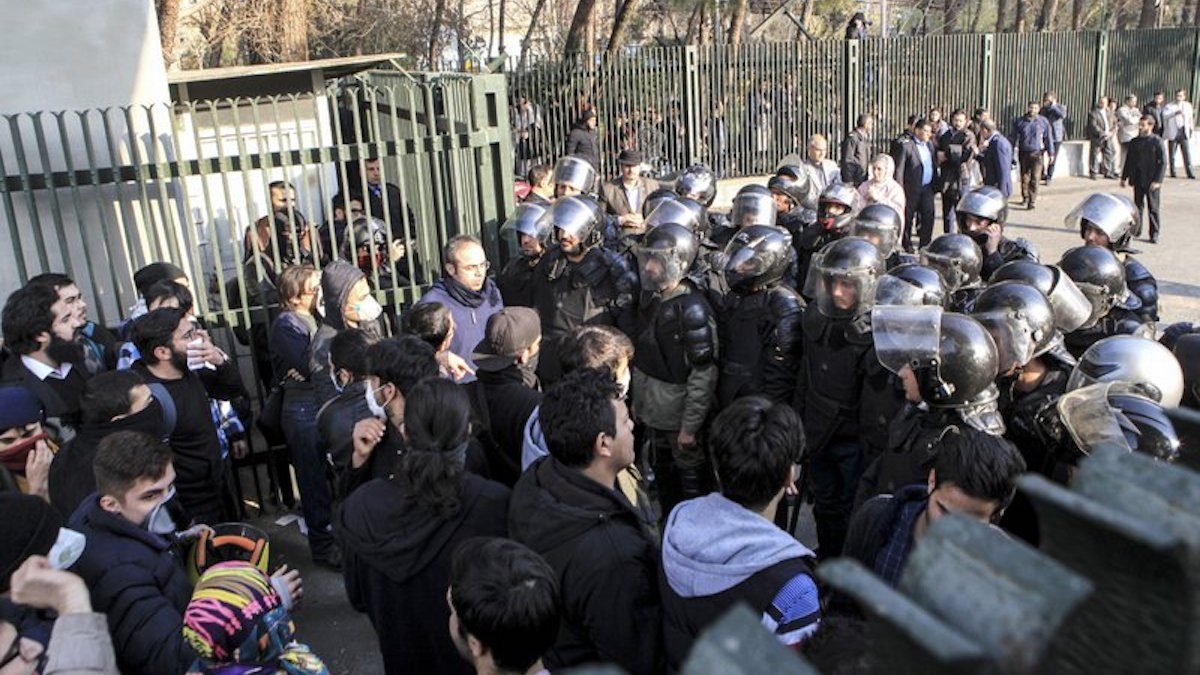 In this photo taken by an individual not employed by the Associated Press and obtained by the AP outside Iran, anti-riot Iranian police prevent university students to join other protesters over Iran weak economy, in Tehran, Iran, Saturday, Dec. 30, 2017. A wave of spontaneous protests over Iran's weak economy swept into Tehran on Saturday, with college students and others chanting against the government just hours after hard-liners held their own rally in support of the Islamic Republic's clerical establishment. (Photo: AP)
The Trump Administration "strongly condemns" Tehran for their treatment of "peaceful protestors," including at least 200 who have reportedly been arrested and 2 killed. Protests in Iran broke out on Thursday in Mashhad over economic grievances and have since spread to cities across the Islamic Republic.
"We are following reports of multiple peaceful protests by Iranian citizens in cities across the country," State Department spokesperson Heather Nauert said in a statement to People's Pundit Daily (PPD). "Iran's leaders have turned a wealthy country with a rich history and culture into an economically depleted rogue state whose chief exports are violence, bloodshed, and chaos. As President Trump has said, the longest-suffering victims of Iran's leaders are Iran's own people."
Habibollah Khojastepour, the security deputy of Lorestan's governor, was quoted by the semi-official news agency Mehr as saying an illegal gathering in Doroud took place on Saturday night and "two of our dear Doroudi citizens were killed."
The Mehr news agency reported on Sunday that the two protesters were killed in Doroud, located in Lorestan province.
"The United States strongly condemns the arrest of peaceful protesters," Ms. Nauert added. "We urge all nations to publicly support the Iranian people and their demands for basic rights and an end to corruption."
Telegram CEO Pavel Durov announced on Twitter Sunday that Iran was "blocking access" to the popular messaging app "for the majority of Iranians." Shortly after, Iran state TV reported that authorities have blocked Instagram and confirmed the block on Telegram, citing an anonymous source who said it was "in line with maintaining peace and security of the citizens."
"With a decision by the Supreme National Security Council, activities of Telegram and Instagram are temporarily limited," the source said.
Meanwhile, President Donald Trump took to Twitter to cheer on and defend the protestors, something his predecessor did not do when similiar developments took place from 2009 to 2010, known as the Green Revolution. As a result, hundreds of protestors and journalists were arrested and many of both are still listed as missing.
"Big protests in Iran. The people are finally getting wise as to how their money and wealth is being stolen and squandered on terrorism," President Trump tweeted. "Looks like they will not take it any longer. The USA is watching very closely for human rights violations!"
Big protests in Iran. The people are finally getting wise as to how their money and wealth is being stolen and squandered on terrorism. Looks like they will not take it any longer. The USA is watching very closely for human rights violations!

— Donald J. Trump (@realDonaldTrump) December 31, 2017
President Trump's tweets naturally angered Iranian government, drawing a response. A Foreign Ministry spokesman said the "Iranian people give no credit to the deceitful and opportunist remarks of U.S. officials or Mr. Trump."
On June 14, 2017, Secretary of State Rex Tillerson testified before the U.S. Congress that he supports "those elements inside of Iran that would lead to a peaceful transition of government. Those elements are there, certainly as we know."