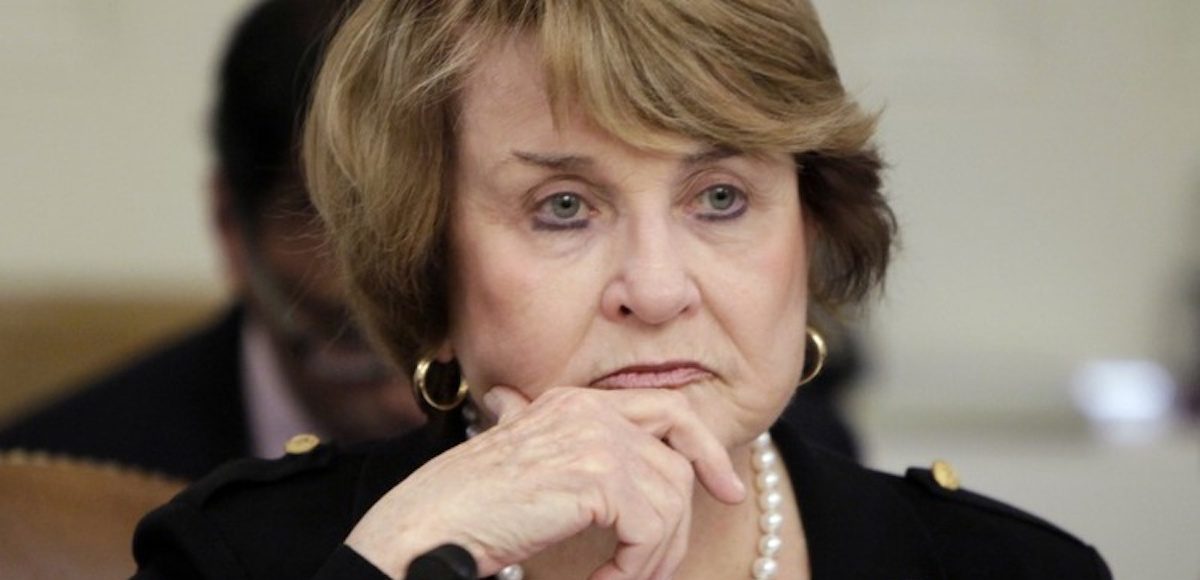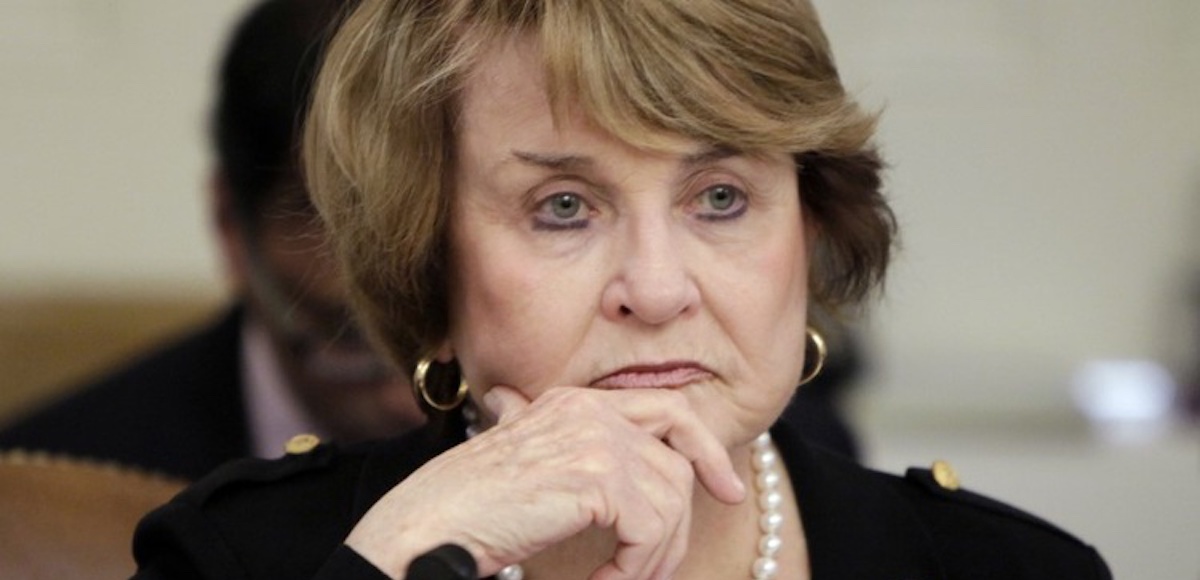 Representative Louise Slaughter, D-N.Y., the oldest sitting member of the U.S. Congress, has died at 88 after being hospitalized for a fall at her home last week. With more than 31 years in the U.S. House of Representatives, she was currently serving her 16th term and was one of the longest-serving House Democrats ever.
She represented the 30th District from 1987 to 1993, the 28th District from 1993 to 2013, and the 25th district from 2013 to 2018. Her base of support came from Rochester and included most of surrounding Monroe County.
Representative Slaughter was the Chairwoman of the House Rules Committee from 2007 until 2011, and served as ranking minority member of the Committee from 2005 to 2007, and from 2011 until her death.
She voted against the impeachment of former President William "Bill" Jefferson Clinton, though is billed as a champion of women's rights by most Corporate Big Media outlets.
Electoral Career
In 1982, local Democrats convinced Louise Slaughter to run for the New York State Assembly against a Republican incumbent, Thomas A. Hanna. She won by a very slim, narrow margin. But in 1984, she was re-elected by 10 points. She sat in the 185th and 186th New York State Legislatures before deciding to run for the Democratic nomination in New York's 30th Congressional District.
At that time, the district included downtown and eastern Rochester, Genesee County, the majority of eastern Monroe County, northern Livingston County and Ontario County.
State Assembly
Year
Democratic Party
Result
Republican Party
Result
Other
Result
1984
Louise M. Slaughter (i)
30,556 (54.79%)
Donald S. Milton
24,703 (44.29%)
Other
506 (.90%)
1982
Louise M. Slaughter
23,236 (52.18%)
Thomas A. Hanna (i)
21,289 (47.81%)
Moderate Republican Barber Conable represented the district for 20 years before the more conservative Fred J. Eckert took it in 1985. Slaughter defeated Eckert by a single point during the 1986 midterm election and became the first Democrat to represent the 30th District since 1910.
She was also the first woman to represent Western New York, as well as the first Democratic representative ever elected to a full term from the 30th since its creation in 1893. It had been renumbered numerous times in the previous century.
The 1990 census sparked redistricting and the 30th Congressional District became the 28th, taking it from Republicans and turning it into a solidly Democratic district that included all of Rochester. The changed put her up against her friend and 30-year incumbent Republican Frank Horton. But Mr. Horton decided to retire rather than run in the new and solidy blue district.
The 2000 census merged much of her newly safe district with the 29th, which was represented by fellow Democratic Representative John LaFalce. It included Niagara Falls and the northern third of Buffalo.
Originally, the plan was to merge her district with the one represented by Republican Jack Quinn, in an effort to gerrymander a more favorable map. But the effort was defeated and, while the new district was named after Rep. Slaughter's number, it geographically encompassed much of Rep. LaFalce's district. Fortunately for her, Democratic Party bosses convinced Mr. LaFalce not to seek a 15th term, handing the seat to Rep. Slaughter.
The 2010 census once again renumbered her, this time as the 25th Congressional District. It was significantly less Democratic and included most of Monroe County. However, it lost the geographic territory near Buffalo, which voted heavily for her in the past.
In his 2008 landslide victory, President Barack Obama carried the old 28th Congressional District with 68% of the vote and would have carried the new 25th Congressional District with 59% of the vote. But Rep. Slaughter faced a solid and well-funded challenge from Republican Monroe County Executive Maggie Brooks.
She won a 14th term with 57.4% of the vote, on November 6, 2012. In the 2014 midterm election, Rep. Slaughter narrowly defeated Gates town supervisor Mark Assini by just 869 votes. The Republican eventually conceded defeat on November 12, 2014, more than a week after the election.
It was the first close race that Rep. Slaughter had faced since her first bid for the seat due to gerrymandering. In 2016, she again defeated Assini in a rematch by a 55.7%-44.3% margin.
Congressional Races
Year
Democratic Party
Result
Republican Party
Result
Other
Result
2016
Louise M. Slaughter (i)
169,179 (55.7%)
Mark Assini
134,285 (44.3%)
2014
Louise M. Slaughter (i)
96,803 (50.2%)
Mark Assini
95,932 (49.8%)
2012
Louise M. Slaughter (i)
179,810 (57.4%)
Maggie Brooks
133,389 (42.5%)
2010
Louise M. Slaughter (i)
102,514 (64.9%)
Jill Rowland
55,392 (35.1%)
2008
Louise M. Slaughter (i)
172,655 (78.00%)
David W. Crimmen
48,690 (22.00%)
2006
Louise M. Slaughter (i)
111,386 (73.17%)
John E. Donnelly
40,844 (26.83%)
2004
Louise M. Slaughter (i)
159,655 (72.61%)
Michael D. Laba
54,543 (24.81%)
Other
5,678 (2.58%)
2002
Louise M. Slaughter (i)
99,057 (62.45%)
Henry F. Wojtaszek
59,547 (37.54%)
2000
Louise M. Slaughter (i)
151,688 (65.70%)
Mark C. Johns
83,445 (36.14%)
Other
3,820 (1.65%)
1998
Louise M. Slaughter (i)
118,856 (64.78%)
Richard A. Kaplan
56,443 (30.76%)
Other
8,159 (4.47%)
1996
Louise M. Slaughter (i)
133,084 (57.25%)
Geoff H. Rosenberger
99,366 (42.74%)
1994
Louise M. Slaughter (i)
110,987 (56.63%)
Renee Forgensi Davison
78,516 (40.06%)
Other
6,464 (3.29%)
1992
Louise M. Slaughter (i)
140,908 (53.97%)
William P. Polito
112,273 (43.003%)
Other
7,897 (3.02%)
1990
Louise M. Slaughter (i)
97,280 (59.02%)
John M. Regan, Jr.
67,534 (40.97%)
1988
Louise M. Slaughter (i)
128,364 (56.87%)
John D. Bouchard
89,126 (39.48%)
Other
8,222 (3.64%)
1986
Louise M. Slaughter
86,777 (50.99%)
Fred J. Eckert (i)
83,402 (49.00%)