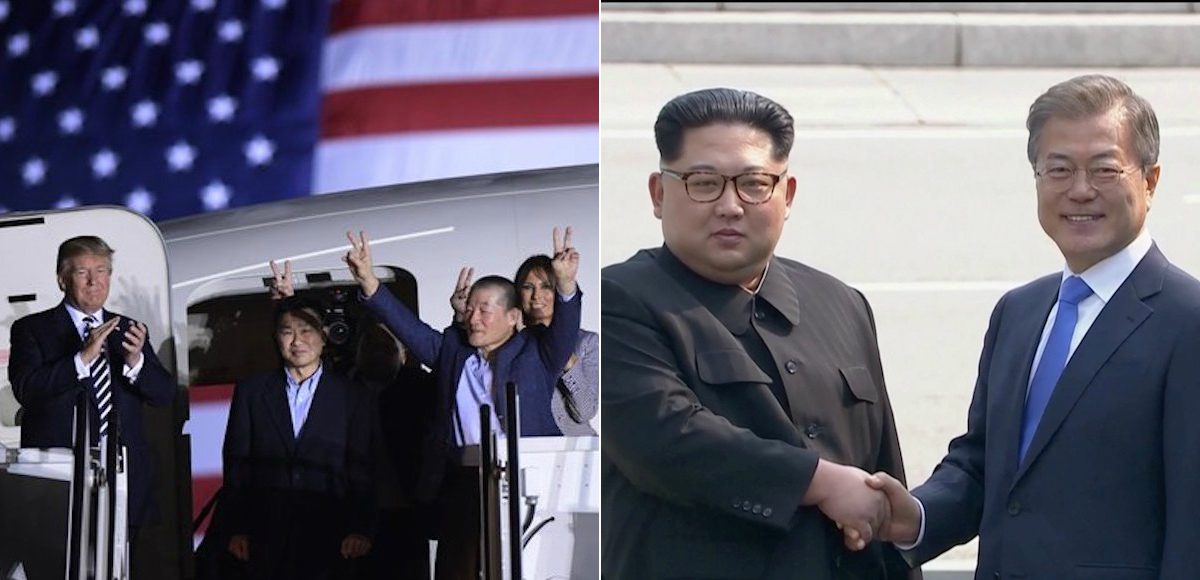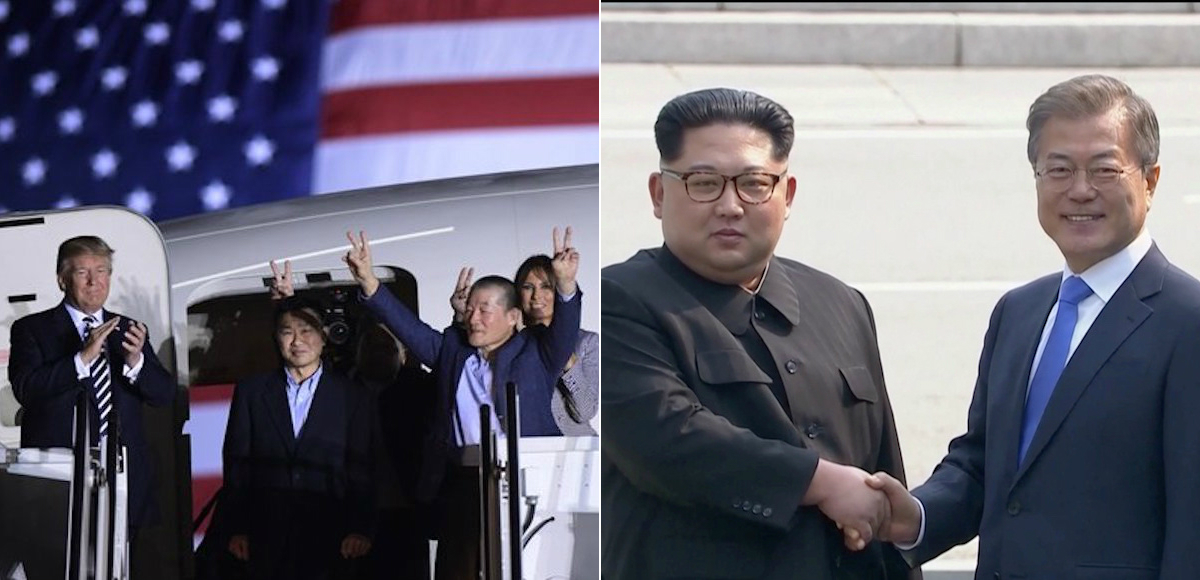 President Donald Trump will meet North Korean leader Kim Jong Un in Singapore on June 12, 2018, he confirmed Thursday. The announcement comes shortly after Secretary of State Mike Pompeo took his second known trip to the country to secure the release of three Americans previously detained by North Korea.
"The highly anticipated meeting between Kim Jong Un and myself will take place in Singapore on June 12th," President Trump revealed on Twitter. "We will both try to make it a very special moment for World Peace!"
The highly anticipated meeting between Kim Jong Un and myself will take place in Singapore on June 12th. We will both try to make it a very special moment for World Peace!

— Donald J. Trump (@realDonaldTrump) May 10, 2018
The Americans three were all detained recently, with one being sentenced in 2016.
Kim Dong Chul, a South Korea-born U.S. citizen and former Virginia resident, was sentenced in April 2016 to 10 years hard labor in prison after being convicted of espionage. He reportedly ran a trade and hotel service company in Rason, a special economic zone on North Korea's border with Russia.
Tony Kim was detained at Pyongyang's airport in April 2017. Pyongyang accused him of "hostile acts" against the communist regime. He taught accounting at the Pyongyang University of Science and Technology.
Kim Hak Song, an ethnic Korean born in China, was also detained in May 2017 for "hostile acts." He worked in agricultural development at an experimental farm run by the Pyongyang University of Science and Technology, which was founded in 2010 with donations from Christian groups.
The President and First Lady Melania Trump boarded their medical plane around 3 AM EST to meet with them privately before the arrival ceremony. President Trump said they are in "good health" and called it a "great honor."
"We would like to express our deep appreciation to the United States government, President Trump, Secretary Pompeo, and the people of the United States for bringing us home," the three said in a statement released by the State Department. "We thank God, and all our families and friends who prayed for us and for our return. God Bless America, the greatest nation in the world."
Mr. Pompeo's first trip to the country came during Easter weekend. It was meant to gauge the potential for and viability of a summit, which would be the first-ever between the U.S. and North Korea after more than six decades of hostility.
The North and South remain in a technical state of war. The 1950-53 Korean War ended with an armistice, not a peace treaty.
Shortly after Mr. Pompeo returned to the U.S., Kim announced that he suspended Pyongyang's nuclear testing program, including a freeze on intercontinental ballistic missile tests and closing a nuclear site. The extraordinary development came after North Korea announced they dropped demands for a freeze to U.S.-South Korea joint military exercises and the withdrawal of U.S. troops as preconditions for talks.
The positive developments toward denuclearization of the Korean Peninsula has handed the Trump Administration an enormous foreign policy victory. Kim and South Korean President Moon Jae-in pledged after their historic meeting in late April to work for the "complete denuclearization of the Korean peninsula."
Kim became the first North Korean leader since the Korean War to step over the border and set foot in South Korea. The first summit in more than a decade resulted in an agreement to work with the U.S. and China to declare an official end to the 1950s Korean war, and seek an agreement to establish "permanent" and "solid" peace.
President Moon, who credited President Trump for the progress on the peninsula, has also agreed to visit Pyongyang later this year. In a show of good faith, the two leaders agreed to open a liaison office, to stop broadcasting propaganda, to stop conducting leaflet drops along the border and to allow families divided by the DMZ to meet.
The Demilitarized Zone (DMZ) is a 160-mile (260-km) long, 2.5-mile (4-km) wide strip of land created in the 1953 armistice to serve as a buffer between the South and North.