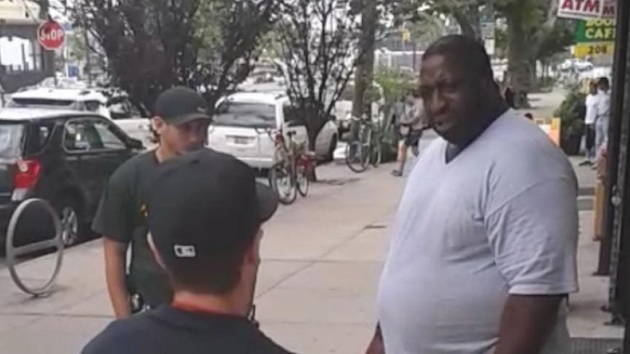 A Staten Island grand jury declined Wednesday to indict a white New York City police officer in connection with the July 17 death of Eric Garner. The grand jury, which consisted of 15 whites and 8 minorities, concluded there was not enough evidence to indict Police Officer Daniel Pantaleo, a 29-year-old, eight-year veteran of the force who faced charges ranging from murder to a lesser offense such as reckless endangerment.
Jonathan Moore, an attorney for the victim's family, said he is "astonished by the decision."
Garner, who was stopped on suspicion of selling loose cigarettes, refused to cooperate with police when he was being placed under arrest. Video captured Pantaleo briefly using what appeared to be an illegal chokehold on Garner, a 43-year-old father of six with a lengthy criminal record. Garner, who had health problems, died as a result of cardiac arrest.
In the video Garner can be heard saying, "I can't breathe, I can't breathe."
However, while the claim has been made that Garner died of the chokehold because he could not breathe, the cause of death was not respiratory failure or suffocation.
President Obama, speaking at the Tribal Nations Conference in Washington after the grand jury's decision was announced, said many minority communities across the United States feel that law enforcement is not working with them "in a fair way."
"We are not going to let up until we see a strengthening of the trust and strengthening of the accountability that exists between our communities and our law enforcement," the president said.
Obama announced a 3-point plan that includes reforming the process by which police forces are supplies with military-grade weapons and equipment, but not in the way many believed.
"In the end, America is going to be left with little more than a federal law enforcement force, rather than the civilian, localized supposed servant-to-the-people-type departments that currently dot our communities," Cheryl Chumley, author of Police State USA wrote in response to the president's plan.
"Obama, meanwhile, has seized upon his executive pen once again to issue an emperor-like order that will require local police forces to undergo federally overseen training as a condition of taking Pentagon 1033 equipment," she added. "It will also require any police department that uses federally supplied gear to provide reports to federal authorities when that equipment is used for significant missions — say, riot controls — and to feed information into a centralized data system that will track the whereabouts of the military supplies."
Meanwhile, by mid-afternoon, protests began to bubble up around the city. A Twitter hashtag, #ShutItDown, called on demonstrators to protest Wednesday night's annual Christmas tree lighting ceremony at Rockefeller Center in midtown Manhattan.
Garner's family has filed a notice that it plans to sue the city for $75 million on the grounds of wrongful death, pre-death pain and suffering and civil rights violation. However, civil suits are difficult to win when a grand jury cannot even find a preponderance of evidence to support the claim.
The New York Post reported. The Rev. Al Sharpton, who is an adviser to the family, has called for a federal probe.
Unfortunately, as is the case with the shooting of Michael Brown in Ferguson, Sharpton continues to incite the black community by calling for federal investigations that will never amount to anything. The standard of proof for civil rights charges is far higher than a "preponderance of evidence" needed for a grand jury indictment. The Justice Department must prove that the officer held racial animus toward Garner for the crime to be considered racially motivated.
Still, Officer Pantaleo had been stripped of his gun and badge, as well as placed on desk duty as the case was under investigation. It appears it is likely he will remain on modified duty while the NYPD conducts an internal investigation that could result in administrative charges.
New York City's Police Commissioner William Bratton was asked Sunday if what happened in Ferguson could happen in New York. He said the NYPD has been preparing for months "in multiple ways," including community meetings, and added that he was more concerned with outside agitators.