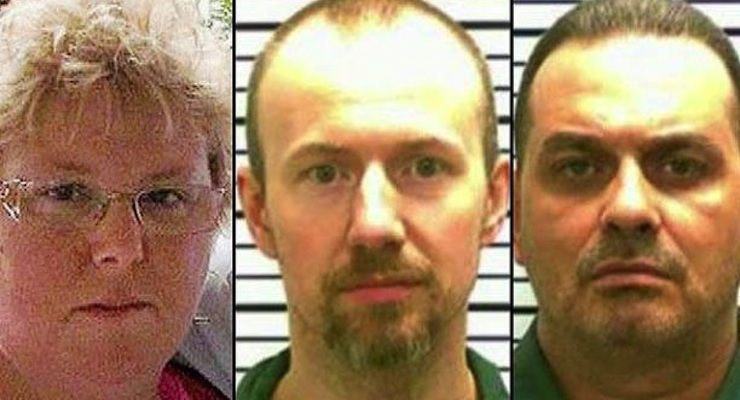 Joyce Mitchell, the prison seamstress charged with aiding the inmates involved in the NY prison escape last week, has provided new details about the plot. Mitchell, 51, who pleaded not guilty in court Friday, said the two fugitive murderers, David Sweat and Richard Matt, planned to be 7 hours away from the Clinton Correctional Facility soon after tunneling under its outer wall.
"She was going to meet them at the power house," Clinton County District Attorney Andrew Wylie told FOX News, referring to the nearby power plant that is in view of the maximum-security facility. "They were going to pop out of the manhole, they were going to take off, and the three of them would be, you know, leaving the area."
According to officials, Mitchell has yet to share the next step in their planned escape, offering little detail except for a claim that the location was far away.
"They were planning on driving approximately seven hours away in a wooded area where her vehicle would be needed — a four-wheel-drive jeep," Wylie says.
However, at the last minute, Mitchell had a change of heart and checked herself into a hospital located roughly 40 miles away from the prison, complaining of panic attacks. She joined the prison staff in March of 2008 and earned $57,697 a year, but has since been suspended. The judge ordered her to be held in jail on $100,000 cash bail or $200,000 bond on felony county and she is due back in court Monday morning.
A big surprise for Wylie so far has been the lack of positive leads, in a search that costs $1 million a day. But he says that briefings with agencies leading the search have suggested that unless and until traces of Sweat or Matt turn up elsewhere, full efforts here will continue.
Police say Mitchell's husband Lyle, who told media that his wife has committed adultery in the past multiple times, did not know much about the scheme.
"Based on the circumstances that we know, it doesn't seem probable that he was involved or was going to be involved in the escape," Wylie said. "Why would you be involved in an escape where your wife is going to be leaving you with these two convicted felons?"