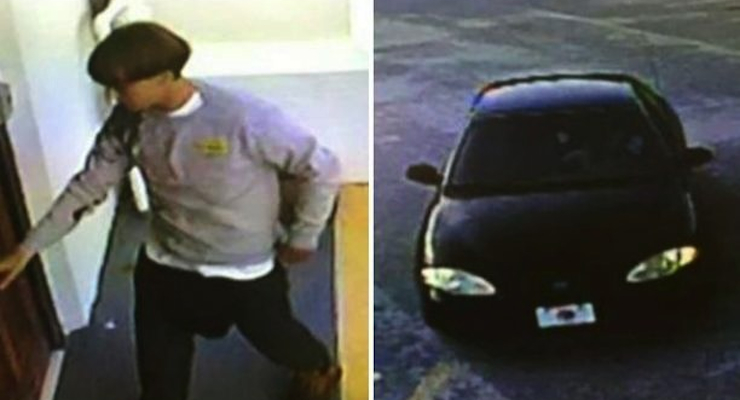 DEVELOPING: Local law enforcement officials and the FBI have confirmed the suspect's identity in the Charleston church shooting on Wednesday night. Dylann Roof, 21, of Colombia, S.C., was identified by his uncle who saw the pictures released by the police and was arrested in Shelby, North Carolina.
Shelby, which is roughly 240 miles from Charleston, sits on the border between North and South Carolina. A citizen reported suspicious activity after noticing the suspect's vehicle and the police officer who responded knew immediately that it was the person authorities were looking for. Roof, who was cooperative, was arrested and taken into custody without incident.
Reports say that he was given a .45 caliber handgun by his father, which was used in the shooting. He was previously arrested on a drug charge in March, 2015.
Nine people were killed after Roof walked in during a prayer meeting and sat down for an hour before he began shooting. Authorities have classified the Charleston shooting as a hate crime, and the Justice Department has already opened an investigation classifying it as such.
"This is a tragedy that no community should have to experience," Charleston Police Chief Greg Mullen said at a press conference early Thursday. "It is senseless and unfathomable in today's society that someone would walk into a church during a prayer meeting and take their lives. This tragedy that we are addressing right now is indescribable. No one in this community will ever forget this night."
The church is a well-known historic black American church that traces with roots dating back to 1816. After several churches split from Charleston's Methodist Episcopal church, the congregation became part of the Underground Railroad that helped runaway slaves get to the North. Denmark Vesey, one of the founders of the church, even tried to organize a slave revolt in 1822 but was caught and the church was burned to the ground. Parishioners worshipped underground until after the Civil War.
Among the dead was the church's pastor, state Sen. Clementa Pinckney, 41, who had been a pastor since he was 18. Pinckney was the youngest African-American elected to the South Carolina legislature when he won office in 1996 at age 23 and had been a state senator since 2000.
"We know that it was definitely a hate crime, but it is just to early to know if it was race-related," said Samuel Rivers Jr., a personal friend of Mr. Pinckney. "To pick it out a say that it is race-related at this particular moment is unfair."
Mr. Rivers called for calm and urged everyone to wait for the facts. He was joined by Bishop E.W. Jackson, Bishop of THE CALLED church in Chesapeake, Virginia, who said it may turn out that this attack was targeting Christians. At this point, we just don't yet know the facts.
"We're urging people to wait for the facts, don't jump to conclusions," Jackson said. "But let me tell you, I'm deeply concerned that this gunmen chose to go into a church because there does seem to be a rising hostility toward Christians in this country."
Authorities said the shooting took place at approximately 9 p.m. (local) ET, but would not immediately confirm the identities of the victims. Mullen said there were 6 females and 3 males among the dead. PPD has learned that the suspect let a female go free in order to tell the story about what had happened, though we do not know what else may have been said or transpire. Another two victims, including a 5-year-old girl, survived the attack by following her grandmother's instructions to play dead. Including the girl and her grandmother, there were 3 survivors in the attack.
South Carolina Gov. Nikki Haley issued a statement calling the shooting a "senseless tragedy," but cautioned that the community and those looking on should wait until we learn more before turning a bad situation into a worse one.
"While we do not yet know all of the details, we do know that we'll never understand what motivated anyone to enter one of our places of worship and take the life of another," Haley said. "Please join us in lifting up the victims and their families with our love and prayers."
Republican Sen. Tim Scott, the South's first black senator elected since Reconstruction, posted a series of Twitter messages on the tragedy.
This senseless tragedy at a place of worship-where we come together to laugh,love&rejoice in God's name-is despicable&can't be understood

— Tim Scott (@SenatorTimScott) June 18, 2015
"My heart is breaking for Charleston and South Carolina tonight," another one of them read.