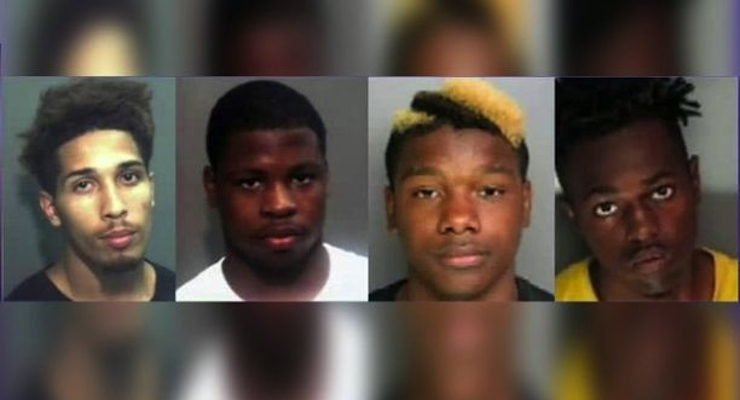 Four Florida teens in high school have been arrested for carjacking and kidnapping a Texas border patrol agent vacationing with his family in Florida, authorities said. Law enforcement officials say the border patrol agent was help up at gunpoint by four black male suspect in an Orlando hotel parking lot Wednesday night "when the victim was packing up his car," said Orange County Sheriff Jerry Demings. The four Florida teens forced him into the backseat, pistol-whipped him, tied-up and robbed the agent for his wallet.
He was then held captive for two hours before the carjackers ditched the car at a vacant drug house and fled, the Orange County Sheriff's Office said. The concerned wife of the abducted agent contacted police through the OnStar vehicle security service. "She notified police through OnStar. The OnStar representative placed a call to the vehicle and heard someone screaming for help," Sheriff Demings
Deputies said Gregory McDonald, 19, Dante Askins, 18, and two other teens, ages 15 and 16, were taken into custody Friday. The Orlando Sentinel identified the carjacking victim was Armando Alaniz, who works for the federal Bureau of Customs and Border Protection, according to court records for the Southern District of Texas. However, PPD is working to confirm that claim.
The victim needed stitches to close a scalp wound from being pistol-whipped.
Askins, who was picked up Thursday in a stolen car, is a known member of the street gang Death Over Mercy. In 2013, he was charged as an adult at 16 with attempted murder in connection with a drive-by shooting targeting a member of the rival Gorilla gang, but the charges were dropped. However, long prison sentences were handed down to his two co-defendants in the case. Askins, as well as the 15-year-old and the 16-year-old, all have had previous run-ins with the law. The 15-year-old turned himself in Friday, accompanied by his parents. Deputies arrested McDonald Friday night.
"These high school students were playing a dangerous game, and they got caught playing a dangerous game," Demings said. "In the meantime, we have increased patrols in the tourist corridor."
The four face charges of armed kidnapping, carjacking and battery with a firearm.