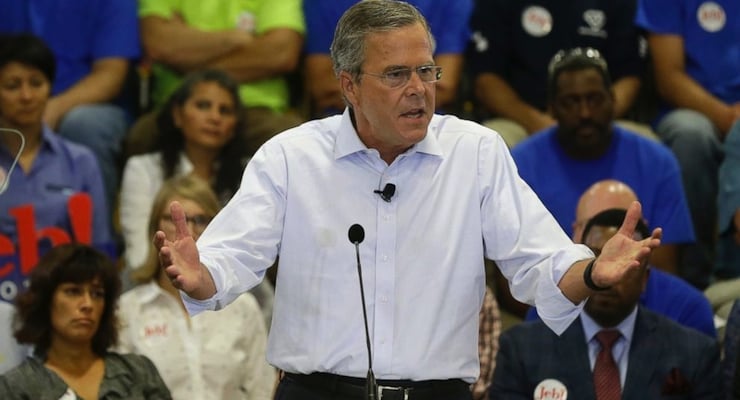 Jeb! and Co. Have Been Quiet on a Viral Video Featuring His Appointee
SEMINOLE COUNTY, Fla.–The Florida judge in a viral video who sentenced a domestic violence victim to 3 days in jail for failing to show up for her abuser's trial was appointed by Jeb Bush. Seminole County Judge Jerri Collins was first appointed by former Gov. Bush in 2005, and almost fell short in the primary on August 26, 2014, garnering 51.1% of the vote. Sandra Rivera and Alex Finch also competed in the primary, splitting the vote.
During the hearing, which actually took place in July, the victim told the judge she had been having anxiety for months, was basically homeless and had been attempting to move on after she was attacked by the father of her child. She told the state's victim's advocate–and PPD separately confirmed that she repeated to the state attorney–that she wanted to drop the charges and move on with her life rather than testify.
In April, the woman called the police after the father of her child, who PPD has confirmed has multiple prior offenses, allegedly choked her, pressed his thumbs against her eyes and threatened her with a kitchen knife.
However, despite her requests to the victim's advocate and state attorney, the state wanted a conviction and she was still subpoenaed to court. But she eventually failed to show, which landed her in the Seminole County jail and now she has a misdemeanor conviction, too. Worth noting, the original defendant, the father of her child, spent just 16 days in jail for simple battery juxtaposed to her 3.
Meanwhile, the Bush camp for has not responded to multiple requests for comment by People's Pundit Daily (PPD).
[brid video="17723″ player="1929″ title="Seminole County Florida Judge Jerri Collins Berates Domestic Abuse Victim Gives 3 Days in Jail"]
"You need to tell the court why I should not hold you in contempt of court, I can sentence you to jail," Judge Collins said.
"I just, things were…" the sobbing woman said.
"Why didn't you show up to court?" Collins interjected.
"I'm just, my anxiety, and I'm just…" the woman replied.
"You think you're going to have anxiety now? You haven't even seen anxiety," Collins said to the woman in a sharp, callous tone.
"I know," the woman said.
"Those statements you told to the police on the day of this incident, is it true? The incident that happened on April 2, is it true?" Collins asked.
"Yes," the woman said.
"Then why wouldn't you come to testify?" Collins asked.
"I'm just not in a good place right now," the woman told Judge Collins.
"And violating your court order did not do anything for you," Collins quickly spit out. "I find you in contempt of court. I hereby sentence you to three days in the county jail."
Jeanne Gold, the CEO of SafeHouse, a domestic abuse prevention organization that offers shelter to abuse victims, said the sentence was unfair even though she didn't blame the state for "wanting to get a bad guy." To be fair, Judge Collins was completely within her power and on the law's side with the sentencing on its face, as callous as that may sound.
"That's just appalling. It's horrible. Shame on that judge," Gold said, adding that this could scare victims from calling for help in the future. "She'll never call again. Look what happened to her. She could be lying, broken in a ditch somewhere, and she would probably not call police because of what happened to her in this place."
Gold, who knows Judge Collins, said she intends to talk to her about how domestic violence victims should be handled.
"I can't blame the state for wanting to get a bad guy," Gold conceded. "But you cannot lean on a victim of domestic violence to solve the societal issues in our world."