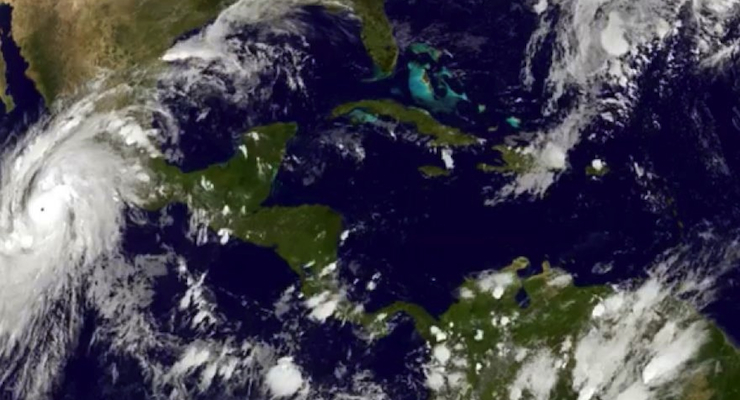 Hurricane Patricia headed toward southwestern Mexico Friday with maximum sustained winds near 200 mph as a Category 5 storm that the National Hurricane Center in Miami described as "potentially catastrophic." Patricia, which is the strongest storm ever measured in the Western Hemisphere, is expected to hit Mexico's Pacific Coast between San Blas and Punta San Telmo on Friday.
"This is an extremely dangerous, potentially catastrophic hurricane," center meteorologist Dennis Feltgen said.
The NHC expects the storm to bring rainfall amounts of eight to 12 inches, with some isolated locations seeing up to 20 inches of rain. The center warned these rains could bring life-threatening flash floods, mud slides and waves up to 30 feet tall. Director of Mexico's National Water Commission Roberto Ramirez said that Hurricane Patricia is powerful enough to lift up automobiles, destroy homes not built with cement and steel, and will be able to drag or pick up people still outside when the she hits.
A Hurricane Warning is in effect from San Blas to Punta San Telmo, and a Hurricane Watch is in effect east of Punta San Telmo to Lazaro Cardenas. While it was a tropical storm less than 24 hours ago the storm's power is comparable to that of Typhoon Haiyan, which according to the U.N.'s World Meteorological Organization, left more than 7,300 dead or missing in the Philippines two years ago. Now, the pressure is also the lowest recorded, measuring in Friday morning at roughly 880 or 881 millibars.
Some resorts in Puerto Vallarta began evacuating guests ahead of the storm and local officials declared a state of emergency in dozens of municipalities in Colima, Nayarit and Jalisco states that contain the busy port of Manzanillo and the posh resort of Puerto Vallarta. The governor of Colima ordered schools closed on Friday, and three airports in Patricia's path were shut down, including Puerto Vallarta, Manzanillo in Colima state and Tepic in Nayarit.
The Mexican Red Cross said Friday morning that it has stocked three tons of humanitarian aid supplies in preparation of the storm. Patricia may survive over land long enough to bring heavy rainfall in the U.S., and the National Weather Service has forecast 10 or more inches of rain for Texas through Sunday.