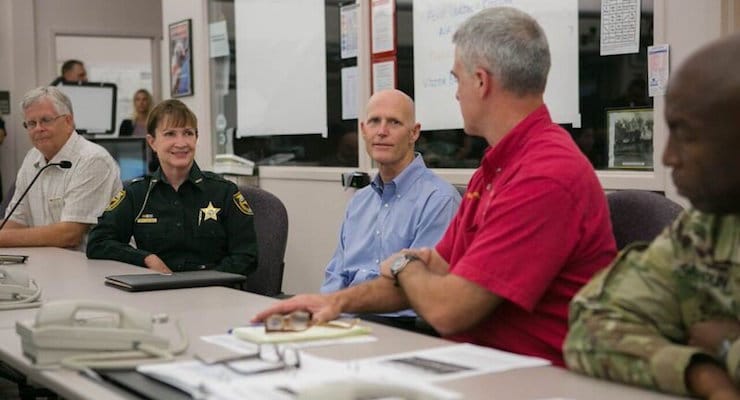 The National Hurricane Center (NHC) upgraded Tropical Depression Nine to Tropical Storm Hermine, which is forecast to hit Florida's vulnerable Big Bend area on Thursday. In anticipation of the upgrade and a further strengthening of the storm, Florida Gov. Rick Scott issued Executive Order 16-205 declaring a state of emergency in 42 counties.
"It is crucial that every Floridian has a plan in place to ensure their families, homes and businesses are fully prepared," Gov. Scott said in a statement. "I have been closely monitoring this storm's development and our emergency management officials have been working hard to make sure we are ready to respond to any potential impacts."
A storm surge is the biggest threat to the coast, but heavy rain and flooding will plague inland areas such as Alachua County, Lafayette County and Levy County (read executive order for full list). The NHC said isolated tornadoes are also a possibility as the storm makes landfall. While the center of the storm is expected to hit land on Thursday night, heavy rains and flooding, storm surge, high winds and even tornadoes will proceed and precede the storm far away from the center crossing the coastline.
Gov. Scott encouraged Floridians to make their own plan at FLGetaPlan.com.
"By declaring a state of emergency in advance of this storm, we are ensuring that state, regional and local agencies can work together to meet the needs of our communities," Gov. Scott added. "We will continue to do all we can to keep our families and visitors safe and informed as this storm approaches our state."