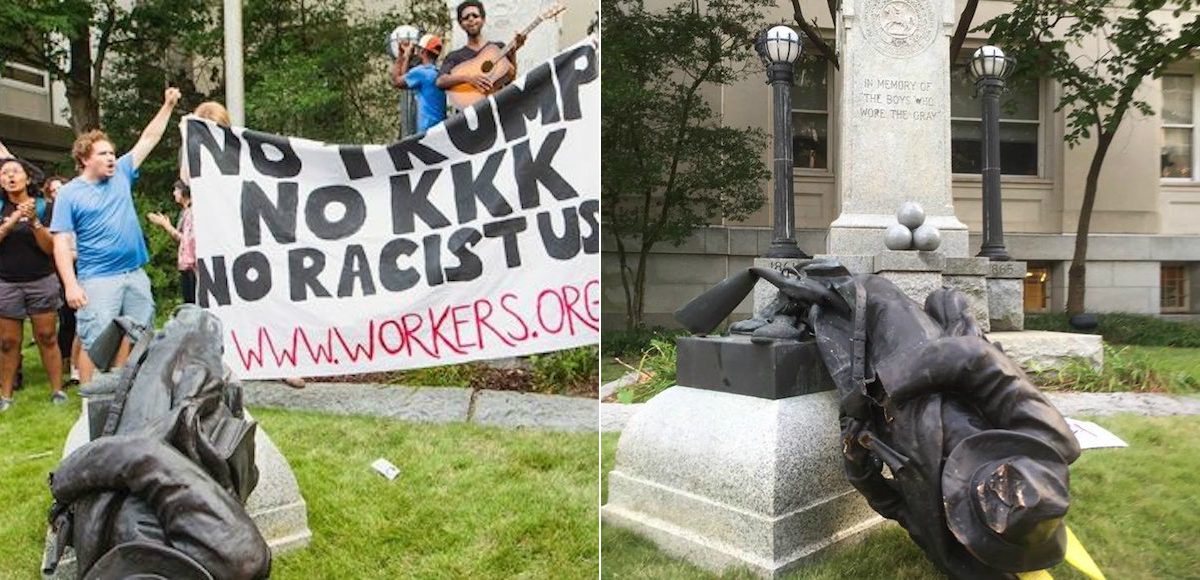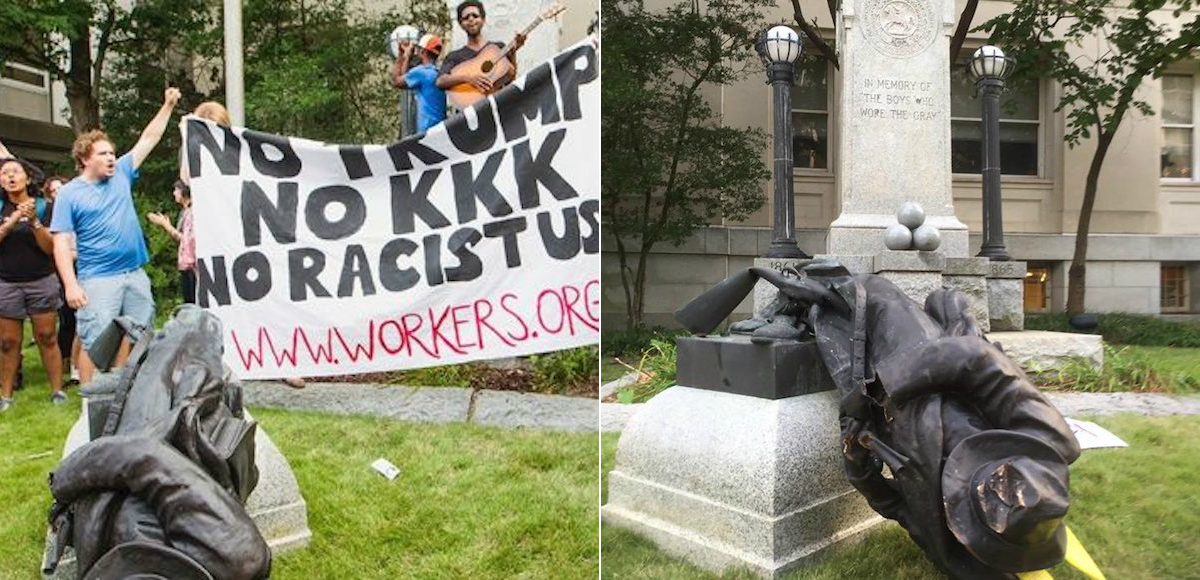 UPDATE: Takiya Thompson, 22, has been charged with disorderly conduct by injury to a statue, damage to real property, participation in a riot with property damage in excess of $1,500 — and inciting others to riot where there is property damage in excess of $1,500, according to the Durham County Sheriff's Office.
Durham County Sheriff Mike Andrews said investigators were working to identify and charge those involved in the toppling of a Confederate monument. Leftwing "protestors" toppled the monument on Monday while law enforcement stood down.
"We decided that restraint and public safety would be our priority," Sheriff Andrews said in a statement. "As the Sheriff, I am not blind to the offensive conduct of some demonstrators nor will I ignore their criminal conduct."
The crowd of a few dozen "vandalized" the Confederate statue in wake of the violence on Saturday in Charlottesville, Virginia. White supremacist groups clashed with counter-protestors when they gathered to protest the removal of a statue of Confederal Gen. Robert E. Lee.
"My deputies showed great restraint and respect for the constitutional rights of the group expressing their anger and disgust for recent events in our country," Sheriff Andrews said.
The Confederate Soldiers Monument in Durham, North Carolina was dedicated in 1924. It depicted a bronze Confederate soldier holding a rifle in front of a pedestal inscribed with the words: "In Memory of the Boys Who Wore The Gray."
[brid video="158202″ player="2077″ title="'Protestors' Topple Confederate Monument in Durham North Carolina"]
The Tar Heel State has a 2015 law on the books protecting Confederate statues by preventing the removal of such public monuments without permission from state officials.
"The racism and deadly violence in Charlottesville is unacceptable but there is a better way to remove these monuments," Democratic North Carolina Gov. Roy Cooper tweeted in response.
Sheriff Andrews also called on city-county leaders to set rules for the protestors. While he said "racism and incivility have no place in our country or Durham," he pointed out that his sheriff's department "has been the focus of demonstrations for more than a year, most of them peaceful."
"I am asking both city and county leaders to establish guidelines and safe spaces for protesters to prevent demonstrations from becoming disruptive and as we witnessed in Charlottesville, dangerous. Rightfully, Durham County and the City of Durham have a longstanding respect for the right of peaceable assembly," Sheriff Andrews added. "However, now may be the time for Durham to consider what is the best way to respond to continued protests while respecting every resident's right to voice their opinion."
The Durham County Sheriff's Office's decision to arrest demonstrators at a public meeting was recently challenged in court.
Fun Fact
On April 9, 1865, near the town of Appomattox Court House, Virginia, Confederate General Robert E. Lee surrendered his Army of Northern Virginia to Union General Ulysses S. Grant.
"The war is over," Gen. Grant told his officers. "The Rebels are our countrymen again."