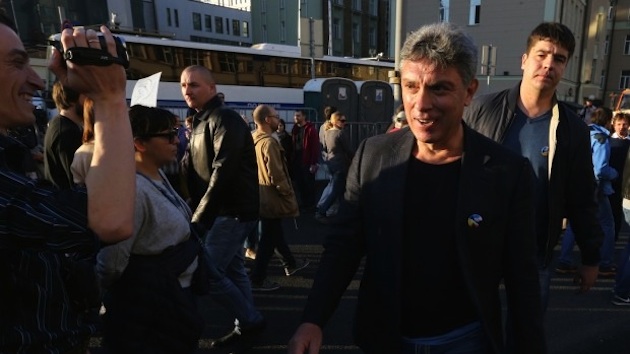 MOSCOW (AP) — Boris Nemtsov, Russian President Vladimir Putin's top political opposition leader was murdered Saturday near the Kremlin just one day ahead of a protest planned against Putin's tyrannical rule. The death of Nemtsov, a 55-year-old former deputy prime minister comes just one week after he told the Russian magazine Sobesednik he feared for his life.
"I'm scared that Putin will kill me."
Amid a fury among political opposition groups and figures blaming the Kremlin for creating an atmosphere of intolerance for political dissent, Putin quickly released a statement offering his condolences and vowed to bring those responsible to justice.
"Please accept my deepest condolences on the irreparable loss. I sincerely share the grief has befallen you," Putin said in the statement. "Boris Nemtsov left his mark on the history of Russia, in politics and public life. He dropped out to work on important positions in the difficult transition period for our country. He always openly and honestly stated his position, defended his point of view. We will do everything to make sure the organizers and executors of this vile and cynical murder are punished."
Putin ordered Russia's law enforcement chiefs to oversee the probe, and Russian officials said the Russian president suspects a professional "contract hit" was responsible, though political opponents point to him.
"Putin noted that this cruel murder has all the makings of a contract hit and is extremely provocative," presidential spokesman Dmitry Peskov.
But opposition leaders aren't buying what the Kremlin is selling. Mikhail Kasyanov, a former Russian prime minister now also in opposition, was furious with the murder that occured on a rainy and cold night, so close to the Kremlin the bells could be hear chiming.
"In the 21st century, a leader of the opposition is being demonstratively shot just outside the walls of the Kremlin!" Kasyanov told reporters as Nemtsov's body was placed in a plastic bag and removed. "The country is roiling into the abyss."
The Russian Interior Ministry, which oversees Russia's police force, said that Nemtsov was killed by four shots in the back from a passing car as he was walking over a bridge just outside the Kremlin shortly after midnight.
Interior Ministry spokeswoman Yelena Alexeyeva told reporters that Nemtsov was walking with a female acquaintance, a Ukrainian citizen, when a vehicle occupied by unidentified assailants drove up and the occupants shot him dead. The woman wasn't hurt, confirming it was in fact a targeted hit.
The news agency reported the white vehicle, a Ford Focus or Ford Mondeo, was recorded heading toward the bridge where the killing occurred. Law enforcement officials were reportedly searching for the car in the city.
Nemtsov outspokenly slammed the government's rampant corruption, the Kremlin's ineffectiveness and its Ukraine policy, which has strained relations between Russia and the West to a degree unseen since Cold War times.
Ukrainian President Petro Poroshenko said on Facebook that he was shocked by the killing of Nemtsov, who he called a friend and a "bridge" between the two countries.
"He was going after every wrongdoing, revealing the truth about Putin's billions and stealing money. He didn't give them a chance just to forget about their crimes, and they silenced him," Garry Kasparov, the chairman of the Human Rights Foundation told BuzzFeed. "The man's shot in cold blood intentionally in the back. This is not about robbery. It's the next stage," he added. "There's no good reason to kill him except for the fact that the regime wanted him out."
Meanwhile, the White House released a statement condemning "the brutal murder of Boris Nemtsov," and called "upon the Russian government to conduct a prompt, impartial, and transparent investigation into the circumstances of his murder and ensure that those responsible for this vicious killing are brought to justice."
President Obama said "Nemtsov was a tireless advocate for his country," who tried to afford his fellow Russian citizens the rights "to which all people are entitled."
"I admired Nemtsov's courageous dedication to the struggle against corruption in Russia and appreciated his willingness to share his candid views with me when we met in Moscow in 2009," Obama said in a statement. "We offer our sincere condolences to Boris Efimovich's family, and to the Russian people, who have lost one of the most dedicated and eloquent defenders of their rights."
Kasparov, a former chess champion, worked with Nemtsov to organize protests against Putin and now lives in the United States.
"The tragic irony is that he didn't want to see another revolution," Kasparov added. "I was more radical — I kept telling him, 'It's all useless, elections, all the little things,' this regime will not be changed through the ballot. There will be blood."
Nemtsov's lawyer confirmed he had received threats on social networks and told police about them, but authorities didn't take any steps to protect him. Despite what many opposition leaders see as a preventable tragedy, they say the planned anti-Putin, anti-Kremlin protest will proceed.