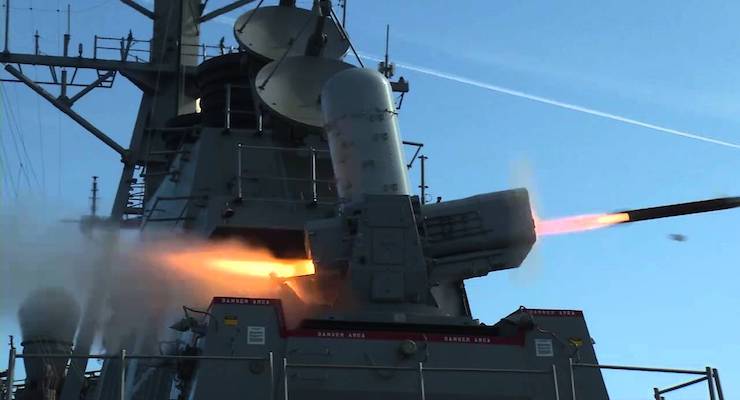 President Donald J. Trump has ordered the U.S. military to strike at chemical weapons storage facilities in Syria, People's Pundit Daily confirmed. The attack comes in response to one of the deadliest attacks in the country's 6-year civil war, claiming the lives of an estimated 72 people and wounding at least 400 others.
Fifty-nine (59) tomahawk missiles were launched from the USS Porter and USS Ross in the Mediterranean Sea and hit multiple confirmed targets at Shayrat, which is located roughly 120 miles from Homs. It is believed that the base was used as a staging point for the chemical weapons attack on Tuesday and both warships have been training for the past two days to execute this mission.
The President condemned the chemical attack in Syria as "reprehensible" and said it "cannot be ignored by the civilized world." He slammed his predecessor Barack Obama and said "these heinous actions by the Bashar al-Assad regime are a consequence of the past administration's weakness and irresolution."
While it has been widely reported the new U.S. administration has had greater success against the Islamic State in Iraq, it was unclear how far President Trump was willing to go to respond to President Assad in Syria, particularly considering the regime is acting as a countering force to the Islamic State, otherwise known in Syria as Daesh, which has a stronghold capital in Raqqa.
But when asked during a joint press conference with King Abdullah II of Jordan if the chemical attack crossed a red line for him, the President made clear his views were changing on Assad.
"It crossed a lot of lines for me," President Trump said. "When you kill innocent children, innocent babies — babies, little babies — with a chemical gas that is so lethal… that crosses many, many lines, beyond a red line."
Secretary of State Rex Tillerson briefed President Trump on military options in Syria earlier in the day.
"It will seem that there would be no role for him to govern the Syrian people," he said at an impromptu press conference. When asked about a possibility of removing Assad, Secretary Tillerson replied "Those steps are underway."
U.S. Pentagon sources tell People's Pundit Daily the attack is limited but meant to send a message to Assad and Russia that U.S. foreign policy toward Syria has fundamentally changed and will not allow the use of chemical weapons on innocent people.
The first lawmakers to weigh in were Sens. John McCain, R-Ariz., and Lindsey Graham, R-S.C., two war hawks previously critical of President Trump's policy in Syria, among other regions.
"Unlike the previous administration, President Trump confronted a pivotal moment in Syria and took action," the senators said in a joint statement. "For that, he deserves the support of the American people. Building on tonight's first step, we must finally learn the lessons of history and ensure tactical success leads to strategic progress."
Preliminary investigations point to Sarin as the chemical involved in the attack. Sarin is a colorless, odorless liquid and is highly volatile moving easily from liquid to a gas.. However, unlike chlorine, which is the preferred chemical weapon of the Assad government, Sarin does not dissipate quickly.
That accounts for the high number of fatalities in what is a painful death– including twitching, jerking and foaming at the mouth.