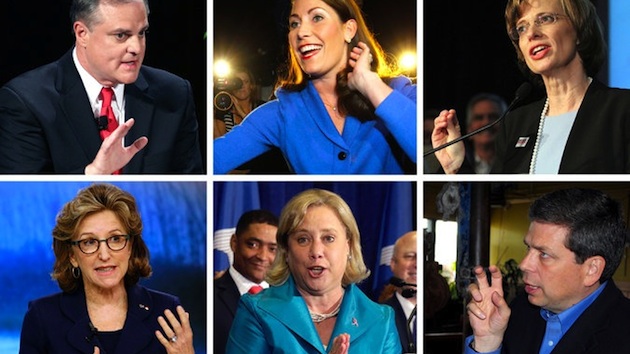 Independent government watchdogs are being called upon by Senator Kay Hagan and other red state Democrats to execute a thorough investigation into the failures of HealthCare.gov.
Senator Kay Hagan (NC-D) who is taking the lead, is also conveniently up for re-election next year in a red state that flipped for Mitt Romney against Obama in 2012. Senator Hagan has written a draft letter to Comptroller General Gene L. Dodaro and Inspector General Daniel R. Levinson.
The draft letter addresses all of the problems that accompany healthcare.gov stating:
At every step of the user experience, site errors have prevented people from effectively shopping and enrolling in plans. Users have encountered problems creating an account, verifying the account, determining eligibility, protecting user privacy, calculating tax credits, and facilitating enrollment with private insurers if they can even access the site at all. Many states still have not received the data necessary to enroll eligible individuals in their Medicaid programs, and the accuracy of the files used by insurers to enroll customers remains an open question. As a result, what should be a 21st century digital process on the back-end has become an antiquated, paper-and-pencil effort that is not sustainable or scalable as the problems of the front-end consumer experience get resolved.
Amazingly, just weeks ago before the government shutdown, Senator Kay Kagan was in lock-step with her Democratic Party, adamantly opposing the very changes that she now claims to support. How convenient when opposition to ObamaCare runs 2 to 1 in your home state.
Hagan apparently realizes potential highlighter of the ObamaCare black stain, known as HealthCare.gov, which will taint her 2014 campaign and could very well cause her to lose her senate seat. Ironically, Hagan was beginning to feel the pressure subside, with PPP and other liberal polling companies showing her a few points up on her likely Republican challenger, statehouse Speaker Tillis.
However, it would seem that no one wants to conduct a poll in North Carolina now, a state that has been hit severely hard by ObamaCare-induced cancellations.
Her only resort is to circulate this draft letter to a friendly media, in which she urges the Government Accountability Office and the inspector general for the Department of Health and Human Services to dig deeper into what went terribly wrong with the billion dollar failure.
The letter provides a list of questions, including whether payments were withheld to the 55 contractors hired to build the site. The letter also asks what additional costs to the taxpayers will be realized in order to fix the fundamentally broken site. Senator Hagan acted as if she was very concerned about the ramifications to the individual insurance market, despite supporting a law she knew full-well was designed to be a disrupter.
Furthermore, she continues on with the narrative that once the site is running they expect millions of people — for the first time — will not have to worry whether they can see a doctor because of a pre-existing condition.
What of those who have pre-existing illnesses and have been dropped by their private healthcare insurance? The very Americans with pre-existing conditions are also the ones who have built the strongest relationships with their doctors. The very doctors who treat these Americans are the doctors who are most familiar with their patients history.
Senator Kay Hagan's comments are still very much reflective of the parental worldview big government liberals hold. It isn't the fact you are losing choice and those precious relationships, it is that you do not have access to a plan that she has deemed more appropriate for you, and her emphasis on the website demonstrates that to be the case.
The letter could get signatures from lawmakers on both sides of the aisle. Democrats such as Senator Hagan claim to still support the law's intentions, but have been highly critical of the administration over the launch.
The Hagan letter states that once the site is up and running, "we expect that millions of people, for the first time, will not have to worry whether they can see a doctor because of a pre-existing condition, and other important market reforms will protect the insured from the prospect of unaffordable medical bills. In the meantime, it is critical that we understand how and why the mechanism for reaching that goal — HealthCare.gov — failed to launch as required on October 1, 2013."
Senator Hagan and all of the law's supporters in the Democratic Party cannot seem to comprehend the real problem with the law, which is simply that people do not want or like it. Opposition to ObamaCare has skyrocketed, while support has cratered along with the president's approval rating.
Emerging reports about the meager enrollments figures to date are fueling calls to delay the sign-up deadline, but they should be taken in concert with the survey data showing most uninsured Americans aren't supporting the law either, as they are ignoring ObamaCare, and do not care what Senator Kay Hagan and the Democratic Party thinks is best for them.
According to an insurance industry report, fewer than 50,000 Americans have so far bought a private health care plan on the ObamaCare website, far short of the half-million enrollees the administration wanted to meet or exceed the first month.
The Department of Health and Human Services said officials could not confirm the numbers, though we will be receiving them this month. Jay Carney, the White House press secretary, said that they expect the numbers to be low, and "as accurate as possible," which we all should be very suspicious of.
"We have always anticipated that initial enrollment numbers would be low and increase over time," said agency spokeswoman Joanne Peters. "And, as we have said, the problems with the website will cause the numbers to be lower than initially anticipated."
Sen. Orrin Hatch, R-Utah, top Republican on the Senate Finance Committee, said the numbers build the case for delaying the law.
"Whether it's higher costs, fewer choices or simply website glitches, it's becoming more clear with each passing day that this law isn't ready for prime time and should be delayed," he said in a statement.
But what many lawmakers on both sides do not understand, is that delaying the law is no longer sufficient to the American public. And the Republican Party would do well to side with public opinion, though it is unfortunate that it seems they may not have the heart for the fight.
As long as they do not, then Senator Kay Hagan and other red state Democrats, who supported the always-unpopular and now-failed law at every turn, will feel that they can mislead the American people during re-election season.
We won't let them get away with it or fool us at People's Pundit Daily, and neither should you.