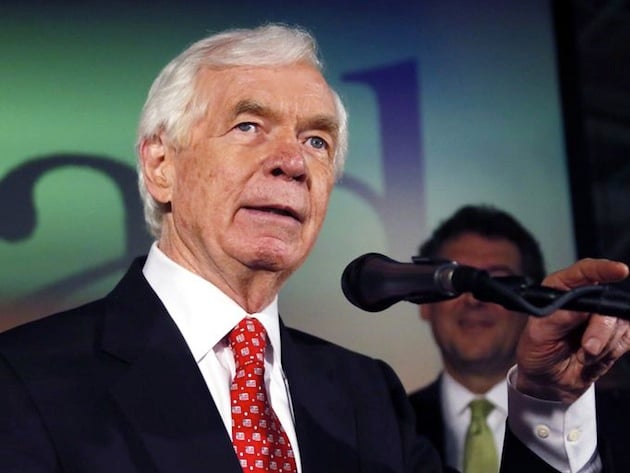 There is no doubt that crossover votes from "liberal Democrats" put Sen. Thad Cochran over the edge in the Mississippi run-off primary. A simple comparison of Mississippi's 24 counties that currently have a black population of 50 percent or more, will find turnout was up nearly 40 percent from the June 3 primary. Juxtaposed to the state as a whole, turnout was up just 16 percent.
What that means is simple. Even though Cochran tapped Republican voters that voted with their feet in the first primary, they still would not have been enough to stop Chris McDaniel from defeating him.
However, rather than whine about dirty tricks and in-party betrayal, conservatives should be asking themselves a series of actual productive questions.
First and foremost, did conservatives expect the establishment to simply lay down, leaving all the power-broker money that former Mississippi governor-turned-lobbyist Haley Barbour stuffed into their pockets on the table? If conservatives want to defeat incumbents, or win future general elections for that matter, then they need to take a look in the mirror and honestly ask who are the ones still "going along to get along," as Sarah Palin loves to say.
What team Cochran did — by which, I am referring to pulling the disgraceful race card on a fellow-Republican to scare black voters — has done irrefutable damage to both the Mississippi State and national Republican Party brand among minorities. What happened in Mississippi will not soon be forgotten among black voters, specifically.
But most of the blame falls on most of the conservative super PACs that backed McDaniel, the local tea party groups and Chris McDaniel, himself. All of these groups and individuals knew Cochran was actively courting black voters. People's Pundit Daily first reported on June 3 — again, the day of the first primary — that Democratic activists were undertaking a serious effort in collusion with Cochran's campaign.
And what did the McDaniel camp do to answer these attacks that were both on a deeply personal and political level?
Nothing. And the hope of appealing to a white conservative electorate only fell short, again.
As conservatives, the idea of pitting Americans against each other based on race, gender or through any other form of identity politics, is vial. But there is a point where the blatant ignoring of whole blocs of voters becomes less about the principles and politics of unity, and more about a question of actually caring about them.
Conservatives need to ask themselves whether they do, in fact, care about their fellow-Americans enough to make the case for liberty to them, no matter their color, creed or party. Putting aside conventional political wisdom and focusing simply on the reality of life in America today under Democratic direction, it isn't as hard of a task as the Republican Party has shown it to be. Americans of all colors and parties are hurting for hope, leadership and a new direction. While Cochran was promising federal dollars to fund what the latest Quality Counts report found to be the worst public education system in the nation (yes, Mississippi is dead last), McDaniel and conservatives should have offered black voters solutions to improve it.
Failing schools, cronyism and bankrupt social welfare programs hurt core Democratic voters, particularly black voters, more than any other class in American society. So, if Republicans truly care about all Americans, which I know they do, then they must stop ignoring them to the detriment of our entire nation. When black Americans suffer, all Americans suffer. When Hispanic Americans suffer, all Americans suffer. And that is true whether you know it by events in your everyday life or you wait until the eventual disintegration of liberty by popular support to realize it.
The worst part about how Cochran and McDaniel chose to run this race, is that black voters have already begun to try to cash their checks at the Bank of Sen. Cochran, showing minorities by action that Republicans' words mean no more than their Democratic masters. What could have been a perfect opportunity to win over a portion of the black electorate that was lost after George W. Bush's presidency, was wasted. Instead, all the people of Mississippi have to show for the millions of dollars spent on this campaign in their state is more divisiveness and uncertainty.
"Today the conservative movement took a backseat to liberal Democrats in the state of Mississippi," McDaniel said, adding that "there were literally dozens of irregularities" and "you know why."
To be fair, investigations into one county alone found roughly 1,000 Democratic voters who previously voted in the June 3 primary. That, of course, is illegal and fraudulent. But I cannot help but to wonder how many Democratic votes would have been cast for McDaniel if only a coherent, conservative campaign message was delivered to all voters in Mississippi, inclusively.
Do you want your family to live in poverty, or prosperity? Do you want to just exist, or do you want to live? Do you want to just survive, or do you want to thrive?
These are the questions Republicans must pose to all American voters. If they do not start, then we will all soon find out we are truly in this together, for better or worse.