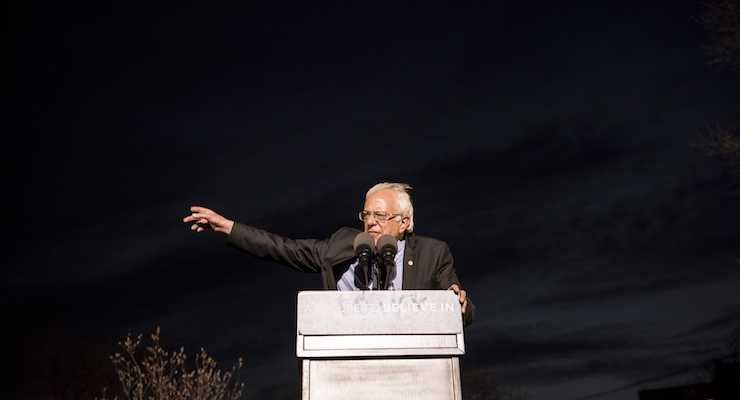 If the polls hold, scoring tickets to "Hamilton" will be as good as it's going to get for Bernie Sanders in New York. But let us first linger in Wisconsin, where Democrats and independents gave Sanders what looked like a decisive win.
It seems that 15 percent of Sanders' Wisconsin supporters voted only for Bernie, leaving the rest of the ballot blank. By contrast, only 4 percent of Hillary Clinton voters skipped the down-ballot races.
It happens that one of the down-ballot races was for Wisconsin Supreme Court justice. The progressive, JoAnne Kloppenburg, had a good chance of toppling Rebecca Bradley, a right-wing appointee of Gov. Scott Walker's. But Kloppenburg lost, in part because of the laziness of Snapchat liberals.
Snapchat is a messaging app that makes photos and videos disappear after they are viewed. Its logo is a ghost. Snapshot liberals are similarly ephemeral. They regard their job as exulting in the hero of the moment. Once the job is done, they vanish.
(An interesting wrinkle is that 10 percent of Sanders' voters checked the box for Bradley. This suggests that a good chunk of his win came not from fans but from conservatives seeking to frustrate the Clinton candidacy.)
Anyhow, three days later, a Wisconsin circuit court judge struck down an anti-union law backed by Walker. The law ended unions' right to require that private-sector workers benefiting from their negotiations pay dues or an equivalent sum.
The ruling was hailed as a "victory for unions," but that victory will almost certainly be short-lived because the matter now heads to a divided state Supreme Court. As a Supreme Court justice, Kloppenburg could have helped save it.
Sanders can't directly take the rap for this. He, in fact, had endorsed Kloppenburg.
But the Sanders campaign rests on contempt for a Democratic establishment that backs people like Kloppenburg. It sees even the normal give-and-take of governing as thinly veiled corruption. Liberals involved in the necessary horse trading are dismissed as sullied beyond repair.
TV comedy news reinforces this cartoonish view of what governing entails. The entertainers deliver earnest but simple-minded sermons on how all but a chosen few folks in Washington are corrupt hypocrites. (I find their bleeped-out F-words so funny. Don't you?)
Snapchat liberals tend to buy into the "great man" theory of history. So if change comes from electing a white knight on a white horse, why bother with the down-ballot races?
Hence the irritating pro-Sanders poster: "Finally a reason to vote."
Oh? Weren't there reasons to vote all these years as tea party activists stocked Congress with crazy people? Wasn't giving President Obama a Congress he could work with a reason to vote? (The liberal savior in 2008, Obama saw his own Snapchat fan base evaporate come the midterms.)
When asked whether he'd raise money for other Democrats if he were to win the nomination, Sanders replied, "We'll see."
Bernie doesn't do windows and toilets. That's for establishment Democrats.
The difference between the pitchfork right and the Snapchat left is this: The right marches to the polls to vote the other side out. The left waits for saintly inspiration. If the rallies are euphoric and the Packers aren't playing the Bears, they will deign to participate. Then they're gone in a poof of righteous smoke.
It is a crashing irony that many liberals who condemn voter suppression by the right practice voter suppression on themselves. The liberal version doesn't involve onerous ID requirements at the polls. It comes in the deadening message that few candidates are good enough to merit a vote.
And that's why progressive America routinely punches below its weight on the national stage.