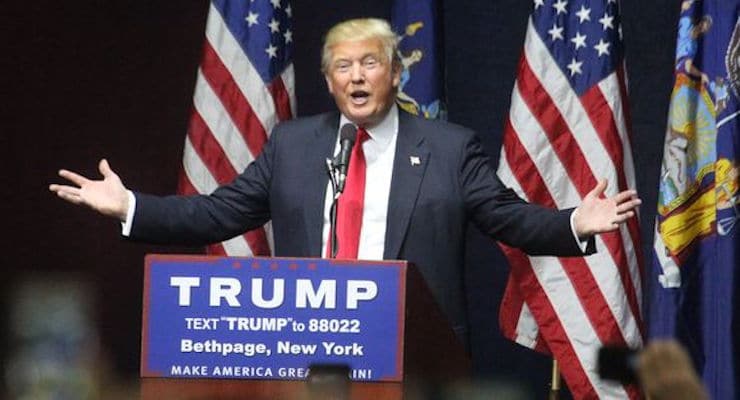 What's Donald Trump really up to? Is he using the election of 2016 to enrich himself, with no intention of assuming the burdens of the presidency? Many wonder. If that's the plan, he's going about it the right way.
This may sound like political science fiction, but think. Success in such terms would entail two things: commanding maximum public attention and offending vast numbers of voters he would need to actually get elected. That's what he's been doing.
The two work together.
Vanity Fair reported speculation that the Trump endgame may involve establishing a family-run "mini-media conglomerate" — a kind of CNN or Fox News. Trump is already a media phenomenon with an enthusiastic audience. His campaign, meanwhile, has been featuring his wife, his children and a son-in-law as prominent co-stars.
The article said that Trump is sore about providing so much free content to the aforementioned media outlets without his getting a cut of the profits. (So much free airtime would be a source of joy for the conventional politician seeing election as the goal.)
Trump already controls a TV production company. Making the leap to Trump News Network, or whatever it might be called, would not seem so outlandish. The bigger the audience Trump builds dominating the news cycles, the more advertisers will pay for his product. And maintaining that high level of attention requires continually saying inflammatory things that turn off the larger electorate.
Suspicions began growing early on that Trump's candidacy is a brand-building scheme and little more. Recall how every ludicrous thing out of his mouth — mocking John McCain for becoming a prisoner of war, smearing Latinos and savaging fellow Republicans — was deemed a campaign killer. His candidacy (SET ITAL) had (END ITAL) to collapse. But it didn't. Trump won more and more support from the so-called Republican base despite (or because of) his vulgarity and disregard for conservative principles that were never widely popular to begin with.
When Trump became the presumptive nominee, the political sophisticates assumed he'd clean up his act and behave in a dignified, presidential manner. He's done neither.
The Republican Party unwittingly created the conditions for a Trump candidacy. Its leaders have sat quietly for decades as a right-wing media — run by personalities flogging their own wares — normalized crazy political rhetoric. They probably figured that come Election Day, they could easily herd the fired-up base to the proper stalls. And they misread its strong support for Social Security, Medicare and other government programs.
That Trump has almost no campaign funds fits the theory he's not in it to win it. His people insisted he's never needed that kind of money. His arresting personality would do the job. Then came the sinking poll numbers.
Trump raised $5.4 million last month and spent over a million of it at his Mar-a-Lago club in Palm Beach, Florida, on private jet service provided by his Tag Air and at other family-owned enterprises. He put in $2.2 million of his own money, but that was just a loan.
Trump's dumping of campaign manager Corey Lewandowski can be interpreted as a logical response to evidence that he's wearing thin among likely voters. But there's no taking anything at face value in the Trumpian house of funny mirrors. It may reflect the family's concern that it's losing audience share.
The Republican Party has provided the vehicle for Trump's joy ride. If at the end he returns a smoking wreck to the counter, not his problem. He'll be fine, he keeps telling us.
For party leaders, another story. They will need much time for reflection, starting with how they got so royally set up.