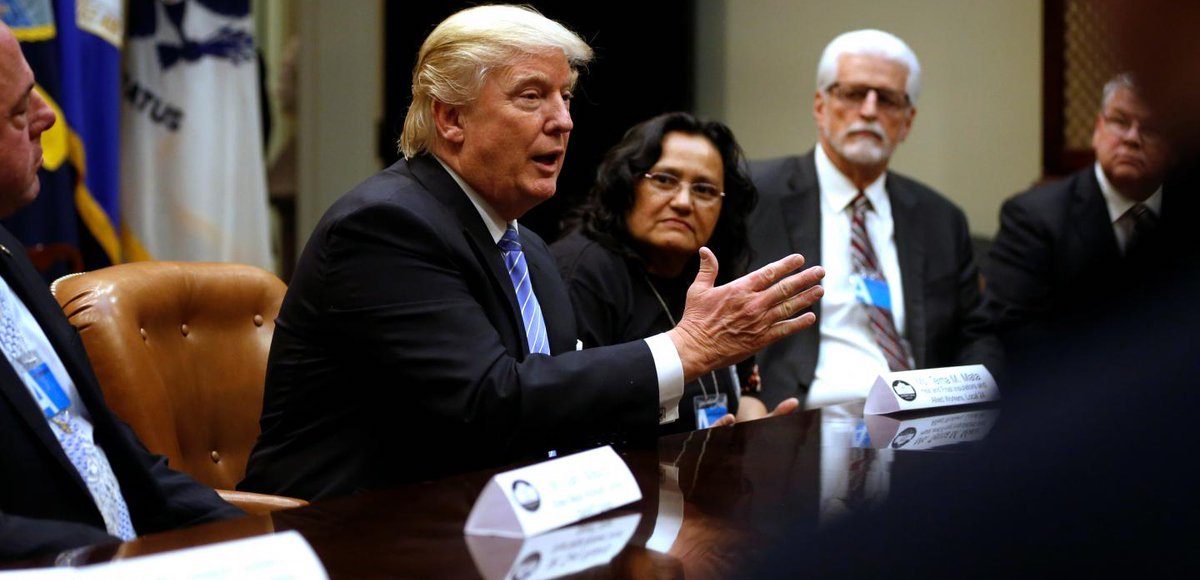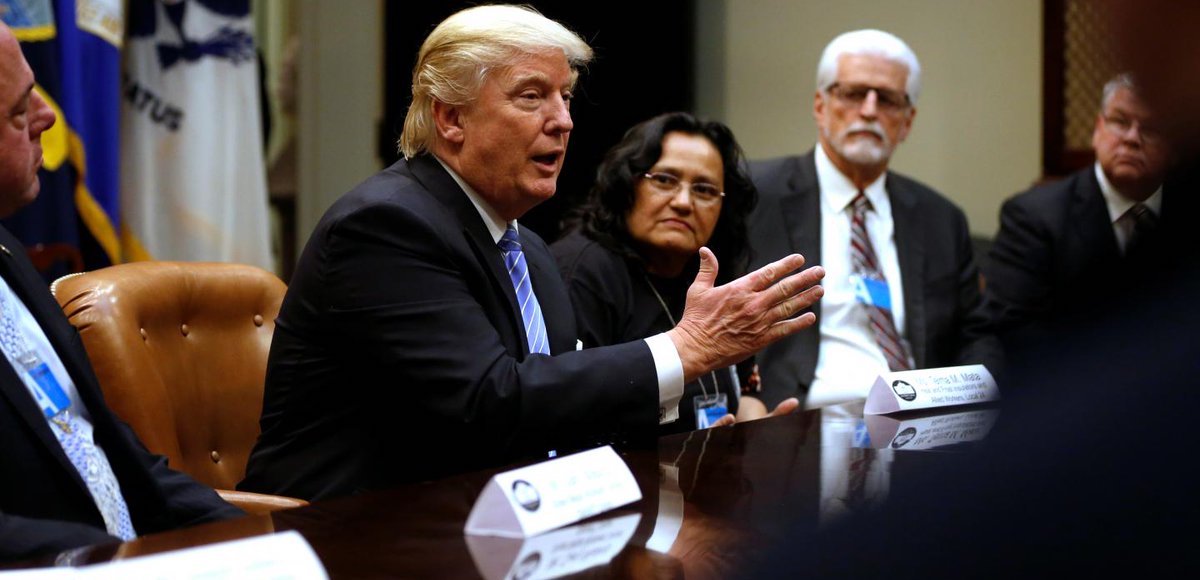 It is by now a cliché or at least a truism that Trump is America's first non-politician president. This "insight" is commonly used as the basis for analyzing Trump's actions and decisions as well as trying to predict his next moves. "He is running things like a CEO" is the usual corollary to the non-politician preamble. But most American CEO's are in fact politicians.
To advance to the top of the pyramid in a large publicly traded company like Rex Tillerson's Exxon-Mobil requires tremendous political acumen. One must forge alliances, know whom to butter up and whom to stab in the back when the right moment comes. In a publicly traded company there are distinct centers of power. The CEO, of course, serves at the pleasure of the Board of Directors, but he or she is also very much beholden to the shareholder base, especially the heavy institutional investors that often hold very large portions of all outstanding shares.
In a publicly traded company, a CFO may be a thorn in the CEO's backside, and yet firing them is out of the question because he or she may be the darling of the stock analyst community and canning them would send the stock price tumbling down. In short, the CEOs of large publicly traded companies function very much like politicians; their rule is limited by any number of people who have separate power bases and are not beholden to them in any way.
Whether its activist institutional investors, the old curmudgeon Chairman of the Board, the maverick Chief Technology Officer who rules the trade journals, or the aforementioned CFO, the CEO must bring them all on board and build consensus prior to any major decisions.
Trump is not that guy. Trump, like his late father, is a small business person through and through. He just happens to be a very successful one who is also a very creative and effective communicator. Trump's promise to America during the campaign, the promise that was understood by his voters and at the same time completely missed by the pundit class, was not to run America as a corporation; it was to run America as if it were his very own small business. Trump promised his voters to take them from building low to mid-income housing in Queens to building glamourous golf resorts in Dubai and luxury condo high-rises in Miami.
What are the attributes of the Trumpian small business model of governance? First, there is only one power center – the one between his ears. For Trump there are only two types of people: those he can fire (like Comey) and those he cannot (like Paul Ryan, Mitch McConnell, and Chuck Schumer). The former fall into the category of productive assets only if they faithfully execute Trump's agenda, or in Trump's parlance, "do a good job". A certain level of incompetence (Steve Bannon) deserves a second chance, but the moment one of these folks deems himself to possess power that is independent of Trump's and does not derive from it, they become non-productive assets, or as Trump recently said about Comey, "he didn't do a good job". Once they don't do a good job – they're gone. Simple, right?
The folks that Trump cannot fire, whether left or right, Democrats or Republicans, elected or appointed, legislative branch or the judiciary, are treated precisely as Trump had treated them all his life when he required building permits or was a litigant in civil law suits. They are transactionally, temporally, either help or hindrance. In Trump's mind, the only difference between Chuck Schumer and Mitch McConnell has nothing to do with the letter that follows their names. It has everything to with whether, on a given issue, at a given moment in time, they are helpful or harmful to a given topic in his agenda.
If they are helpful, they will be rewarded by positive tweets, invitations to the White House, photo-ops, help in campaigning, anything that Trump can do for them, he will. If they are not helpful, Trump will try to either flip them or isolate them. What he will never do is treat them as equals or as "stakeholders" in his agenda. He will never see them as having a co-equal right to shape his agenda for America. This is something that needs to be well understood if one wishes to avoid being dumbfounded every day and twice on Sundays.
The flip strategy relies on a concept known in negotiating theory as Best Alternative To Negotiated Agreement (BATNA). Basically, it's the perception, by each of the negotiating parties, of how bad things would be for them (and not for anyone else!) if the negotiation failed to reach an agreement. From Trump's perspective, his BATNA when it comes to negotiating with Senate and Congressional Republicans is excellent. If the midterms come along with his legislative agenda stuck in Congress, his voters, who happen also to be the same voters who vote R for the Senate and the Congress, will not blame him.
They will however blame the Republican Congressmen and women and the Republican Senators who are up for reelection. In short, their BATNA sucks. So in Trump's mind, he does not have to give up a thing to get the Republicans in Congress to play along. If they don't, he'll be just fine, whereas they can kiss their coveted majorities and all the ensuing perks a fond farewell. Many of them may even have to resume their lives in flyover country with little to no marketable skills. Again, not a great BATNA.
When it comes to the Democrats, Trump realizes that right now their BATNA is also pretty good; opposing him at every step is so far paying dividends in fund raising and voter support. But that's another reason for not negotiating; negotiation with a partner that has an excellent BATNA is negotiation from a position of weakness. Hence Trump's strategy of leveraging his BATNA disparity with the Republicans to change the rules in the senate so that his agenda can pass on a strict party line vote, i.e. extending the nuclear option to legislation and ending the filibuster once and for all. Republican senators hate this idea?
They fancy themselves to be a part of the greatest deliberative body on the planet? They worry what will happen when the wheel turns? Back to BATNA: which is more painful, losing their house and senate majorities and being forever branded by their own electorate as perennial namby-pamby losers, or reinventing the Senate as just another upper chamber in yet another parliament? Time will tell.
Finally, it would behoove both the pundits and the Congressional leaders to ponder Trump's existential BATNA. Trump is different from every other president with the possible exception of George Washington in that he doesn't view his presidency as the sine qua non crowning achievement of his life's work. That distinction is reserved for the Trump Organization with its self-proclaimed portfolio of "some of the leading properties on the planet" and his immediate family.
Trump views the presidency as an unlikely side project; one that he undertook because he could and because he truly believed, as he still does, that he can make one hell of a positive difference for America and for Americans. But if it turns out that he couldn't, that the forces arraigned against him were too strong, he will not lose a moment of sleep over it. "Trump Force One" is not a downgrade after all and unlike Obama he will not have to smooch private jet rides from anyone.
This excellent global BATNA is what allowed Trump to fire Comey today and meet with Lavrov tomorrow while allowing only the Russian photographer into the meeting. It is the source of Trump's "in your face" behavior towards those (Democrats, the MSM) that he perceives as unflippable. They'd better buckle in – it's not going to change.