While it's quite clear that the establishment media leans to the left, I don't get too agitated about bias. Though every so often I can't resist the temptation to comment when I come across egregious examples on issues such as poverty, guns, Greece, jobs, taxes, and education.
The bias extends to politics, of course, though the only time I felt compelled to comment was when ABC News rushed to imply that the Tea Party somehow was connected to a mass shooting in Colorado.
Well, I now feel compelled to comment again. But this example goes beyond bias and should be characterized as blatant and disgusting dishonesty. The hacks at Time took a quote from Charles Koch and then used selective editing to completely misrepresent what he actually said.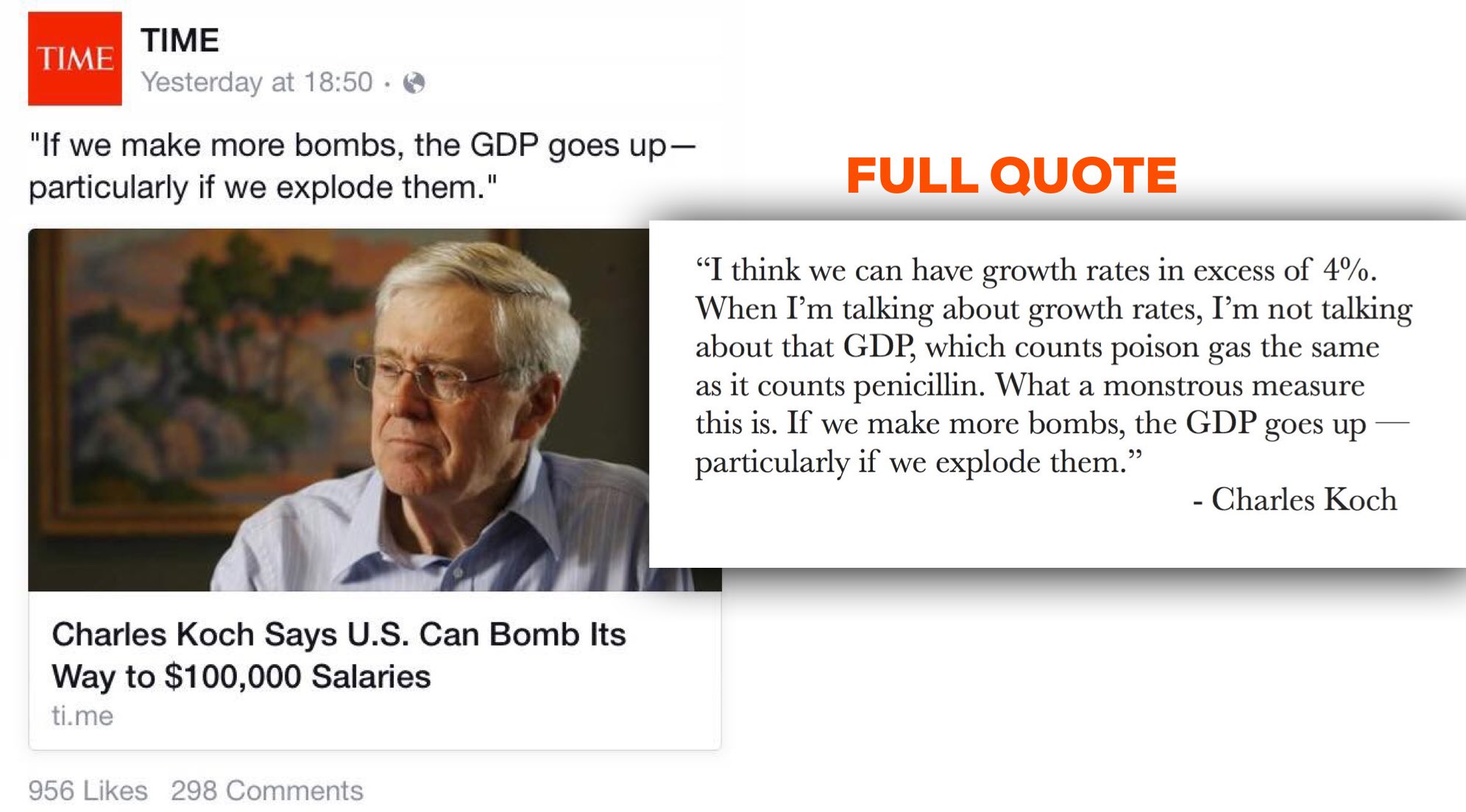 In a just world, the person who engaged in this bit of mendacity would lose his or her job and never again work in journalism. But I would hold my breath waiting for that to happen.
But let's set aside the issue of media bias and dishonesty.
I want to highlight what Mr. Koch said about GDP. He expressed skepticism of that measure because it doesn't distinguish between good expenditures and bad expenditures.
That's one of the reasons why I prefer gross domestic income instead of gross domestic product. In simple terms, GDI measures how our national income is generated and GDP measures how it is allocated.
As the Bureau of Economic Analysis (BEA) explains, the two numbers are basically different sides of the same coin.
In national economic accounting, GDP and GDI are conceptually equal. GDP measures overall economic activity by final expenditures, and GDI measures it by the incomes generated from producing GDP. In practice, GDP and GDI differ because they are constructed using different sources of information. …when one looks at annual data – where the timing differences are less important, the correlation between GDP and GDI is 0.97.
That correlation shouldn't be a surprise. Indeed, over a longer period of time, the two numbers should be identical.
Both go up when the economy is doing well, and both go down when there is a recession.
But I want to make a more subtle point.
The reason I like GDI over GDP is because one the former is more likely to lead people to support good policy while the latter is more likely to lead people in the direction of bad policy.
Here's some of what I wrote on the topic back in 2013.
GDP numbers only measure how we spend or allocate our national income. It's a very indirect way of measuring economic health. Sort of like assessing the status of your household finances by adding together how much you spend on everything from mortgage and groceries to your cable bill and your tab at the local pub. Wouldn't it make much more sense to directly measure income? Isn't the amount of money going into our bank accounts the key variable? The same principle is true – or should be true – for a country. That's why the better variable is gross domestic income (GDI). It measures things such as employee compensation, corporate profits, and small business income. …We should be focusing on how to increase national income, not what share of it is being redistributed by politicians.
And, on a related note, you can back to 2009 for a column I wrote explaining that consumer spending is a reflection of a strong economy, not the cause of a  strong economy.
And this video ties everything together by debunking the Keynesian argument that politicians should focus on goosing consumer spending.