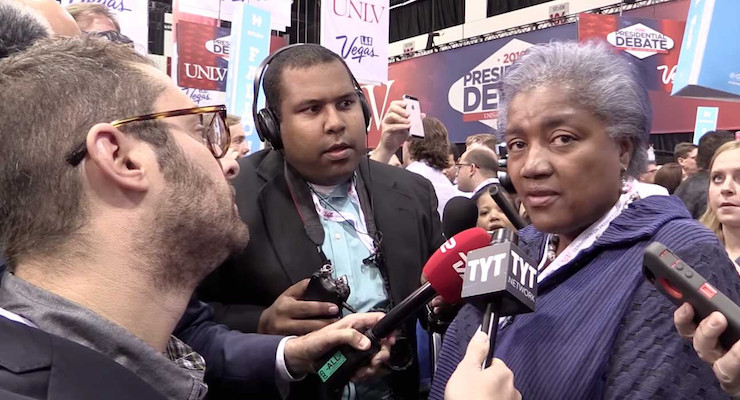 Yet another leaked email reveals Democratic National Committee (DNC) chair Donna Brazile shared debate questions with the Hillary Clinton campaign. Brazile, a former CNN contributor, has repeatedly claimed he did not, even after a previously released email showed the contrary.
According to an email released Monday by the anti-secrecy group WikiLeaks, Brazile sent Clinton Communications Director Jennifer Palmieri an email titled, "One of the questions directed to HRC tomorrow is from a woman with a rash," the night before the March 6 primary debate in Flint, Michigan.
"Her family has lead poison and she will ask what, if anything, will Hillary do as president to help the ppl of Flint," Brazile wrote.
On March 7, the following night, Lee-Anne Walters, a mom whose twin boys stopped growing and whose daughter lost her hair during the Flint water crisis, asked the following question to both Mrs. Clinton and Vermont Sen. Bernie Sanders:
"After my family, the city of Flint and the children in D.C. were poisoned by lead, will you make a personal promise to me right now that, as president, in your first 100 days in office, you will make it a requirement that all public water systems must remove all lead service lines throughout the entire United States, and notification made to the — the citizens that have said service lines?"
Mrs. Clinton responded with a longwinded, clearly prepared answer that CNN moderator Anderson Cooper had to twice interrupt in an attempt to hold her to the agreed-upon time limit. While Mrs. Clinton received an applause from the crowd, it is obvious now she was interrupted while attempting to regurgitate a practiced answer on a loaded-but-leaked question.
She wound up ultimately losing the state's primary to Sanders two days later in an upset polls did not predict. Interestingly, though she was running 10 to 25 points ahead of Sen. Sanders, WikiLeaks emails also show the campaign knew they were likely going to lose.
Brazile, who replaced Debbie Wasserman Schultz as DNC chair after WikiLeaks released emails that revealed an anti-Sanders bias, came under fire following an earlier email indicating she gave the Clinton campaign a separate death penalty question before a CNN-hosted town hall event later that same month. That exchange began with Brazile sending Palmieri the text of the question with the subject line: "From time to time I get the questions in advance."
After Palmieri responded, Brazile wrote back: "I'll send a few more."
Roland Martin asked the exact same death penalty question–verbatim–the next night.
In a brutal interview with Fox News anchor Megyn Kelly on October 19, Brazile denied tipping off Clinton during the primaries. When pressed by Kelly and read her own words, Brazile flipped out and called her a "thief in the night," claiming she was being persecuted and questioning the veracity of the hacked files.
"Well, Kelly, since I play straight up and I play straight up with you, I did not receive any questions from CNN," she said. "As a Christian woman, I understand persecution, but I will not sit here and be persecuted," Brazile said. "Your information is totally false."
The DNC did not immediately respond to a request for comment.
[brid video="69868″ player="2077″ title="'Youre Like a Thief' Donna Brazile Lashes Out at Megyn Kelly When Asked About WikiLeaks"]