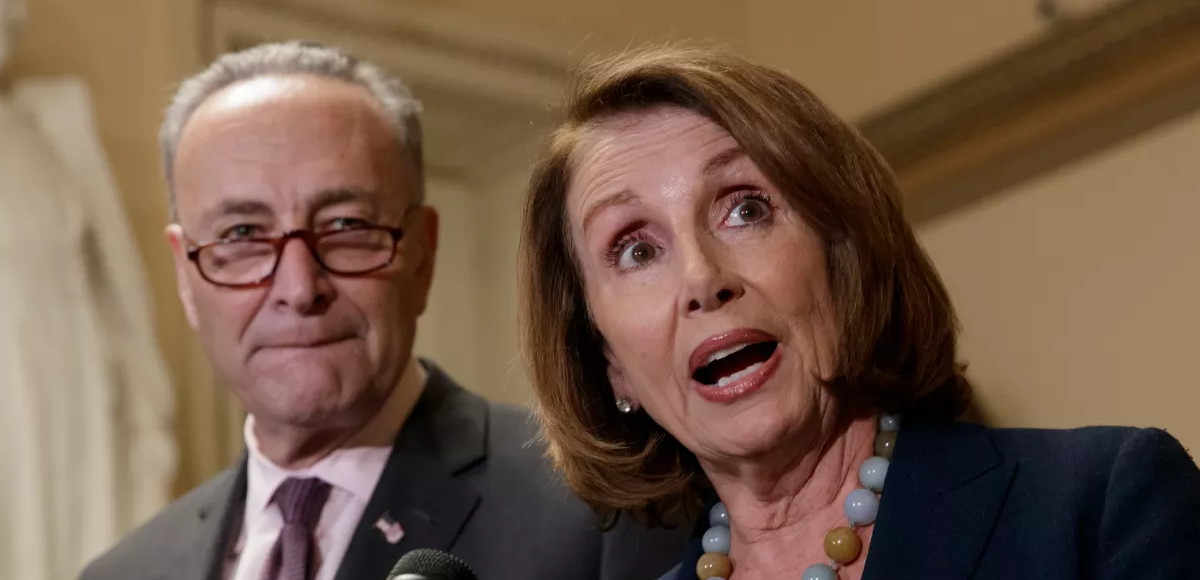 Last week, Congressional Democrats unveiled a plan to reverse tax reform and spend roughly $1 trillion on a public sector infrastructure plan.
As People's Pundit Daily (PPD) previously examined, there can be little doubt that America's infrastructure is crumbling, repairs are badly needed and underfunded.
The World Economic Forum's Global Competitiveness Index ranks the infrastructure competitiveness of the U.S. 11th out of 138 global economies. The American Society of Civil Engineers (ASCE) gave the U.S. a cumulative D+ GPA in 2017, though 7 subcategories showed improvement and 3 further deteriorated.
The only real questions surround how best to close the funding gap, keep fraud and waste to a minimum and costs down.
"We can no longer afford to defer investment in our nation's infrastructure," the ASCE said in their report. "To close the $2.0 trillion 10-year investment gap, meet future need, and restore our global competitive advantage, we must increase investment from all levels of government and the private sector from 2.5% to 3.5% of U.S. Gross Domestic Product (GDP) by 2025."
The ASCE estimates roughly $941 billion in funding allocated and more than $2,042 trillion needed from 2015-2025. In total, they project a $1.101 trillion funding gap over the next decade.
Unfortunately, the Democratic plan is unrealistic. We've identified three major problems with the plan, which we do not view to be a serious problem.
It relies on inaccurate and unrealistic revenue projections;
It is politically unrealistic because it doesn't enjoy popular support; and
Perhaps most importantly, it ignores the practical challenges that arise from proposing a public sector-centered solution to a largely private sector problem.
Unrealistic Revenue
In order to significantly raise the overall infrastructure grade and maintain global competitiveness, the ASCE said "Congress and the states must invest an additional $206 billion each year to prevent the economic consequences to families, business, and the economy."
The Democratic plan stands in contrast to the more robust $1.5 trillion infrastructure proposal from President Donald Trump. However, the Trump Administration's proposal doesn't call for Congress to write a check for that amount.
The White House instead calls for an additional $200 billion in federal funds to spur at least $1.5 trillion in infrastructure investments with partners at the state, local, tribal and private level. The Democrats would increase the top marginal income tax rate to 39.6%, up from 37%, a tax hike directly hitting 30 million small and mid-sized sole proprietorships, partnerships, Subchapter-S corporations and LLCs.
These companies pay their business taxes on their owners' 1040 personal tax returns and they will engage in tax avoidance behavior. Democrats, who would also re-raise the corporate tax rate to what they called a "competitive" 25%, are counting on projected revenue, which studies show will almost certainly fall short.
Chris Edwards of the Cato Institute reviewed fifty years of data for industrialized nations and ascertained that lower tax rates are associated with rising revenue.
Politically Unrealistic
Putting aside that Democrats would add a revenue shortfall on top of an already existing funding gap, the plan is something they almost assuredly cannot do politically. The ASCE suggests putting the "trust" back into "trust funds" by dedicating public funding sources on the local, state, and federal levels.
While they may believe "infrastructure trust funds" will "never" be "used to pay for or offset other parts of a budget," Americans aren't as naive.
Recent polling not only finds voters support President Trump's proposal, but also that most want the government to find outside sources to help fund it. A Rasmussen Reports national telephone and online survey conducted in February found that 65% supported the plan, slightly lower than the 72% gauged by the Big Data Poll.
Nevertheless, both Rasmussen and Big Data Poll found voters think it would be better if the federal government worked with state government and private industry, 68% and 74%, respectively.
Only 25% of voters in the Rasmussen survey and 18% of voters in the Big Data Poll survey thought infrastructure should be addressed by government entities, alone. In fact, voters favoring infrastructure plans but not being willing to pay for them is a long-established trend.
Unrealistic Public Sector Solution
Voters' preferences are also realistic. In the real world, infrastructure isn't just "run" by government entities. Congressional Democrats proposed to use $30 billion of their hypothetic revenue to "modernize" America's ports and waterways, which the ASCE graded a C+.
There are 926 ports overall and about 15 major ports in the U.S., which of the latter are divided into a relatively small number of separately operated terminals. Of the roughly 100 terminals in major ports, U.S.-owned terminal operators are outnumbered by foreign companies 10 to 1.
While they attempted to address ports and waterways, which would be a payoff to unions, the plan makes no mention of or allocation for the nation's dams. There's a good reason for that. The U.S. government has little to no control over the vast majority of them.
There are 90,580 dams in the country and, of those, the number deemed high-hazard potential increased last year to nearly 15,500. The average age for U.S. dams is 56 years old. By 2025, 7 out of 10 dams in the U.S. will be over 50 years old.
According to the Association of State Dam Safety Officials, only 14% of dams in the U.S. are owned or regulated by government agencies. The percentage may vary, but the story is the same across multiple infrastructure sub-sectors.
Without a public-private partnership program such as the one proposed by President Trump, badly needed repairs to the nation's dams and other sub-sectors of infrastructure have no hope. Even if the federal government could fund all the projects the Democrats proposed, they don't have the legal authority to go it on their own.