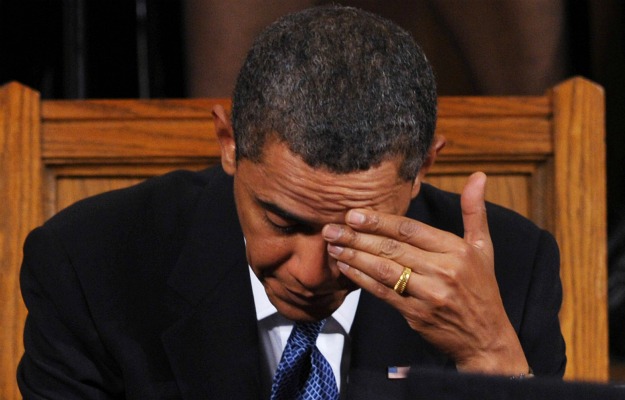 When President Obama began his tenure, part of the hope and change they were looking forward to restoring respect for the president around the world. Unfortunately, President Obama never understood that while nations didn't respect President Bush, they feared him and worked with him. Now, Obama is neither feared nor respected, and Americans know it.
For the first time, according to Gallup's annual World Affairs poll, a majority of Americans think President Obama is not respected by other world leaders. The dramatic shift was fueled by Democrats who shed 11 points down to 69 percent and, even more so, independents. Now, by a wide 57 to 34 percent margin, independents believe world leaders do not respect President Obama.
Republicans, unsurprisingly, have thought world leaders don't respect the president for quite some time, but the number has crept up slightly to 77 percent from 74 percent.
In 2013, the president suffered a series of foreign policy defeats over Syria, which led into an Iran deal that was supported by Americans until it became clear that Obama was being played by the regime. These events are not taking a toll, and it has caused a dramatic shift in public opinion. We can tie the shift to specific policy failures because, Americans still thought world leaders respected Obama in 2010 and 2011, when his job approval rating was roughly the same it is now.
The lack of confidence in how Americans think the world leaders perceive Obama is a recent development, which suggests it may be more tied to specific foreign policy developments from 2013. In 2013, we learned the U.S. was listening in on foreign leaders' phone calls, Obama failed to get a resolution for Syria after Putin ran circles around him, and tensions have been increasing with Russia.
However, at least a small number of Democrats and a large number of independents have been uncomfortable with the sour relationship between President Obama and Israeli Prime Minister Benjamin Netanyahu. It would be no surprise to see pro-Israel blocs in these groups begin to react to that relationship.
Overall, 61 percent of Americans are dissatisfied with the position of the United States in the world today, and 37 percent are satisfied. However, that level of dissatisfaction is not Obama-specific and has been fairly consistent since 2007. Though it is ticking up under President Obama, the last time a majority of Americans were satisfied with the position of the U.S. in the world was in 2003, just after the U.S. ousted Saddam Hussein's regime in Iraq.
Under President Bush, U.S.-Russian relations were stable and far more favorable to the U.S. than they were for Putin and Co. For better or worse, whether or not you agree with a particular policy or not, it would appear that President Bush governed on the international stage through the Bush doctrine, which held the primacy of U.S. power in the world as the highest bargaining chip. He was not seen as respected by his own people among world leaders, but he was effective. Under Obama, it would seem Americans don't believe either is true for President Obama anymore.