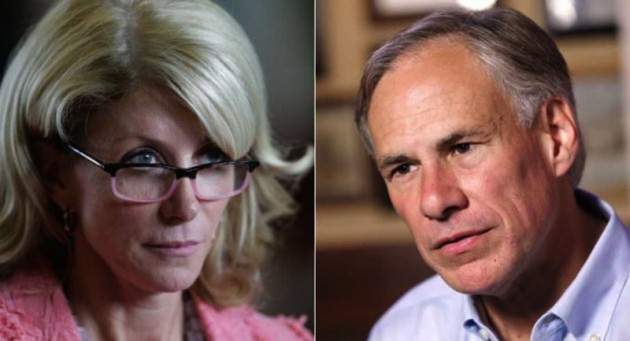 The Texas Governor race is the sixth article in what will be a succession of articles offering expanded analysis released for our 2014 Governor Map Predictions. Republican Attorney General Greg Abbott will face State Senator Wendy Davis, who became a hero to the left when she filibustered a majority supported ban on late-term abortion.
Attorney General Greg Abbott, who was Gov. Rick Perry's choice for successor, is and was always in a great position to become the next governor of still-red Texas. Many liberals were foaming at the mouth during the passage of the Texas abortion ban, and couldn't seem to realize that their new superstar — Wendy Davis — had positioned herself way too far on the left in a state that overwhelmingly elected Senator Ted Cruz.
Even if the demographics were to shift in the favor of the Democrats, as they have hoped for years, Davis would still be on the far, extremist end of the state's ideological spectrum. In fact, though Democrats enjoy a sizable advantage among Hispanics, whom they hope to tap to turn Texas blue, the truth is that their plan to do so isn't at all solid.
I examined Texan Hispanic voting and party ID in the state in a recent article entitled, Gallup Data Show Hispanics In Texas May Pose A Problem For Democrats, Not Solution. I would encourage everyone to read the entire article after they've finished with this one, but let's recap two Hispanic-specific data points Democrats and the media have refused to acknowledge.
First, although Hispanics in Texas still largely tilt Democratic by 46 to 27 percent, the 19-percentage-point Democratic advantage is far smaller than the nationwide average of 30 points. In fact, Republican candidates have typically performed above average among Hispanic voters in the state, but there is a concerning trend for Democrats no one seems to have observed yet.
Since 2008, the percentage of Hispanics who identify with the Democratic Party in Texas has declined by a significant 7-point margin, down to 46 percent from 53. Further, during the same period, the number of Hispanics who identify with the Republican Party has steadily and modestly increased to 27 percent now, up from 23 percent in 2008, resulting in a total swing in Democrat advantage of -11 points. The cause for the disparity between Texan Hispanics and Hispanics nationwide is two-fold: traditional values and opportunity.
Of course, none of that matters had the Texas State Republican Party not made a concerted effort to appeal to these voters as they have, which the Republican National Committee seems oblivious to, opting instead to support a token immigration reform bill. As of now, there doesn't appear to be any reason to believe that this trend won't continue, despite the efforts of Battleground Texas and the state Democratic Party. The choice to rally behind Wendy Davis won't exactly help remake their image among "values voters," either Hispanic or white.
And they'd better believe they need to increase their appeal among white voters in order to become competitive in Texas, once again.
The white  Democratic base continues to shrink, down to 26 percent when last asked. With 61 percent of white voters identifying with the Republican Party, the Democratic Party's prospects of turning Texas blue will not be an easy task. When we look at the last two decades of elections in the state of Texas, we can see that, historically, a large percent of white Democratic voters will actually vote Republican on Election Day. In other words, crossover appeal historically favors Republican candidates, and it is only getting worse.
In the Rio Grande Valley, for instance, we see this translating into a serious problem for Democrats. Though the Valley remains the Democrats' strongest nonurban area of support in Texas, because of the overwhelmingly Hispanic population, there are danger signs even they can't ignore. In Hidalgo County, which has moved against the rightward shift in recent years, George W. Bush won 53 percent of the vote in his 1998 landslide reelection win. In 2010, Perry received the same number of raw votes in Hidalgo as Bush had, showing the decline in Republican support. However, Davis lost three of the four Valley counties, including Hidalgo, her little-known Democratic primary opponent.
This was protest vote, to be sure. And Davis, as well as the Democratic Party as a whole, is far too socially liberal for even reliably Democratic-voting Hispanics in Texas, no doubt a contribution to the trend we examined above. Abbott visited the Valley just a few days after his impressive primary showing, a sign his campaign smells blood in the water, spotting an opportunity for the party to further damage Democrats among Hispanics. "I am going to strive to set an all-time historical record for the number of votes a Republican garners in the Rio Grande Valley," he told the crowd.
Texas Governor race polls — as seen below — show Abbott with a crushing lead on Wendy Davis. Adding to the already uphill battle for Wendy Davis is the revelation that her single-mother success story, isn't entirely true (PPD did an investigation looking into the background story, which you can read here).
Abbot and Texas Republicans could easily have a field day with this one, but in truth they haven't even attempted to truly exploit the lack of honesty from the Davis campaign. The reason is simple: They don't have to exploit it because 1) the story speaks for itself, and 2) the dynamics of the race make it unnecessary. Abbott won the GOP primary with nearly three times as many votes as Davis in the Democratic primary.
Sorry Democrats in and out of Battleground Texas, but this was never going to be a close election. The Texas Governor race is and always was a "Safe Republican" contest, with the only surprising development being just how terrible of a candidate Wendy Davis turned out to be, and why Battleground Texas didn't see the disaster coming. On the other hand, Greg Abbott has proven to be a strong political candidate in past elections, and has lived up to his past performance in the Texas Governor race, as seen during the Davis life story scandal.
View Polling Below Or Return To PPD's 2014 Governor Map Predictions
| Poll | Date | Sample | Abbott (R) | Davis (D) | Spread |
| --- | --- | --- | --- | --- | --- |
| PPD Average | 9/6 – 2/17 | — | 42.0 | 30.7 | Abbott +11.3 |
| UT/Texas Tribune | 2/7 – 2/17 | 1200 RV | 47 | 36 | Abbott +11 |
| PPP (D) | 11/1 – 11/4 | 500 RV | 50 | 35 | Abbott +15 |
| UT/Texas Tribune | 10/18 – 10/27 | 1200 RV | 40 | 34 | Abbott +6 |
| Texas Lyceum | 9/6 – 9/20 | 798 RV | 29 | 21 | Abbott +8 |
| PPP (D) | 6/28 – 7/1 | 500 RV | 48 | 40 | Abbott +8 |
| PPP (D) | 1/24 – 1/27 | 500 RV | 46 | 34 | Abbott +12 |