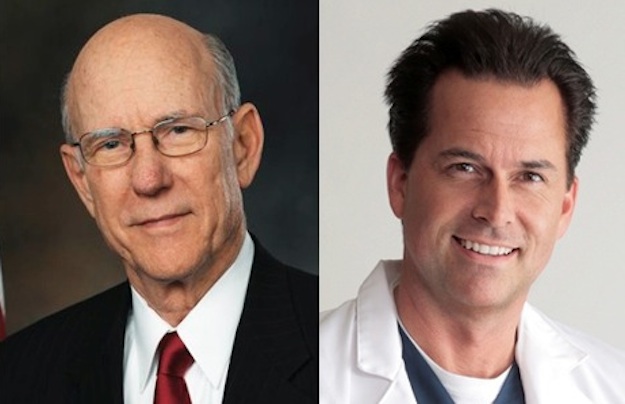 The Kansas Senate race is the fifteenth article in a succession of articles offering expanded analysis on the ratings on the PeoplesPunditDaily.com 2014 Senate Map Predictions. Though the general election is rated "Safe Republican," incumbent Senator Pat Roberts will have to attempt to fend off a challenge from Dr. Milton Wolf in the Republican primary.
Thus far, I have released expanded analysis for the following Senate races:
Alaska, Arkansas, Iowa, Kentucky, Louisiana, Michigan, Montana, North Carolina, Mississippi, West Virginia, Virginia, Colorado and Oklahoma, with New Hampshire recently released earlier in February.
Senator Pat Roberts is ensuring any primary challenge from Dr. Milton Wolf will be difficult, as he's planning to raise a bunch of money. Unfortunately, we have little polling at this point to go on in the Kansas Senate race. Roberts released internal polling from mid-January that found him leading Wolf by an overwhelming 54-point margin, fueled by a 78 percent favorable rating among Republican primary voters.
However, in the latest survey conducted by the Democratic polling firm PPP, Roberts is suffering from an abysmal 29 percent overall approval rating. Wolf trails Roberts 49 to 23 percent, but PPP is rated a 4 out of a possible 1 through 4 based on past accuracy in our model used at People's Pundit Daily, which weighs pollsters' past performance to determine how much justifiable influence a poll should have on a race's rating or average.
However, if it is true, then it is largely due to name recognition, as PPP found only 24 percent of GOP primary voters know who he is. Considering Wolf is garnering an impressive 23 percent with only 24 percent name recognition, as well as leading the likely Democratic nominee, it is worth looking at who is helping to exploit what appears to be an opportunity.
The list of conservative powerhouses getting behind the doctor is enough to be of grave concern to Roberts. Wolf recently received a welcomed endorsement from conservative talk radio host, Mark Levin, which will no doubt help him increase name recognition among Republican primary voters. In addition, Wolf has the backing of the Senate Conservatives Fund, as well as the Madison Project, who launched a site called RetireRoberts.com.
Even a recent New York Times article covered the criticism by Wolf for how much time Sen. Pat Roberts actually spends at his supposed home in Dodge City, Kansas. "He didn't bother to reestablish his Kansas Residency until October 7th of 2013, once I got into the race. Before then he owned rental property in Kansas, but he leased that house; someone else lived there," Wolf said.
"People don't know him. They haven't seen him. Even in his backyard, people haven't seen him because he's been in Washington for 47 years."
Senator Roberts, whose campaign clearly saw the potential threat from this line of attack during an anti-establishment cycle, attempted to explain away the lack of time spent in the state he supposedly represents. Though Roberts does own a home in Dodge City, he rents it out and hasn't been seen living there in years until he came under fire.
"I live in Dodge. I pay taxes in Dodge. We own a home in Dodge. That's where we just spent the last two or three days," Roberts told KSHB Kansas City. It is unclear whether or not it will continue to resinate, but if PPP versus the internal polling results have anything to offer, it is that Wolf is gaining ground.
We are watching this race closely and moving our rating from "Safe Roberts" to "Likely Roberts" in the Republican primary, which could change on a dime. Unlike Sen. Roberts, Dr. Milton Wolf actually put forward a plan to replace ObamaCare, known as PatientCare, which is a 17-page proposal that "would create a patent-centered, market-driven health care system that offers Americans high quality, affordable care."
In an election cycle that is likely to hinge largely on the president's and Democrats' health care law, this could be a big boon for Wolf as the campaign kicks into high gear and begins to draw more voter attention.
On the Democratic side, Chad Taylor emerged as the only challenger worth polling, though he is still undeclared. Roberts leads Chad Taylor by a healthy 48 to 32 margin, despite having a 29 to 38 percent disapproval rating spread. However, Democrat hasn't represented Kansas in the Senate since 1939, the longest shutout for the Democratic Party in the entire country.
President Obama currently has an approval rating of 35 percent, which actually represents a small uptick in Gallup tracking for the month of February. Unlike the gubernatorial contest that is developing into a slightly less certain situation, there is a strong relationship between presidential approval rating and Senate election outcomes since 1980.
The Partisan Voting Index inched up from R+11 in 2010 to R+12 in 2014, which is also corroborated by the annual Gallup party ID by state measurement.
View Kansas Senate Race Polling Below Or 2014 Senate Map Predictions
General Election: Robert vs. Taylor
| Poll | Date | Sample | Roberts (R) | Taylor (D) | Spread |
| --- | --- | --- | --- | --- | --- |
| PPP (D) | 2/18 – 2/20 | 693 RV | 48 | 32 | Roberts +16 |
General Election: Wolf vs. Taylor 
| Poll | Date | Sample | Wolf (R) | Taylor (D) | Spread |
| --- | --- | --- | --- | --- | --- |
| PPP (D) | 2/18 – 2/20 | 693 RV | 33 | 32 | Wolf +1 |
Republican Primary: Roberts vs. Wolf
| Poll | Date | Sample | Roberts | Wolf | Spread |
| --- | --- | --- | --- | --- | --- |
| PPP (D) | 2/18 – 2/20 | 375 RV | 49 | 23 | Roberts +26 |
| The Terrance Group | 1/13 – 1/15 | 375 RV | 69 | 15 | Roberts +54 |