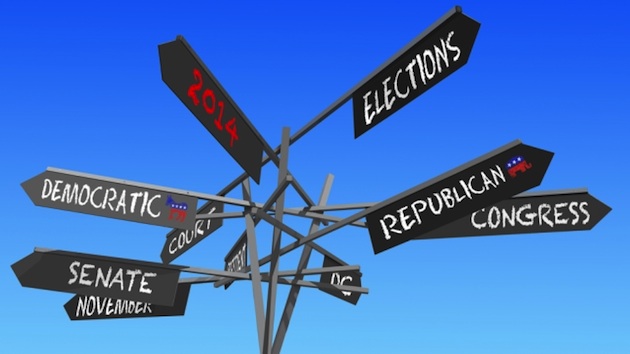 A pair of polls released this week from Gallup and Pew Research find widening enthusiasm and expectation gaps favoring GOP candidates in the fall. The PPD generic ballot average remains tight, with Democrats currently holding a slim 1.5-point lead. That lead, however, still largely reflects registered voter samples, which historically overestimate Democratic support. The latest polls suggest likely voter models, which will soon dominate samples after Labor Day, may have a dramatic impact on the average.
Democrats and Republicans have exchanged small leads throughout most of the summer on the PPD generic ballot average. Democrats retained a small lead from 1 to 2 points from June to mid-July, and again, most of the polling samples were of registered voters. Then, in early-to-mid August, Republicans led in 3 out of the 4 surveys, which gave them a similar lead. Let's first take a look at Gallup's findings.
In a survey conducted from 8/7 – 8/10, 42 percent of Republicans have given "quite a lot" or "some" thought to the 2014 midterm election, while just 27 percent of Democrats say the same. Nationwide, exactly one in three Americans (33 percent) say they have, up from 26 percent in April. Republicans are clearly much more engaged than Democrats in the election cycle at this point, representing a widening 15-point gap compared to the 13-point measured April .
There is a caveat, however.
The 10-point GOP advantage measured by Gallup just prior to the 2010 election was slightly less than their findings earlier in the fall, which hit a high of 19 points in early October and averaged 14 points during post-Labor Day months. In 2006, a Democratic wave election, for most of the same period the GOP advantage averaged 4 points, while the two parties were roughly even going into the 2002 cycle before Republicans blew it wide open late in the game.
The bottom line is that these numbers can change fast, but the more reliable samples we have to draw from, then the more predictive value they hold.
According to a Pew Research survey conducted from 8/20 to 8/24, 61 percent of Republicans expect their party will do better than they have in recent elections, while just 32 percent of Democrats say the same. Expectations matter and, a recent Rasmussen survey similarly found that the nation as a whole expects the Republican Party to control the Senate after November.
"If there is no significant narrowing of the Republican-Democratic thought gap between now and Election Day, the Republican advantage in turnout could surpass that on Election Day 2010," says Gallup's Jeffrey M. Jones.
While it is true that enthusiasm advantages widely fluctuate and will likely not be the same in October or November, as Jones notes, the correlation between post-Labor Day leads on the generic ballot and election results in November are strong. If likely voter models appropriately reflect enthusiasm and engagement, they will favor a higher GOP turnout over Democrats. And if that translates into even a small post-Labor Day lead that holds into the fall, then Republicans are posed to make gains we otherwise would not have expected.
Let's, once again, take a look at the historical data below, which factors all 17 post-World War II midterm election results and compares them to generic congressional ballot results. Whether the Republicans maintain their lead is a critical question that needs to be answered before predicting the overall election outcome because, it isn't until post-Labor Day polling comes in that the results of the generic ballot begin to have predictive value.
[table id=11 /]
As we can see from the table above, Republicans historically have picked up more seats on a point-for-point basis. In other words, on average, a 10-point advantage for Democrats on the generic ballot yields just a 12-seat swing, while an identical lead for Republicans yields a 23-seat swing, on average.
Each election has mitigating factors and variables, and the 2014 midterm election will be no different. Despite what the data shows, Republican pickup opportunities from targets listed in their "drive to 245″ goal in the House are somewhat limited due to their success in 2010. On the other hand, the Democratic Party is overly exposed in the Senate after their success in 2008, and it was essentially time to pay the piper.
Now, it is the Senate that is exuding that same dynamic, which our model favors the GOP to control after this cycle, wave or no wave.
It is worth noting, however, that in Gallup's final 2010 pre-election generic ballot poll, Republicans led Democrats by 48 percent to 44 percent even among even registered voters. However, in the latest poll, Democrats held a slight edge among registered voters in congressional voting preference, 47 percent to 45 percent. Since Gallup underestimated Republican performance in 2010 with a more narrow enthusiasm gap, this suggests Republican turnout advantages could lead to larger-than-expected GOP gains if the elections were held today.
Or, perhaps the Republicans either don't hold that advantage or never make up the ground in registered voter samples. I always caution against confidence during such a volatile part of the year, though Gallup's likely voter model is unlikely to show some degree of Democrat disadvantage. It is also a historical probability, however, Democrats get more engaged as November draws near.
"But with Republicans much more engaged in the election at this point than Democrats — and by one of the larger margins in recent midterm election years — the odds of strong Democratic turnout seem low," Jones added, "suggesting 2014 could be a good year for Republicans."