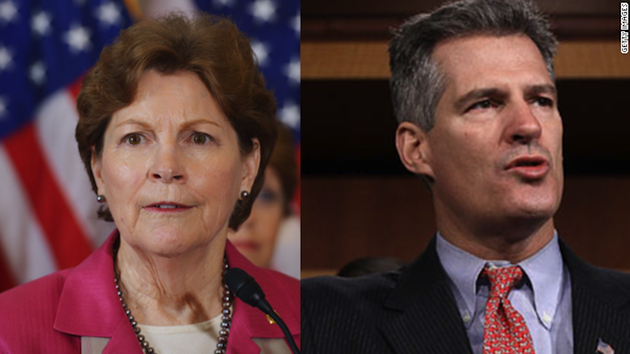 Former Massachusetts Sen. and now-New Hampshire Republican Senate candidate Scott Brown has erased what was a double-digit lead held by Jeanne Shaheen. The poll results are a welcomed piece of news both for national Republicans who hope to retake the U.S. Senate and, Brown himself, who needed to to tighten the race in order to attract national money.
Incumbent Democratic Senator Jeanne Shaheen still leads her other potential Republican challengers by large double-digit margins, and remains relatively popular, 48 – 36 favorable. However, President Obama, who currently has an abysmal approval rating is dragging Shaheen down with him.
Only 37 percent of likely voters approve of the job Obama is doing as president and Brown holds a 71 – 17 percent lead among the 59 percent who disapprove of Obama. There can be little doubt that ObamaCare is also a contributing factor, which Brown has once again chosen to make the centerpiece of his campaign.
The president's signature health care law remains deeply unpopular in the state and nationwide. However, New Hampshire voters have seen their networks narrow and their costs skyrocket, something they are all too familiar with.
As Brown so often points out on the campaign trail, as state senator, Shaheen sponsored a bill that had similarly devastating effects on access to coverage, which were largely reversed in the following years.
Still, Shaheen remains a slight favorite to hold the seat on the PPD 2014 Senate Map Predictions model. However, as the pollster noted, the state has along history of moving with the national mood and breaking late. If the national environment continues to deteriorate for Democrats, the race will move back to a "Toss-Up."