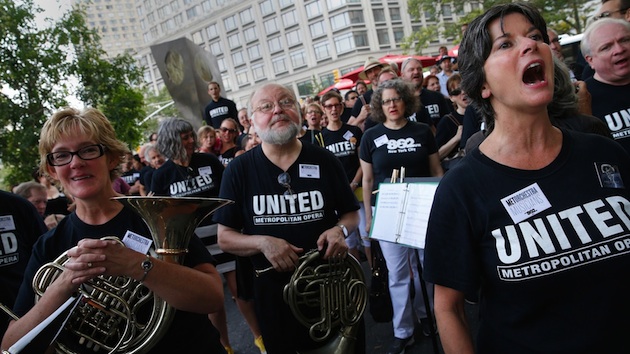 A recent survey from Gallup finds a slight 53 percent majority of Americans still approve of labor unions, but the right to work movement is supported by the vast majority of adults. The data suggest a real problem for unions moving forward, as even their own members are divided in their views of right to work laws. After decades of outright opposition to them, members have shown a propensity to break from their union bosses over the last several years.
"At the same time Americans express greater approval than disapproval of unions, they widely support right-to-work laws," said Jeffrey M. Jones at Gallup. Consistent with year-over-year declines measured in the past, just 10 percent of Americans now identify as union members according to Gallup's Aug. 7-10 poll.
A right to work law is characterized by the National Right to Work Legal Foundation in the following language:
A Right to Work law secures the right of employees to decide for themselves whether or not to join or financially support a union. However, employees who work in the railway or airline industries are not protected by a Right to Work law, and employees who work on a federal enclave may not be. Moreover, a Right to Work law does not prohibit limitations on when a dues deduction authorization card can be revoked.
Since Gallup began tracking the question nearly 80 years ago, unions have consisting lost ground and the level of support, or labor union approval has been as high as 75 percent. But that was in the 1950s and, now, 38 percent disapprove of unions, while there is widespread approval of right to work laws.
A whopping 71 percent of Americans say they would vote for a right to work law, up from 62 percent who said the same in 1957. The poll also found 82 percent of Americans agree that "no American should be required to join any private organization, like a labor union, against his will," a central tenet of right to work philosophy. However, despite widespread approval, Democratic Party efforts have limited the number of states have such laws. Currently, 24 states have right to work laws in place.
Even though Americans typically favor choice no matter the issue, philosophy may not be the only contributing factor to the success of the right to work movement. In Gallup's annual Confidence in Institutions survey, only 10 percent said they have a great deal of confidence in organized labor, and only 12 percent say they have quite a lot of confidence in them.
The future of both public and private labor unions is very much in doubt. They are bleeding membership, and losing the battles for both public opinion and legal opinion. In June, the Supreme Court ruling in Harris v. Quinn dealt a significant blow to the effort to expand public employee unions, but it did not gut them.
Because of the ruling, unions lost a tool of coercion they've used to expand their membership, reach and political power for decades. Many legal experts believe the high court will overturn prior precedent and completely forbid requiring public employees to contribute to union bargaining, rather than membership dues.