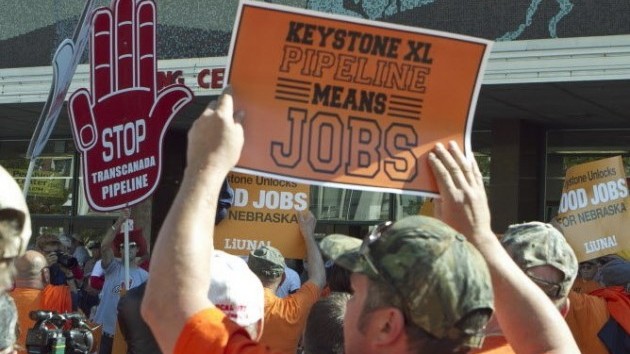 President Obama threatened to veto bipartisan legislation approving the construction of the Keystone pipeline, but American voters overwhelming disagree. Further, support for the construction of the pipeline among registered voters increases slightly when respondents are made aware of the findings of multiple State Department reviews.
According to a new PPD Poll of 694 registered voters, 69 percent support the pipeline outright, up from 65 percent measured last year. However, 72 percent support its construction when respondents are told of the administration's own findings.
Construction of the Keystone pipeline has been delayed indefinitely despite State Department reviews concluding the environmental impact of not building the pipeline would be worse than if the energy resources were transported via the pipeline.
A vote on the pipeline failed by one vote ahead of the Louisiana Senate runoff in December, which resulted in the defeat of incumbent Democratic Sen. Mary Landrieu. With the new Republican majority in the Senate, a growing number of Democrats have pledged support for the pipeline, though it remains unclear whether enough will come aboard to override President Obama's veto.
While lawmakers grapple with lobbyists in their decision-making processes, the American people say it's a no-brainer, including a majority of Democrats (53 percent), over two-thirds of independents (68 percent) and nearly 9 in 10 Republicans (88 percent).
Survey Question: If no, then respondents were asked the following question:

In Jan., 2014, a State Department review concluded transporting oil via the Keystone XL pipeline is more environmentally friendly than via rail and other methods. If true that it will adversely impact the environment more so than not constructing it, then would you support the pipeline?
While slightly more men (74 percent) than women (68 percent) say build it, the support is overwhelmingly broad. In fact, most of the increase in support came predominately from female voters.
The PPD Poll of 694 registered voters was conducted from January 6 – 7, 2015, and has a MoE of +/- 3 percentage points with a 95 percent level of confidence. Interviewers surveyed respondents, the results of which are weighted to reflect a breakdown of 50 percent landlines and 50 percent cellphones.