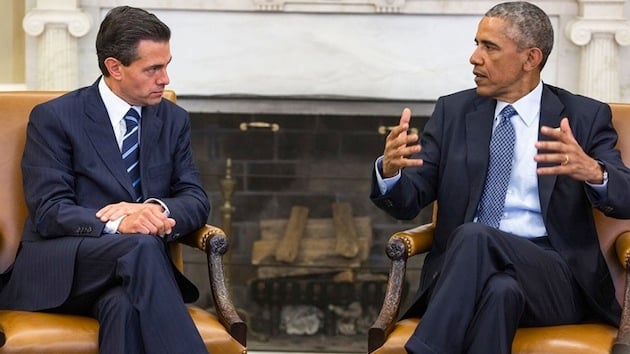 President Obama met with Mexico President Pena Nieto Tuesday, but a majority of American voters support pulling US aid to Mexico if illegal immigration continues.
Voters say the Mexican government doesn't do enough to stop illegal immigration and drug trafficking, nor does it even want to stop either. According to a new survey from Rasmussen Reports, only 14 percent of likely voters think the Mexican government wants to stop its citizens from illegally entering the United States, while 55 percent say Mexico is not interested in stopping illegal immigration.
As a result, they favor stopping US aid to our southern neighbor until it does more to prevent illegal border crossings.
However, a significant number of likely voters (31 percent) say they are not sure.
Meanwhile, despite President Obama's unilateral changes to immigration law, which deferred deportation for some four million immigrants, the new Republican-controlled Congress still plans to pass their own immigration proposal and send it over to the White House.
Republican lawmakers want to strengthen border security, particularly on the Southwest border where tens of thousands of illegal immigrants flooded across in search of permisos, or free passes, with the hope to prevent what the National Association of Former Border Patrol Officers called "a predictable, orchestrated and contrived assault on the compassionate side of Americans by her political leaders."
But it is unclear whether the bill will include a provisional reversal to Obama's action for illegal immigrants. A recent report found nearly all (96 percent) of the tens of thousands of illegal immigrants that poured across the border from Central America earlier this year were no-shows at their immigration hearings.
Currently, half of the country is united against the president's order in a federal lawsuit headed up by for attorney general-now Texas Gov. Greg Abbott, including Alabama, Arizona, Arkansas, Florida, Georgia, Idaho, Indiana, Kansas, Louisiana, Maine, Michigan, Mississippi, Montana, Nebraska, North Carolina, South Carolina, North Dakota, Ohio, Oklahoma, South Dakota, Texas, Utah, West Virginia and Wisconsin.
A federal judge ruled earlier in December that large parts of President Obama's executive immigration order are unconstitutional, in the first court opinion to address Obama's controversial actions.
The national survey of 800 Likely U.S. Voters was conducted on January 5-6, 2015 by Rasmussen Reports. The margin of sampling error is +/- 3 percentage points with a 95% level of confidence. Field work for all Rasmussen Reports surveys is conducted by Pulse Opinion Research, LLC. See methodology or survey question wording, by clicking here.